30.05.2014 Roccia Viva 3650 m. - North West Face
Roccia Viva, beautiful and wild mountain in the Grand Paradiso massif. Today with Francesco and Alfredo. Photo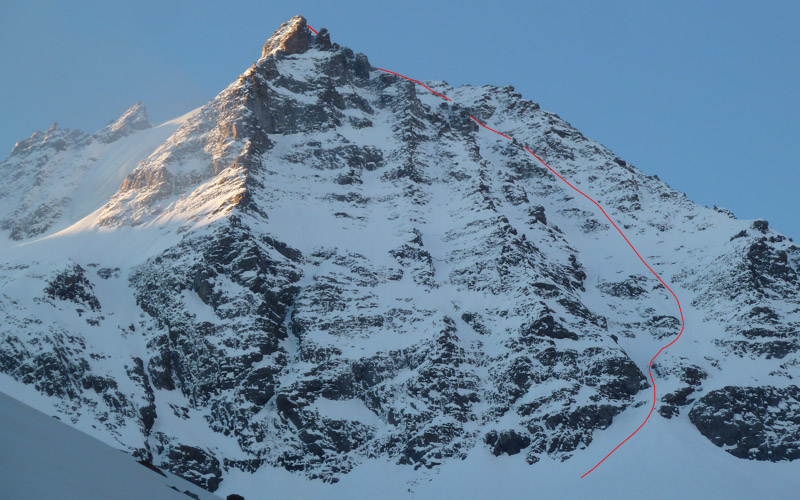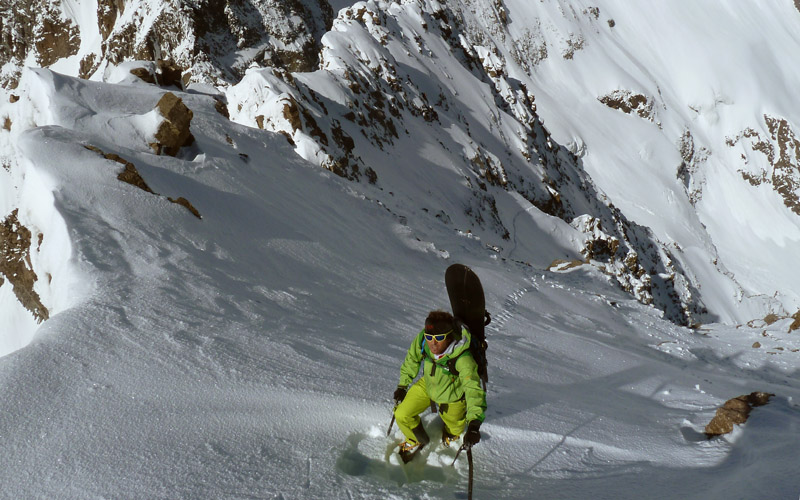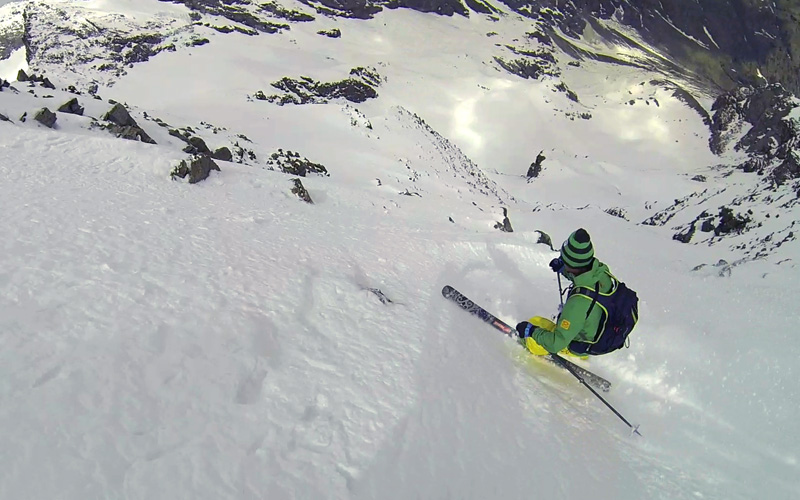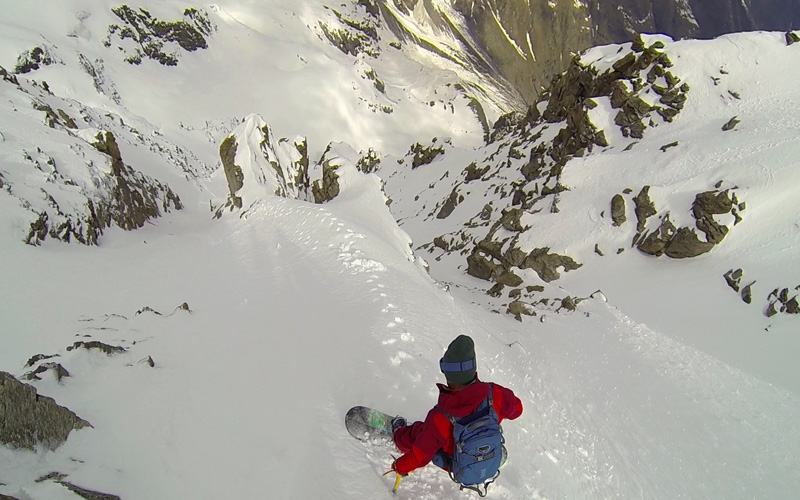 18.05.2014 Tête de Valnontey 3562 m. - North East Face
First descent: 24/04/2010 Rémy Lecluse
Following in the tracks of Rémy Lecluse... I always like thinking about my friend and the incredible French skier Rémy. For the second time this year Julien Herry and I have repeated one of his descents. Rémy really loved the Gran Paradiso massif and he carried out numerous first descents here: Grivola, Petit Paradis, Becca di Montandayné and other. After the South Face of Grivola descent I began to examine more closely the amazing NE Face of Testa di Valnontey, a mountain unknown to most, but the one that can be seen best from Cogne: a 650m high face, completely rocky for most of the year with a long approach and descent. The sun hits the face at around 7:00am and this means it needs to be skied early, above all in late spring. This is why Julien and I decided to start at night: we set off on foot from Valnontey at 1:45 a.m. And , 2 hours and 6 km later, we finally clipped on our split. We reached the 3510m high summit shoulder, situated directly below the top, at 8 am. Snowboarding this line that had been skied only by Rémy, while his words echoed in my head, was something special..."le départ surplombe pas mal de barres. Pour rejoindre la pente principale, je traverse vers la gauche sur 50 m : délicat. 20 cm de neige collée sur des dalles rocheuses. C'était délicat à la montée mais c'est franchement désagréable à la descente : équilibre piolet à l'amont et en appui sur un bâton à l'aval en essayant de poser délicatement les skis sur la neige, surtout pas de dérapage! ". I think that, despite snow conditions not being the best, we were lucky with the conditions and once again I can say: thanks Rèmy!Photo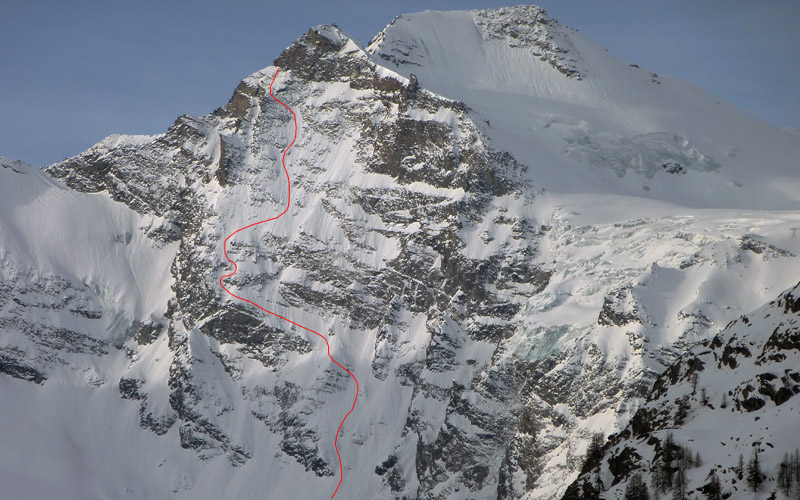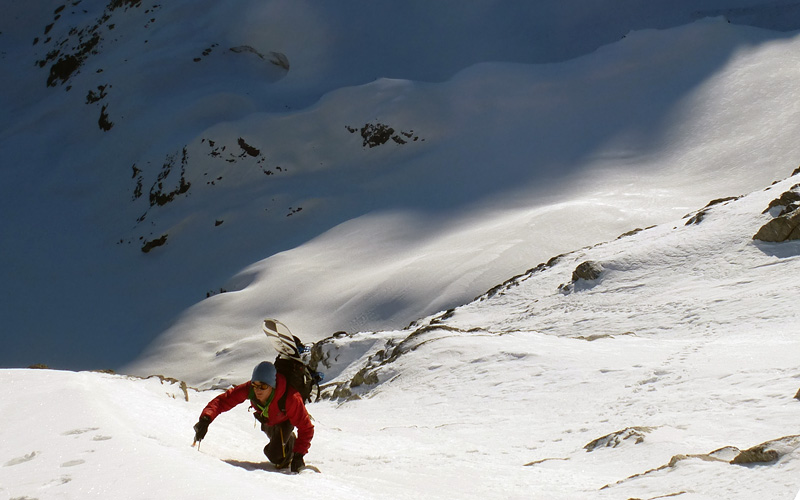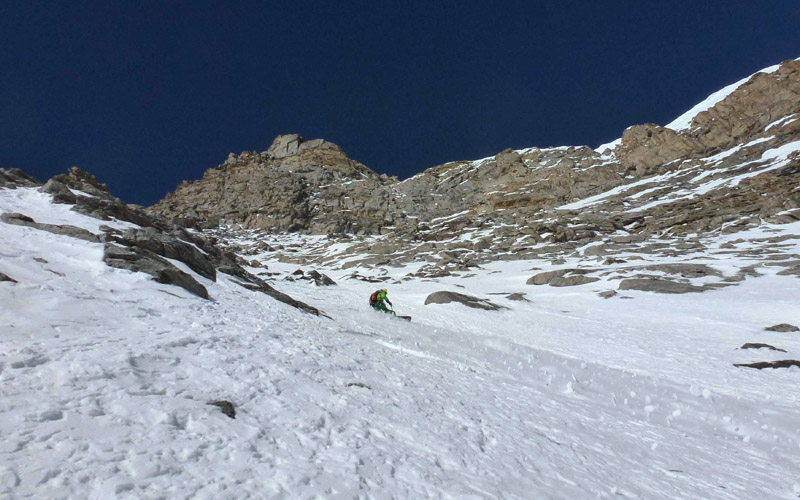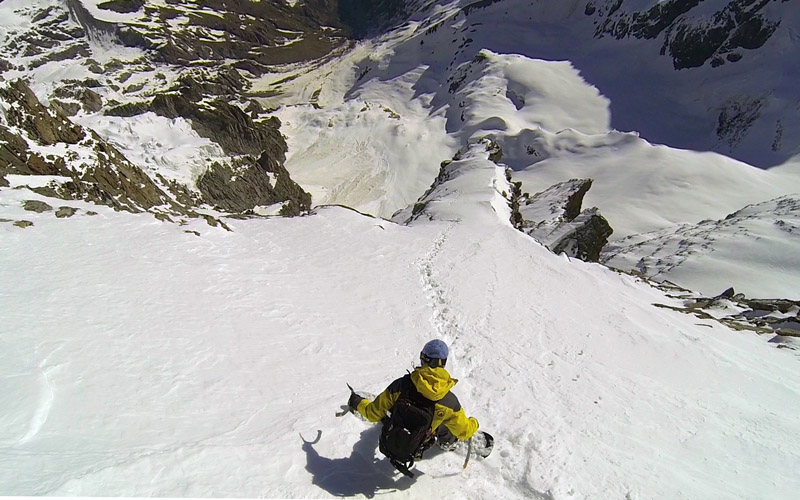 01.05.2014 Aiguille du Midi - Mallory & Col du Plan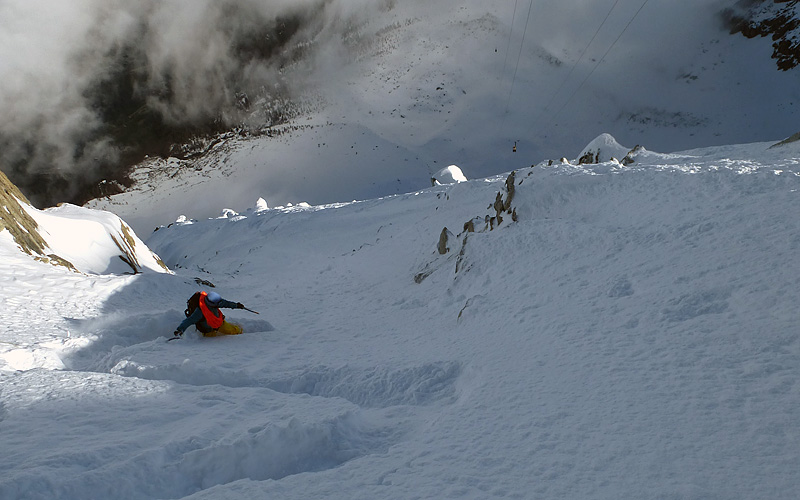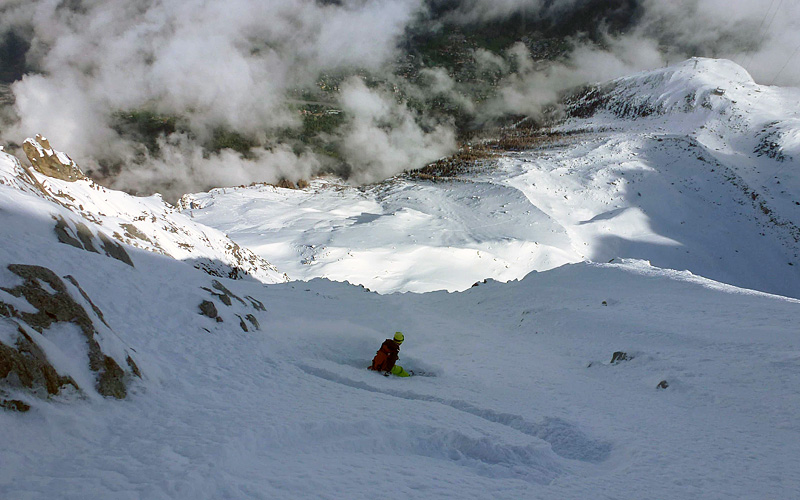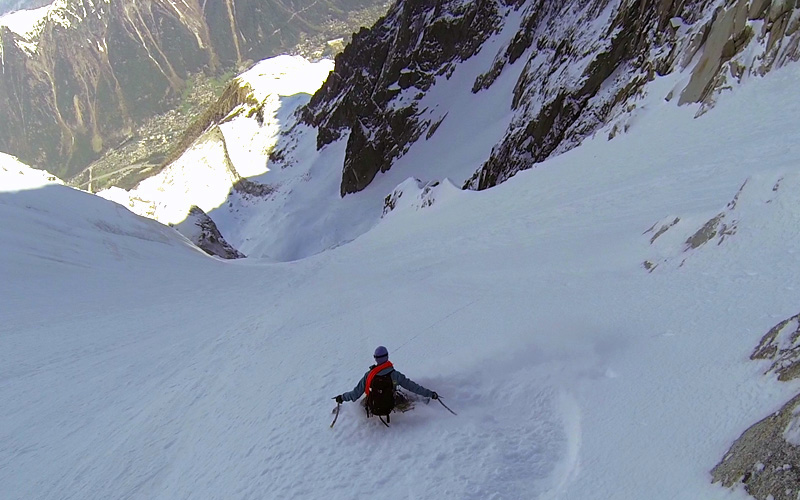 17.04.2014 Matterhorn - Zmutt Ridge West Couloir
I've always wanted to ski this magnificent mountain. We're deeply indebted to our friend Manu Gross, a snowboarder from Diablerets, keen extreme skier with numerous descents to his name across the Alps. Manu had observed this fantastic line that runs down the West Face of the Matterhorn: a 800m high gully that starts from the Zmutt teeth, along the famous Zmutt Ridge. We began to find out more, I spoke to my friend Hervé Barmasse who confirmed that the descent was feasible and he warned me that it could turn into a long day out in the mountains. Unfortunately we were tied to the weather conditions: high winds initially, and a subsequent period of unstable weather, forced us to choose only day only: Thursday 17 April. Many couldn't come that day but kindly said we should attempt it without him. Julien PICA Herry, Francesco Civra Dano and I set off at 4 in the morning from Courmayeur to Zermatt. After getting off the train that had departed from Täsch we reached the lifts and waited for them to open. All we needed to do was ascend to Schwarzsee as our approach began from there, passing beneath the North Face and below the Zmuttgrat. Things ran smoothly and at 11:30 we breached the first of the two Bergschrunds, not beautiful but nevertheless crossable. The gully was long but the hard-packed snow helped us make swift progress. At 15:00 we strapped on our skis and snowboards, the snow on the upper section had only softened a little, while the lower we got the more skiable it became and it was almost fun. With the help of the rope we crossed the two Bergschrund and reached the base of the gully in less than an hour. All we needed to do now was descend to Zermatt by following the numerous tracks, most of which had been left by those doing the classic Chamonix – Zermatt. The day seemed to come to an end, but the unexpected closure of the Mont Blanc tunnel forced us to return to Switzerland and travel through the St Bernard Tunnel. At 2 in the morning we were finally back home... it had been a long day. According to the local guides it seems as if this gully had never been skied before, let snowboarded. For us this is only a detail, we cannot but be overjoyed with our first experience on the Matterhorn. Photo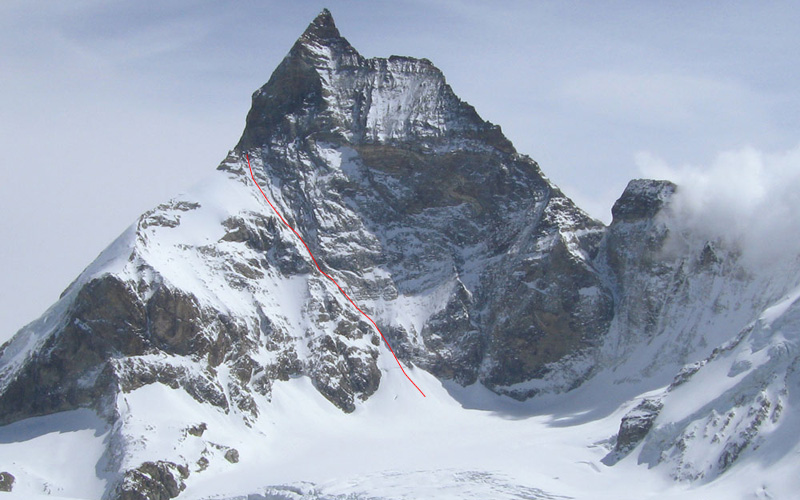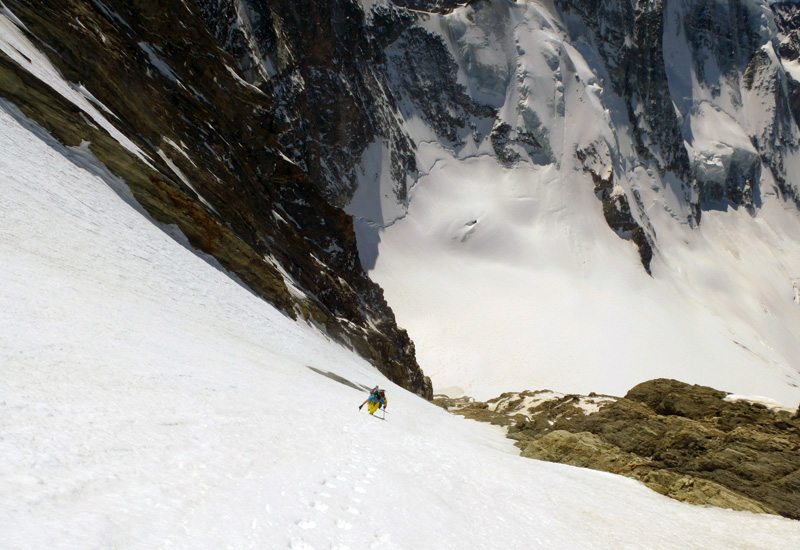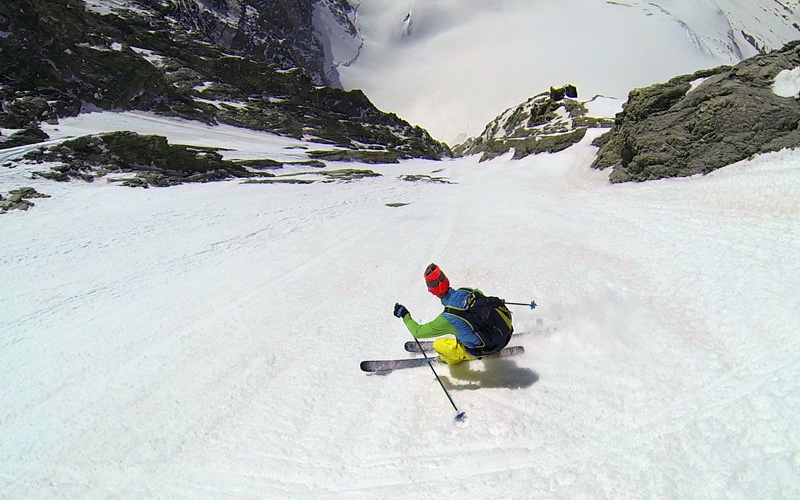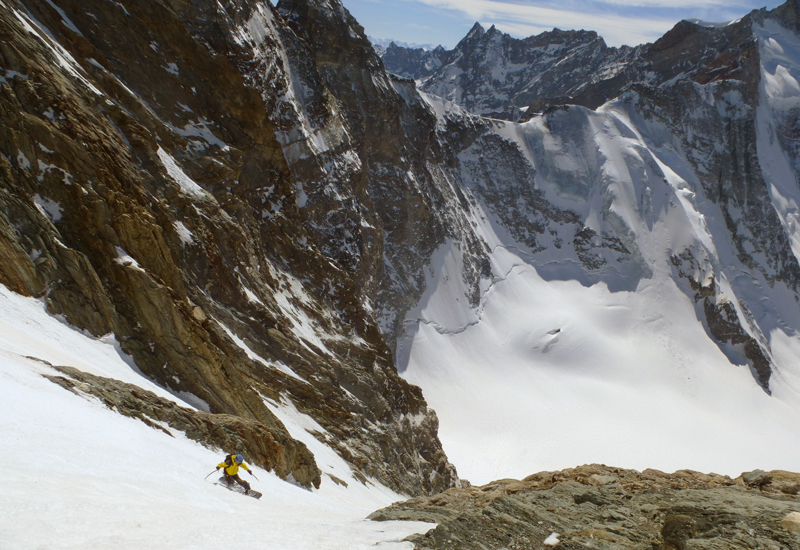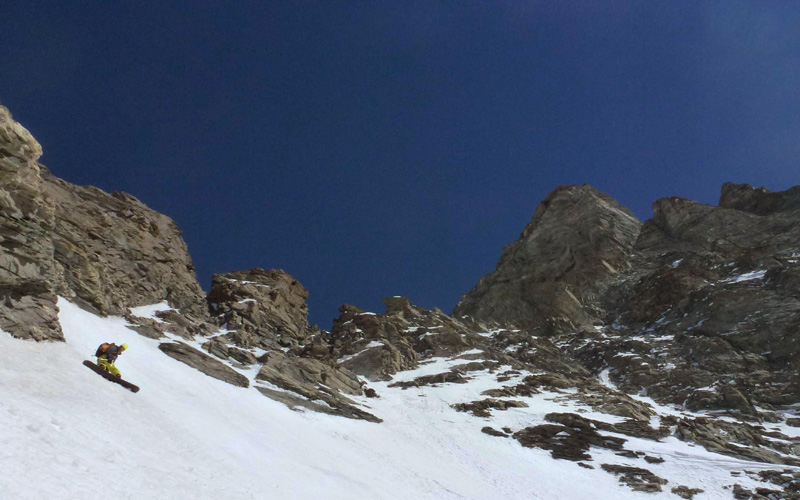 11.04.2014 Tersiva - North East Face
This is of the most beautiful faces that you can see from the center of Aosta Valley. It has been skied for the first time by my friends Diego and Giorgio (02/06/2013). Today with Julien "Pica" Herry it was very long: 2200 m. altitude difference, 15 km. lenght... for 7 hours of walk. Photo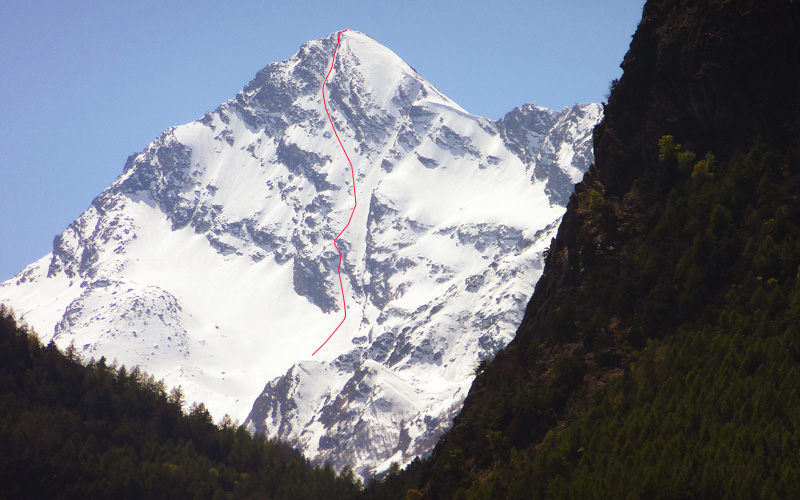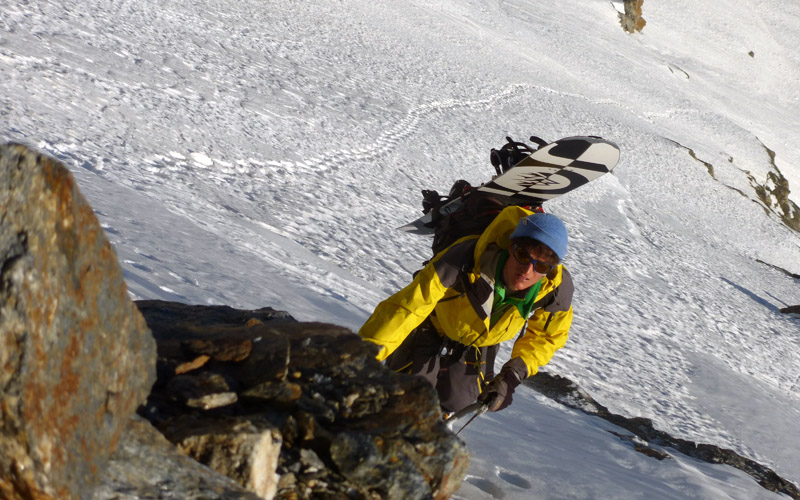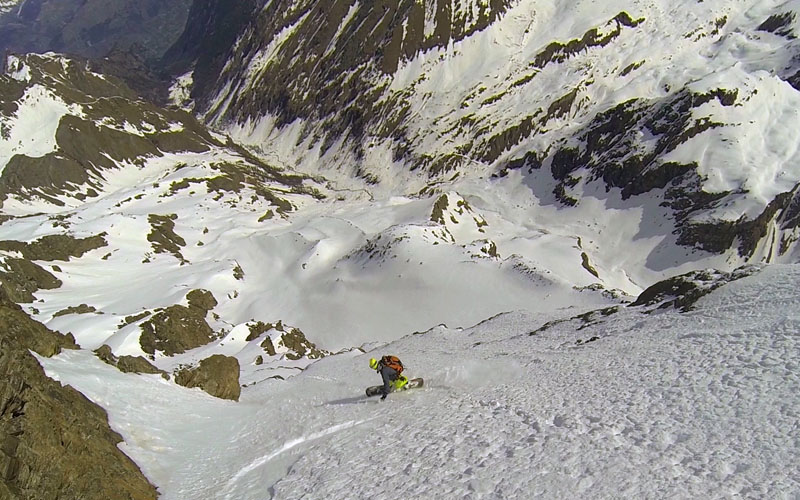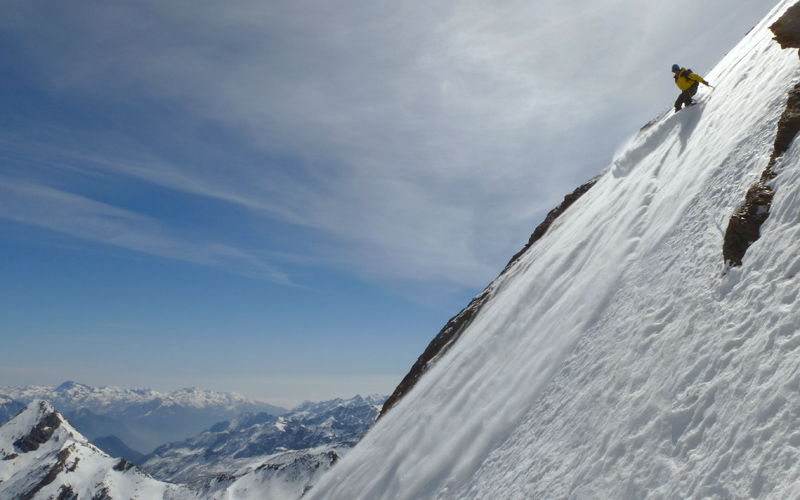 09.04.2014 Aiguille de Talèfre - South-East Ridge
This is one of the most beautiful lines that you can imagine to ski in Triolet Glacier. The idea was conceived by Francesco, who had the chance to see it some time ago. Today I shared this amazing adventure with my friends Francesco and Pica. Probable 1st ski and snowboard descent: Francesco Civra Dano, Julien Herry and Davide Capozzi Photo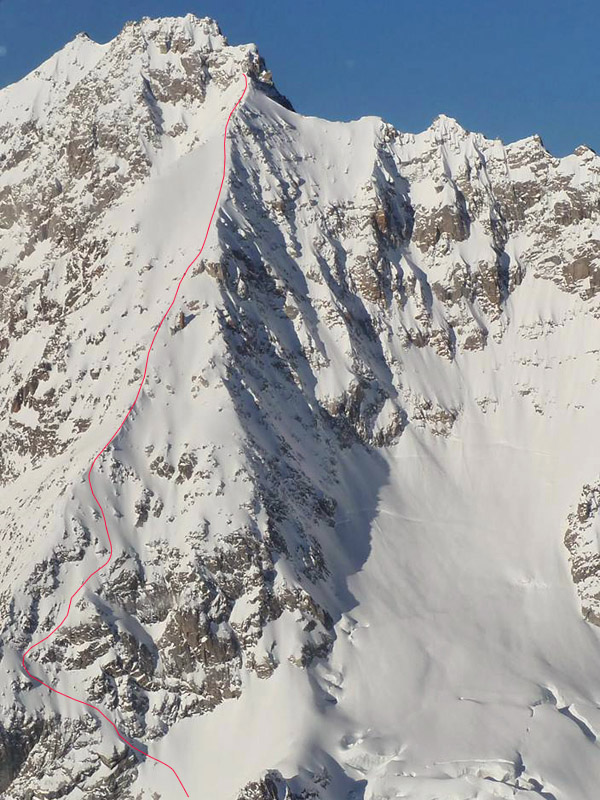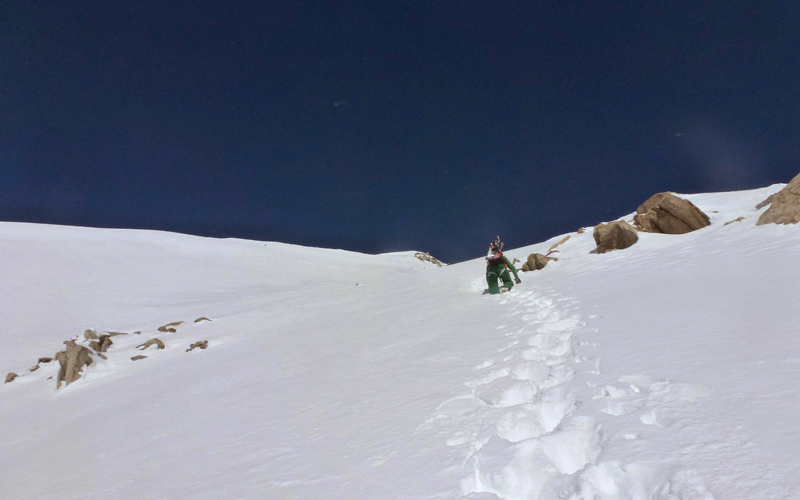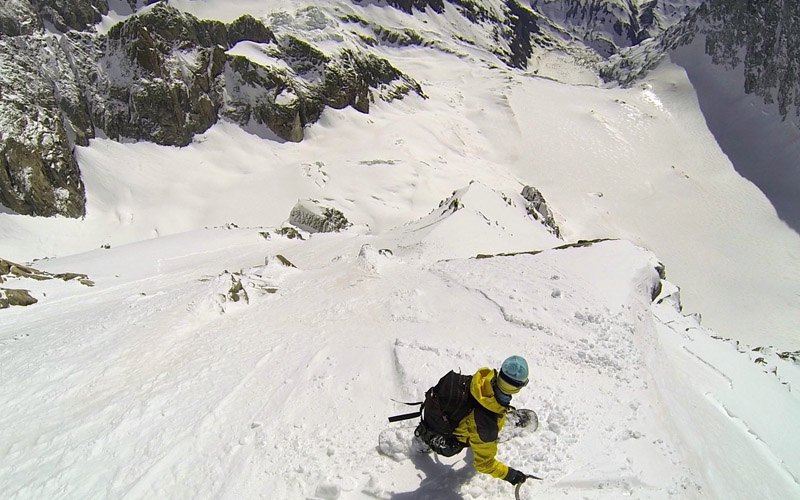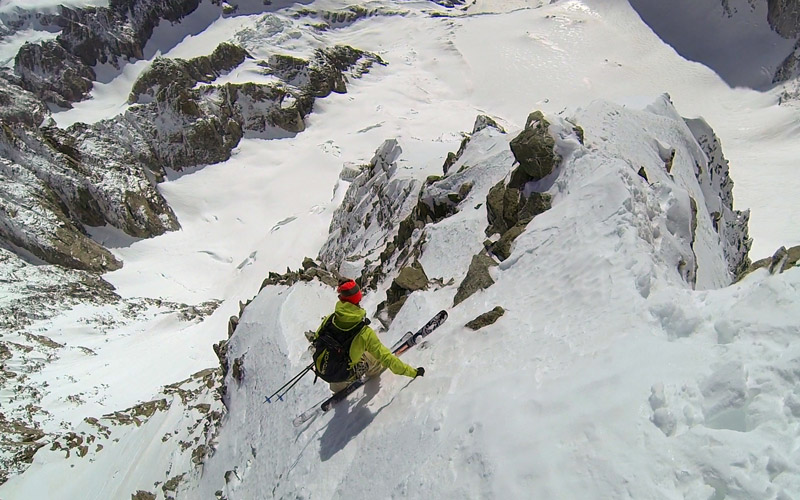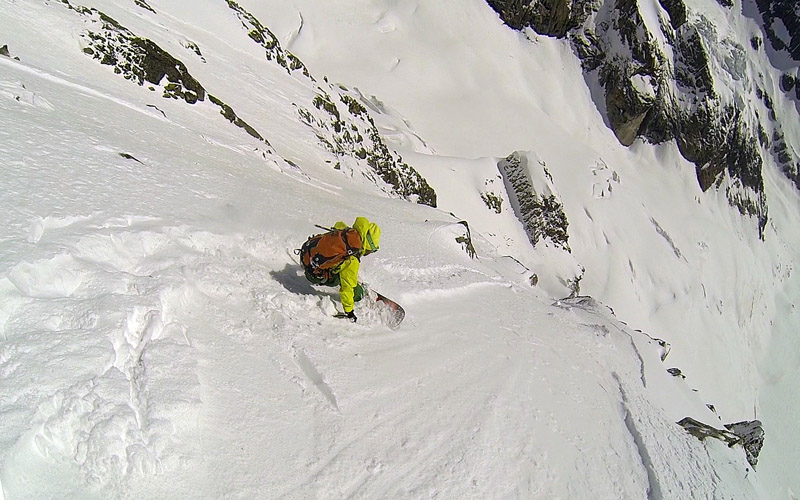 04.04.2014 Grivola - South East Face
I've now skied this stupendous mountain for the third time, via a third, different route. In 2010 Roch Malnuit, Julien Herry and I skied the NW Face and in 2012 together with Francesco Civra Dano and Luca Rolli I skied the NE Face.I wanted to return to Grivola this year to descend the SE Face, skied only once by my friend Rémy Lecluse and Boris Dufour in 2012, on the same day as I skied the NE Face. Unfortunately Rémy is no longer with us, he died in autumn 2012 on Manaslu in a terrible avalanche. The SE Face of Grivola was Rémy's last great descent. I've always thought that the best way to say goodbye to him was to return to Grivola's summit and ski the SE Face, the only face that had only been skied once before, on that 14th of May in 2012.On Sunday 30 March Luca Rolli, Julien Herry and I ascended to Rifugio Sella where we were warmly welcomed by the hut warden Jean Mappelli. The alarm clock rang at 2:30am; we immediately realised that we'd set off too early and so we slowed down, rested at Colle della Nera and enjoyed day breaking. The face seemed to have more snow than when Rémy skied it; perhaps, if we're lucky, we'd manage to ski it just as Rémy would have liked, namely without using a rope on the steepest, narrowest section.At around 9:30 we stepped into our skis and snowboards; the snow on the upper section the face was still wintery, beautiful and great fun to ski on. Things then got complicated: crusty snow with a hard layer underneath, not always the best of fun. We reached the crux of the descent, pretty narrow but by scraping a bit on the rocks we managed to continue on down and finally exit the face, happy with out descent.We were tired by I managed to convince the others to ascend up to Nera della Grivola (3683 m); we reached the summit in about half an hour and then skied the SE Face, directly opposite Rifugio Sella, udner the watchful eye of Jean who waited for us with some cold beers. Ciao Rémy, following your tracks was beautiful. 1st ski descent: Rèmy Lecluse and Boris Dufour il 14/05/2012. Probable 1st snowboard descent: Julien Herry and Davide Capozzi on 31/03/2014 Photo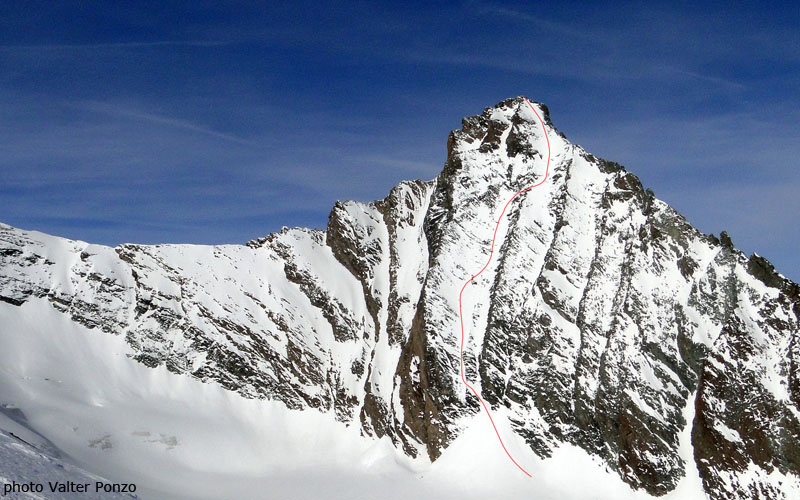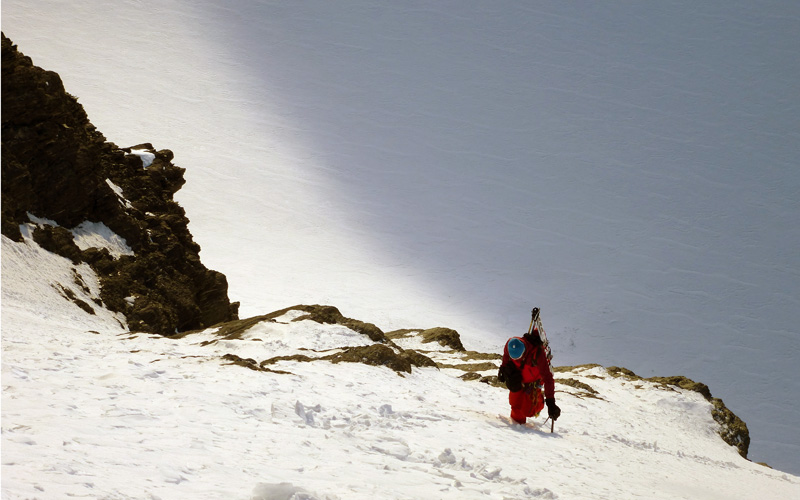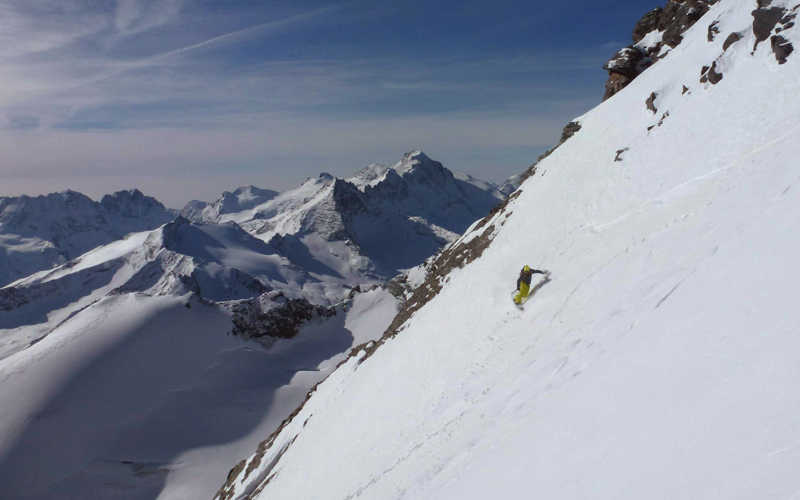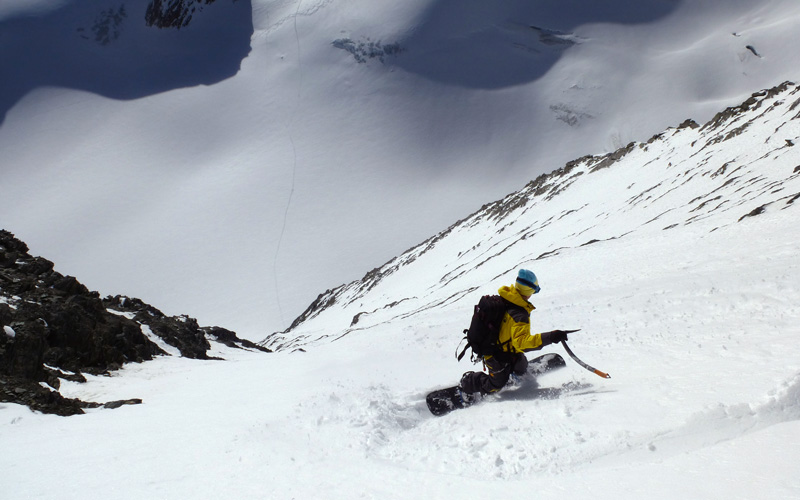 25.03.2014 Noire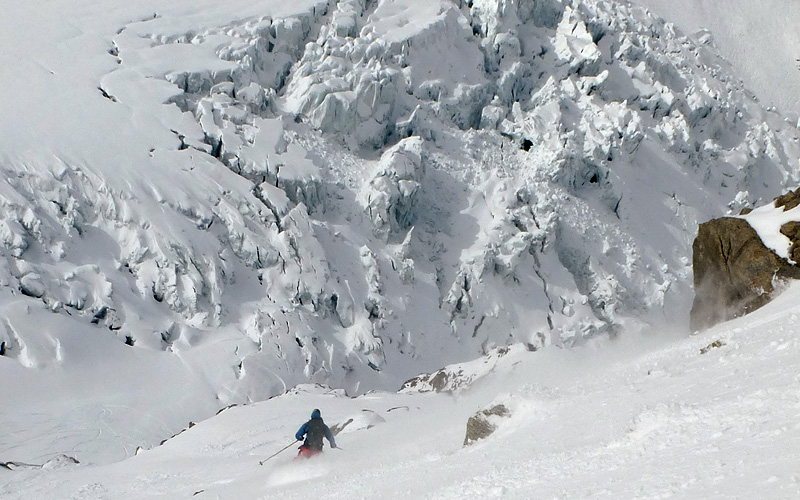 24.03.2014 Pointe de Senge - West Couloir
We are back. Another beautiful descent into the wild and far Valeille in the Gran Paradiso massif. Today with my friends Laurent,Hervé and Christophe. This was probably a first descent on both snowboard and skis.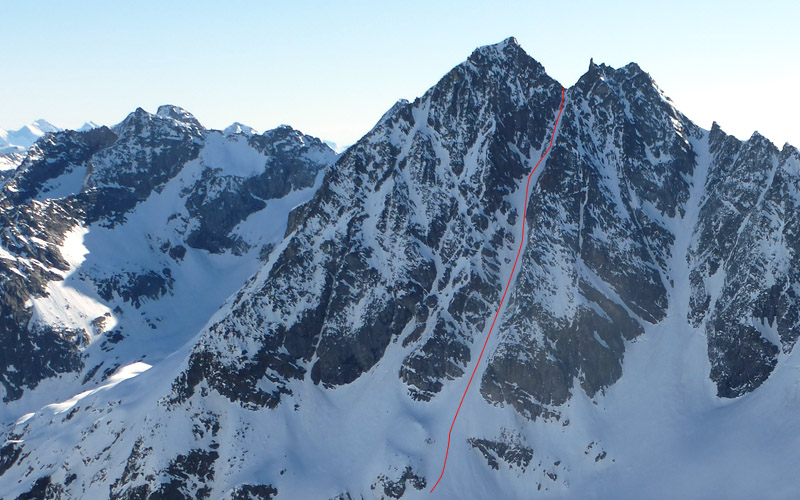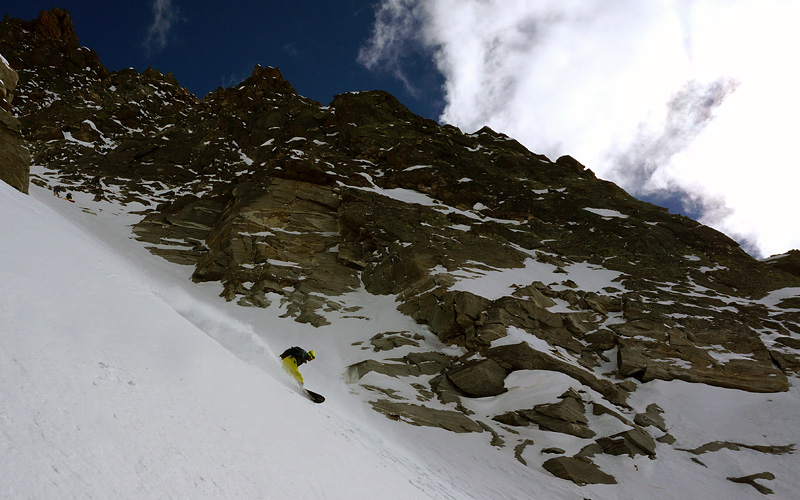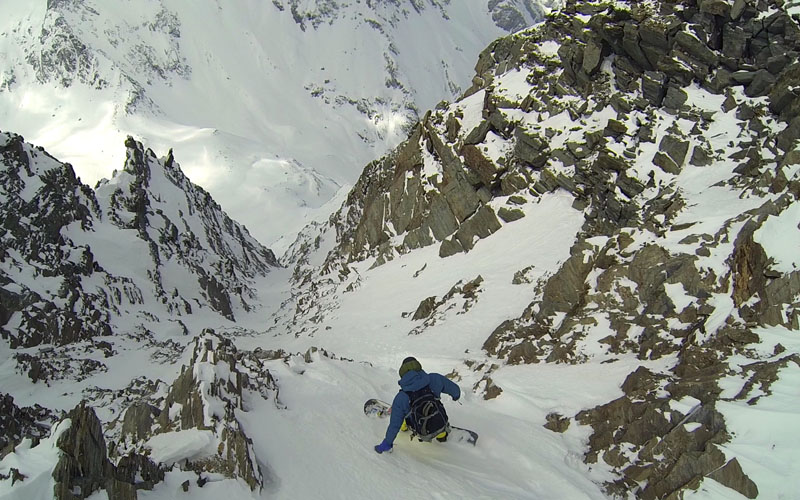 19.03.2014 Les Apôtres - North East Face - Voie Scirocco
My friend Julien "Pica" Herry and I decide to move away from our beloved Mont Blanc and go check out a new place: La Valeille. It is a wild valley in the Gran Paradiso Massif mostly known by ice climbers rather than skiers. The only known descent at the Testa Paganini is the E-NE couloir, first skied by mountain guide and skier Remy Lecluse and two of his clients. This descent was repeated by my friends Laurent, Giulia, Manu and Hervé on Monday 17.03.14. Thanks to the info we got from them about the snow conditions, we finally decide that we would go and see what could be done there. Looking at some pictures, Julien and I thought that a new descent would be possible aside from the couloir.The idea of being creative on this face and the possibility to find good snow, gave us motivation to go and try a less obvious descent than the classic ENE couloir, but still a very nice looking one though. We got up very early (3:00 am) at the little town of Lillaz, from where we reached the Apostoli ridge in less than 6 hours.The descent: 500m at about 40°- 45° steep, a bit more on the high section where exposure is considerable. I'm happy about this first descent, it let me discover a new location that may be a good playground for future adventures! Photo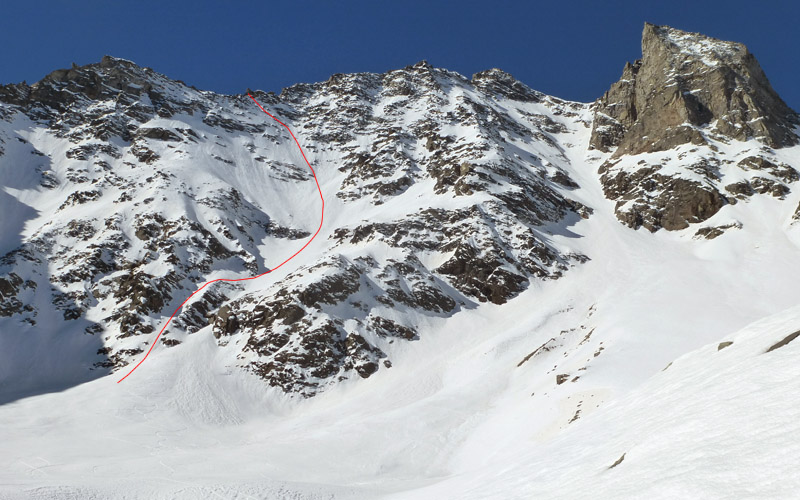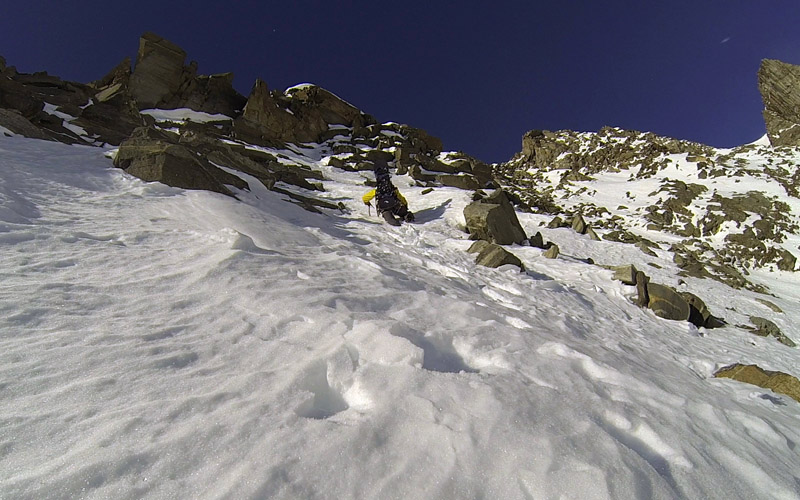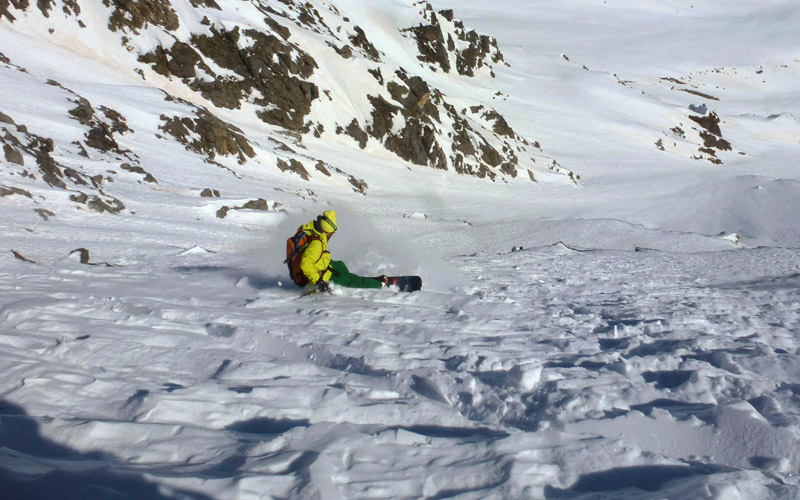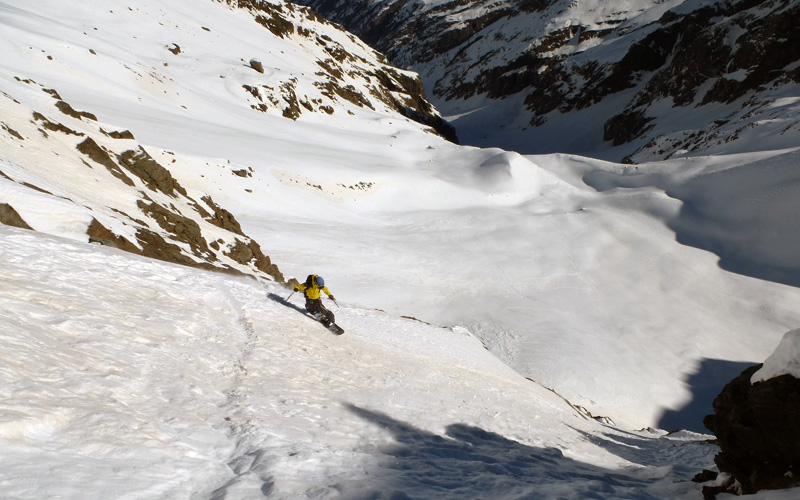 15.03.2014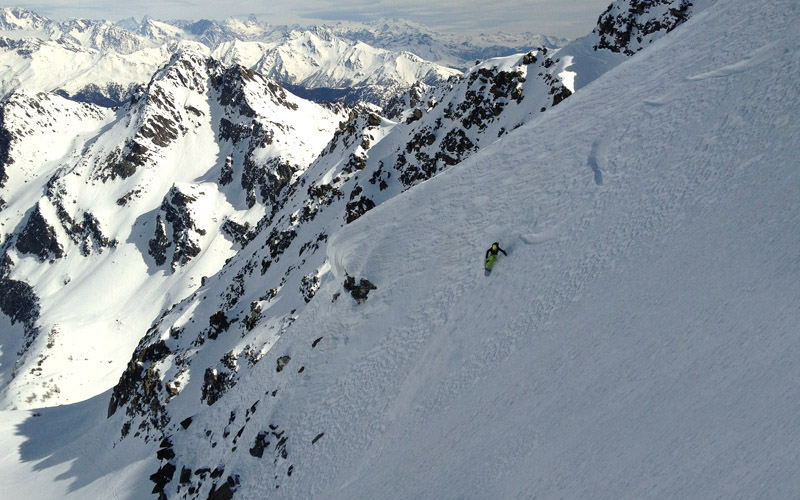 14.03.2014 Tête Carrée - East Couloir
Today with Giulia.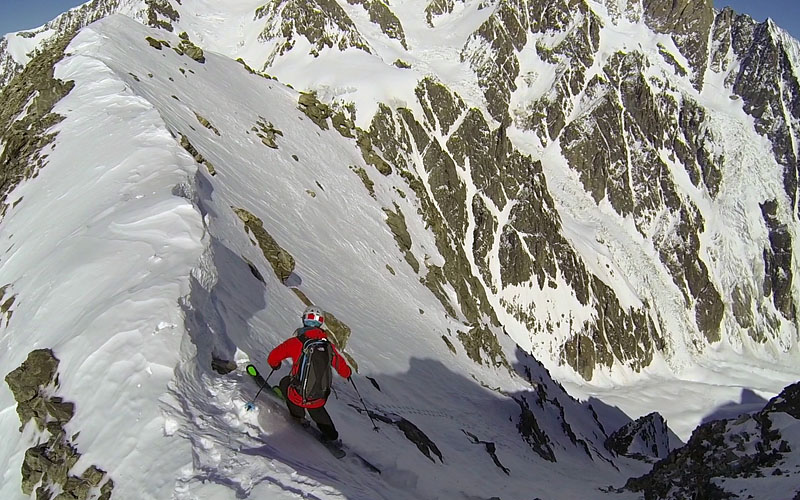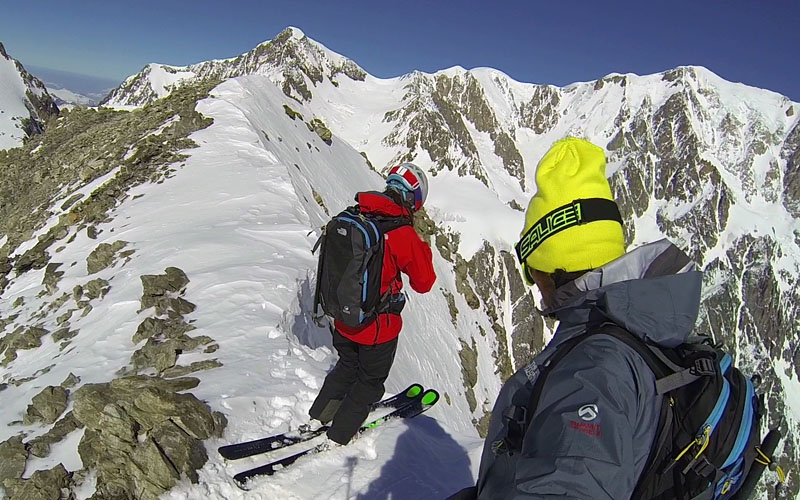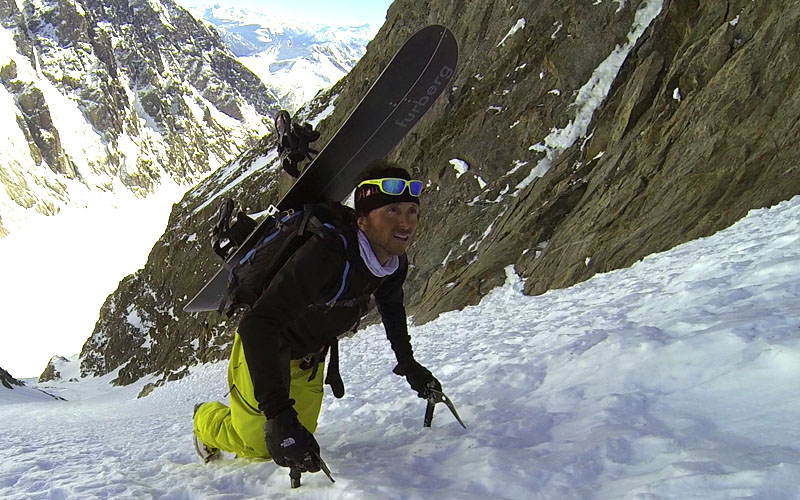 11.03.2014 Brèche Nord des Dames Anglaises - North-East Couloir
After 7 years I back to one of the most beautiful places of Mont Blanc: Brèche nord des Dames Anglaises. Today with my friends Luca, Pica and Francesco. Photo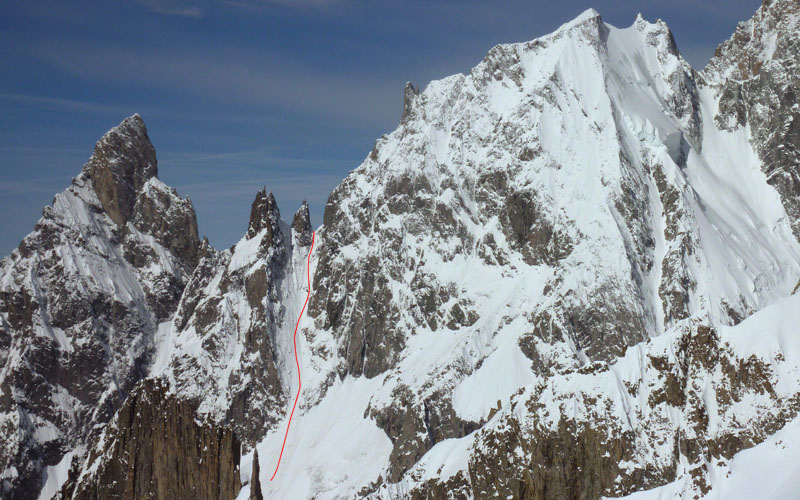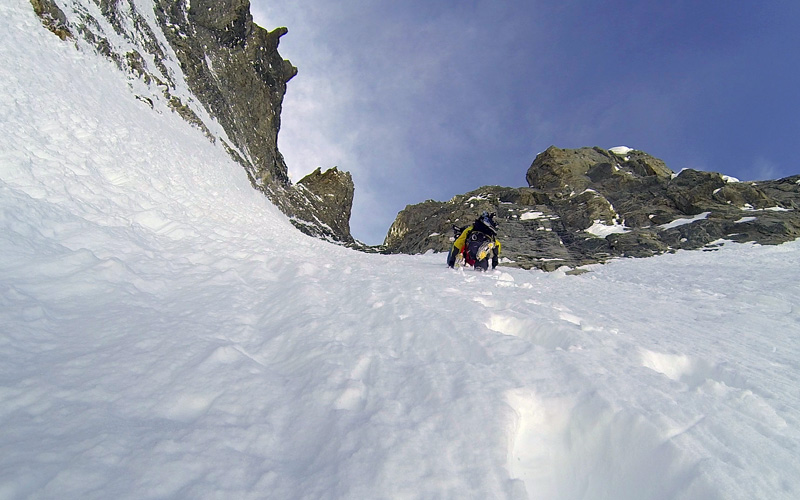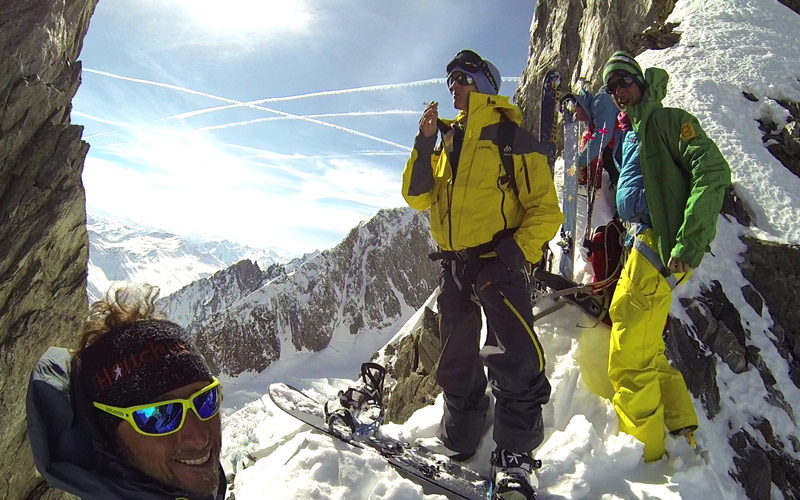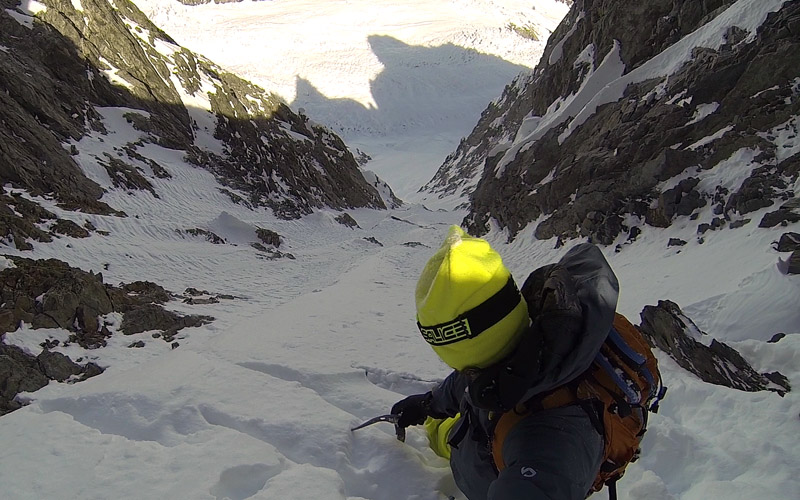 08.03.2014 Grand Aiguille de l'Aigle - Pfann route
Miage again. In recent years I have been riding at the Miage glacier at least 20 times, but this year's heavy snowfalls have made up for conditions better than normally found. This time the aim of the day was the Pfann route at Grand Aiguille de l'Aigle. The idea to ride this line was born from Laurent, looking at the pictures taken during our descent from the West of Mont Blanc, in 2007. That year, the conditions were very good (more or less like this year), so we thought that we could give it a try. It's a remarkable line with 800 meters of vertical, and with a steepness of 45° to 50°. Usually a descent that is not done from the top counts as an incomplete descent, but for me, the beauty of this line goes beyond this fact. This was probably a first descent on both snowboard and skis.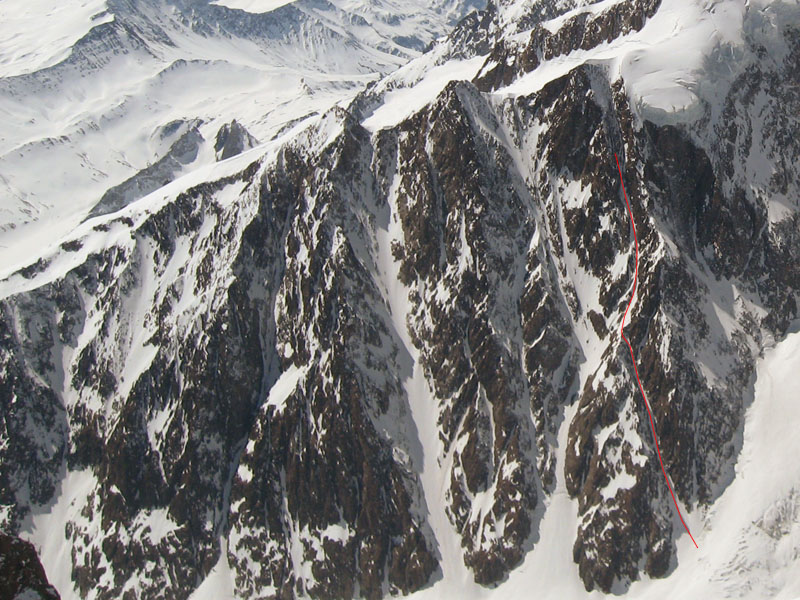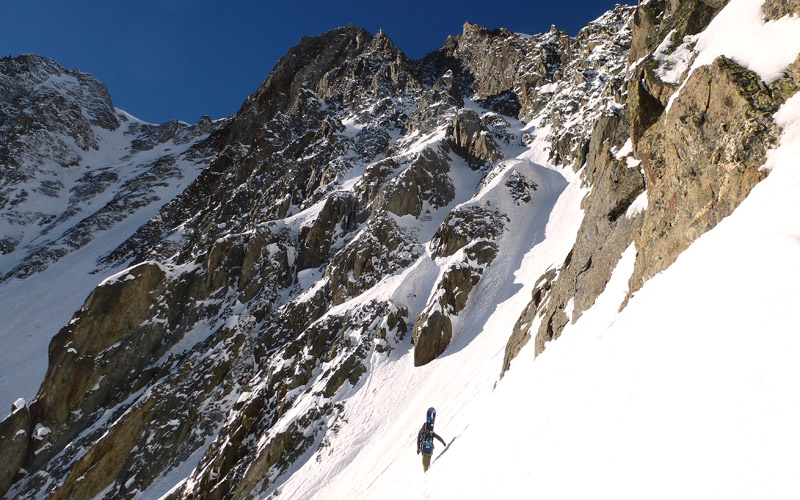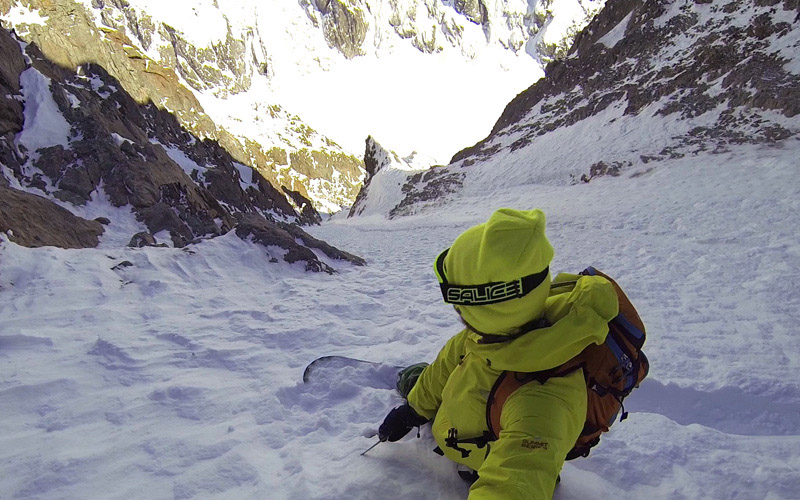 05.03.2014 Col du Peigne - South-West Couloir
Today, with my friend Julien Herry, we skied the couloir of Col du Peigne. We started at night from chamonix. We have not skied the whole line because we stopped a bit under the Col. A line that has probably never been skied, because it's hard to find the right conditions. We will come back to complete it ... maybe.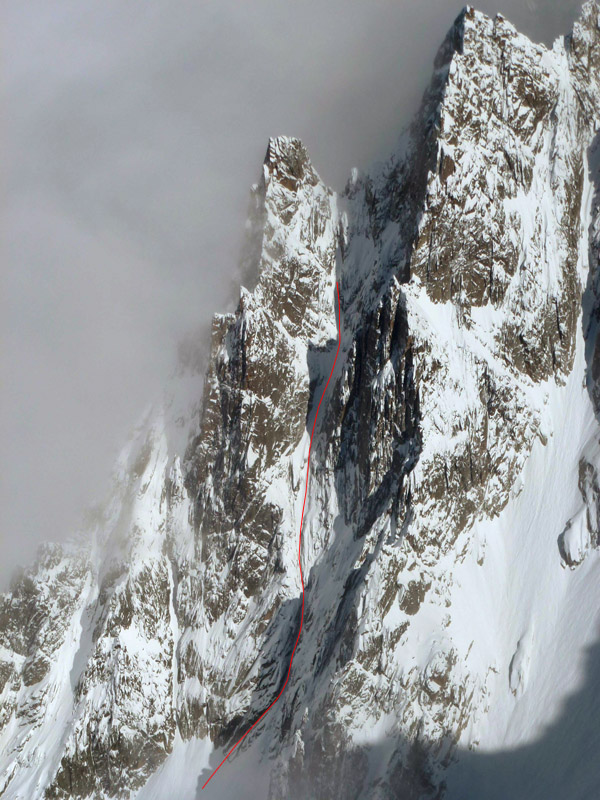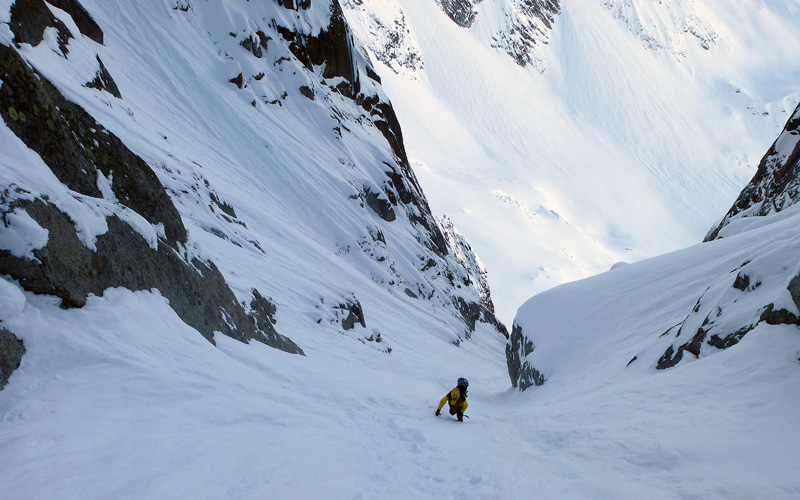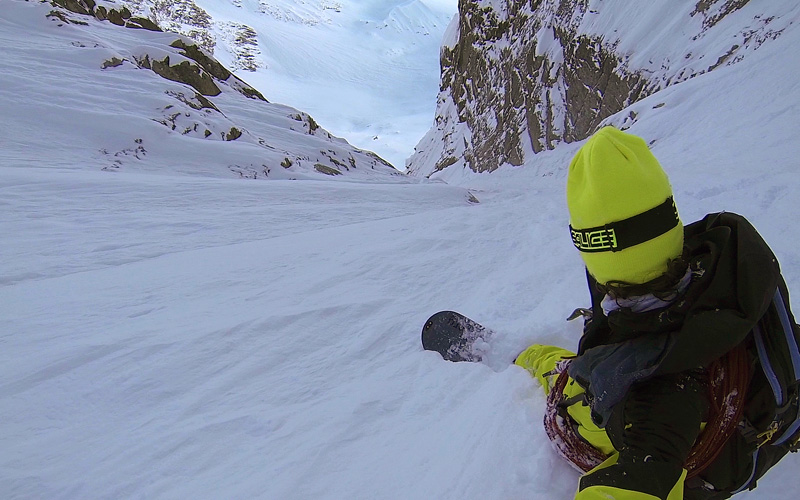 02.03.2014 Col du Plan - North Face
First day this year into the dark side of the Aiguille du Midi. Merci les copains Julien "Pica" Herry and Alex Pittin.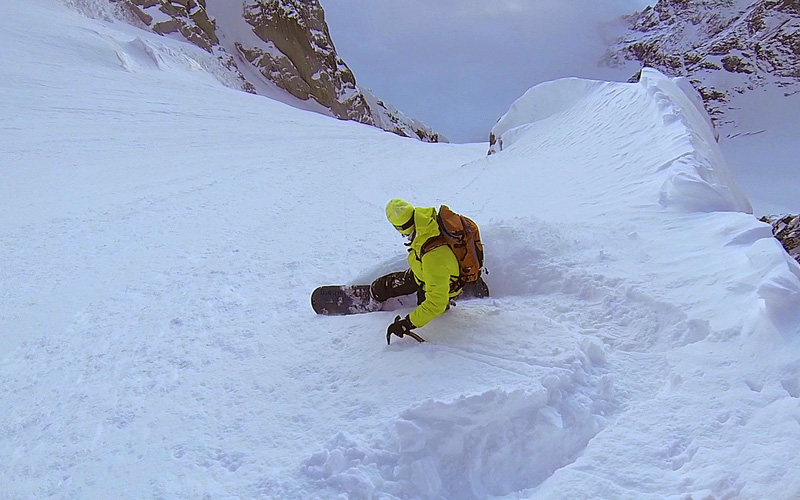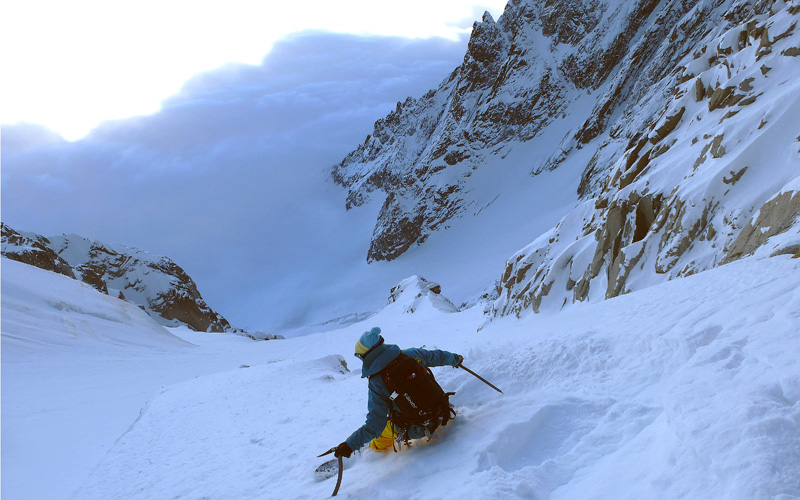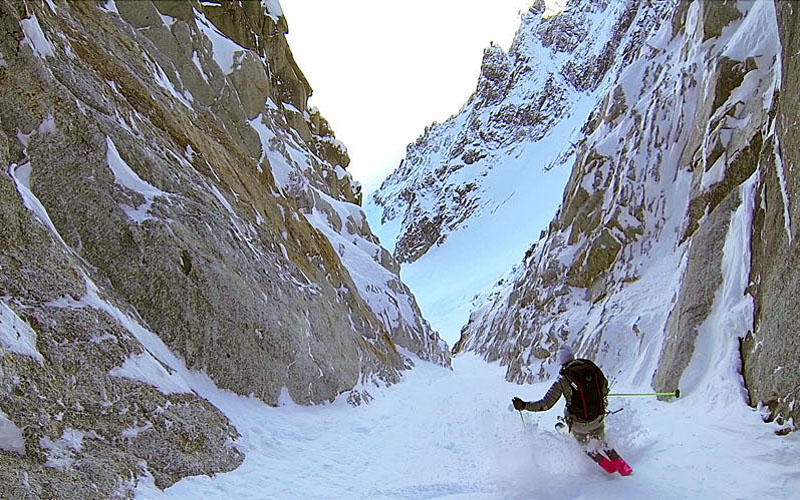 24.02.2014 Aiguille de l'Aigle - Couloir Domenech
Last year me and Julien Herry rode the wonderful main couloir next to Domenech. Back then I promised that I would return to ride the Domenech, which was skied for the first time by Pierre Tardivel and Tim Dobbins in June 2000.
This line is really narrow, and often not sufficiently covered by snow at the top.
Me, Laurent Dupré and Christophe Marteau (all snowboarders) never thought that we would find this line in such incredible condition, and especially not as early as 24th of February. Only at the top, in the steepest part, we found some hidden ice, covered by a few centimeters of snow. The rest of the run was pure pleasure. Finally a beautiful day spent with friends in the complete solitude that the basin Miage offers. I would also like to mention Pierre Morand and his son Arhur (16 years) who accompanied us, and then later also went down the same line with skis. For this descent I used the Furberg splitboard 162, a very unique board that under these conditions proved to be the perfect weapon for easy handling in the narrowest parts of the couloir, and still stable at speed. It's amazing how versatile this board is in all types of snow conditions.We are not aware of previous snowboard descents of this line. Usually the few who have addressed the descent rode the main couloir, which is wider and more obvious. Photo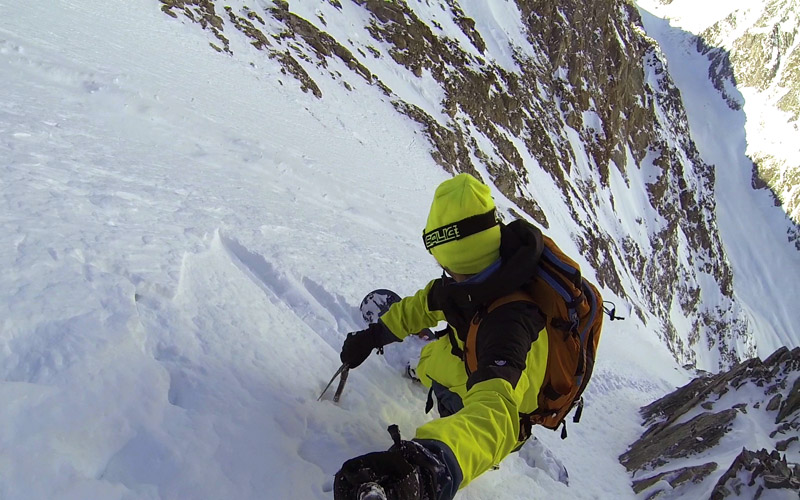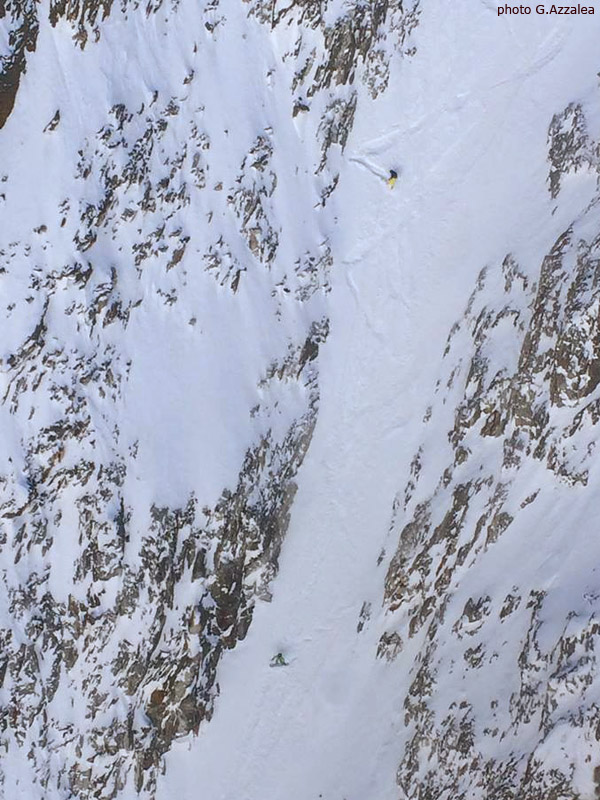 22.02.2014
Today with the Furberg 162 split, my favorite board ever.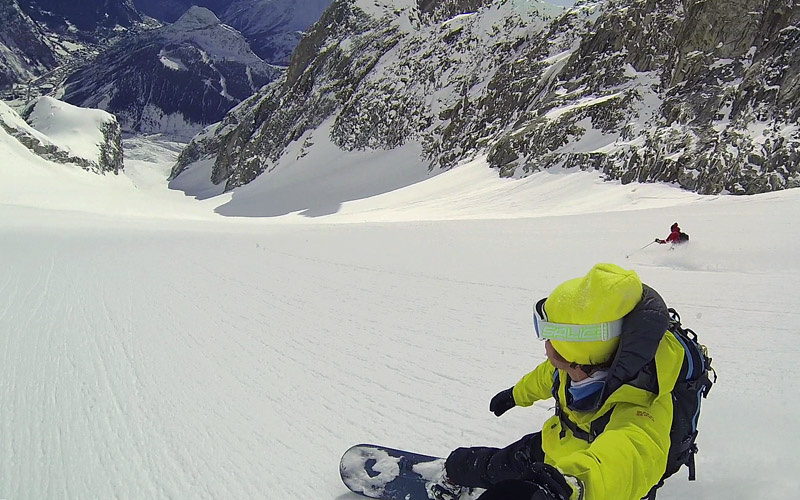 20.02.2014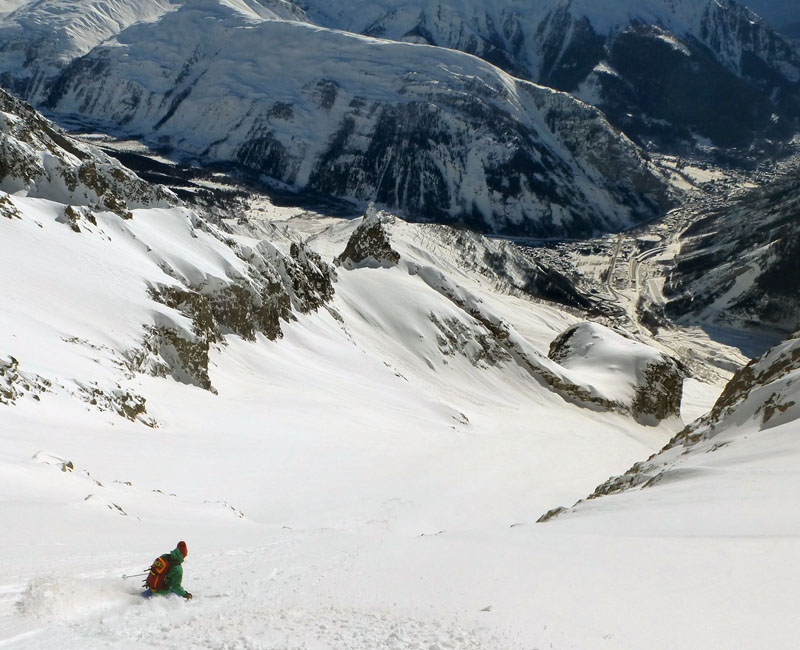 18.02.2014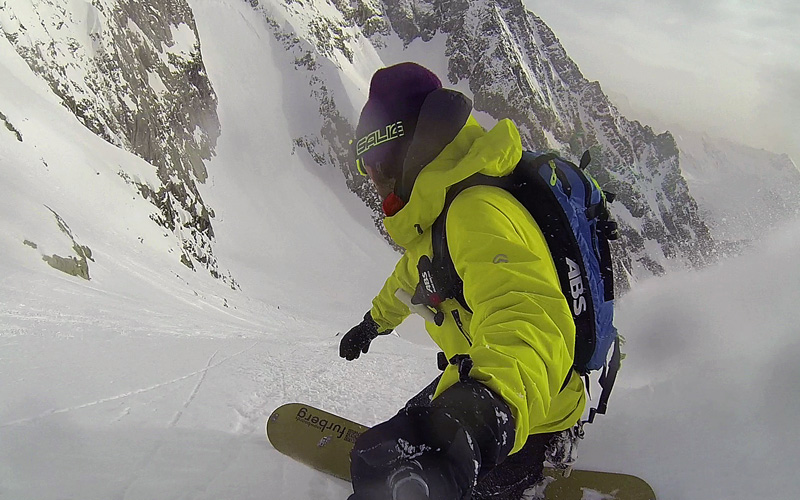 17.02.2014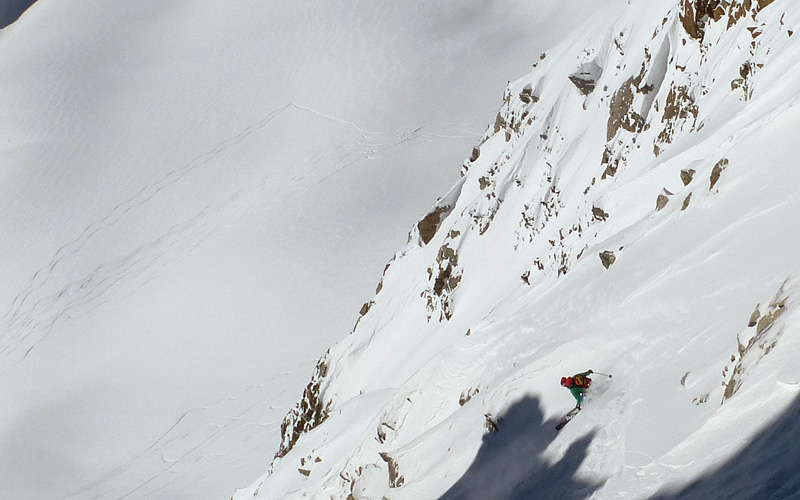 16.02.2014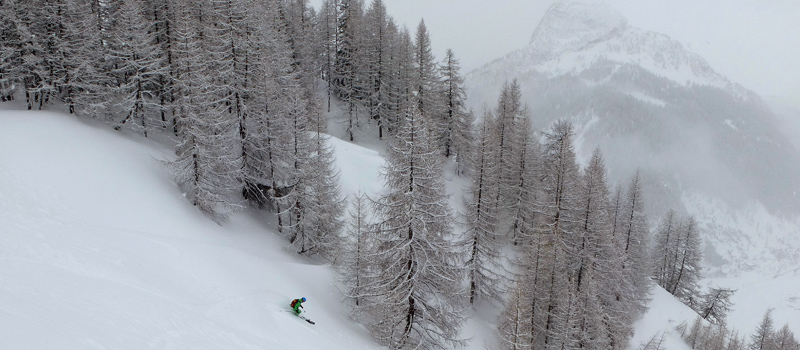 15.02.2014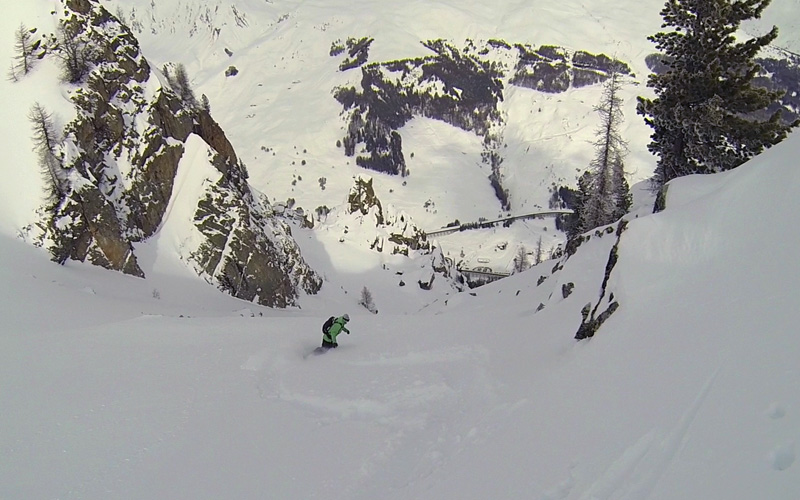 13.02.2014
Today I changed...but the story is always the same. Gran San Bernardo valley. Thanks Alfredo.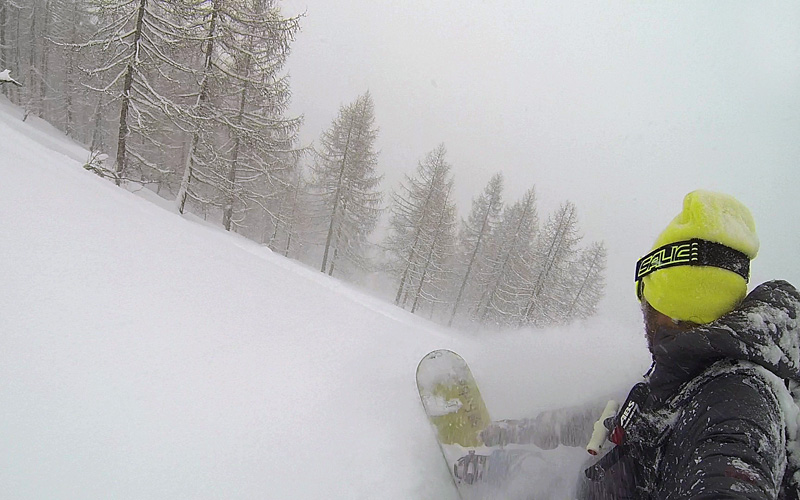 09.02.2014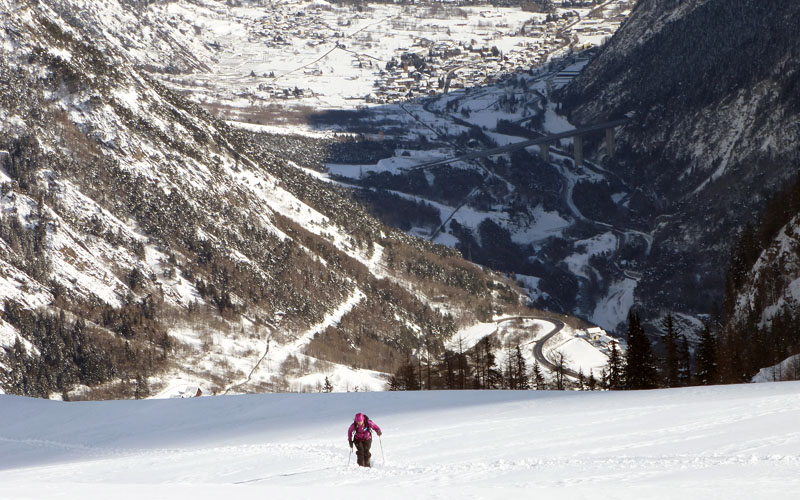 06.02.2014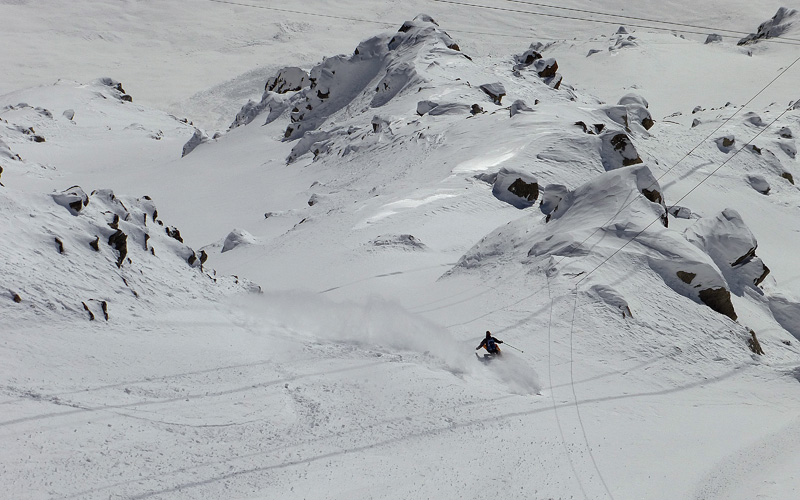 05.02.2014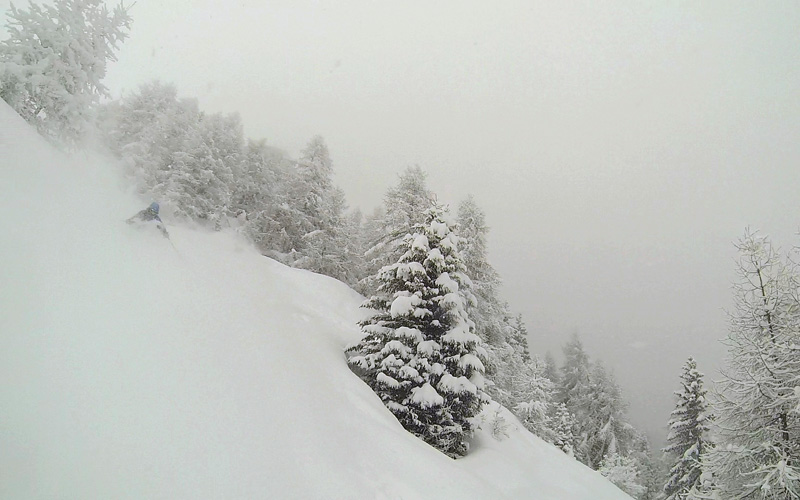 03.02.2014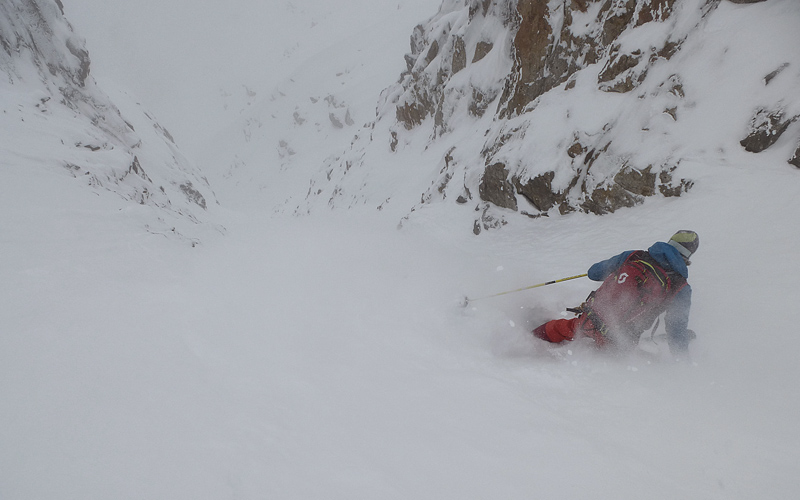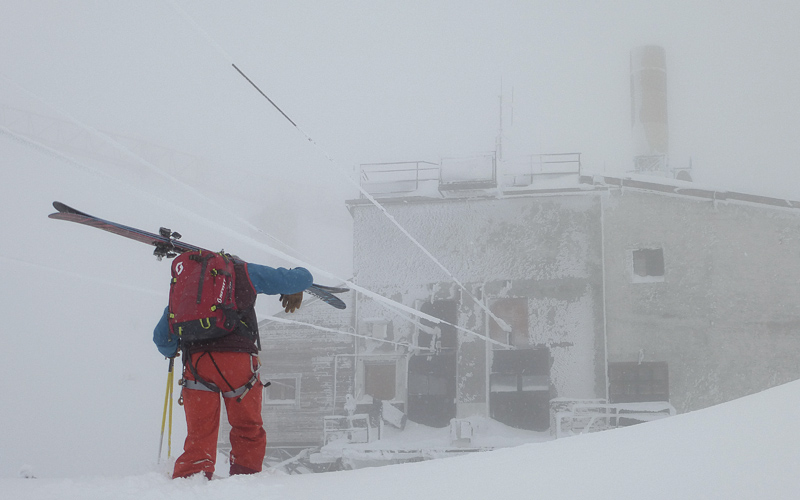 02.02.2014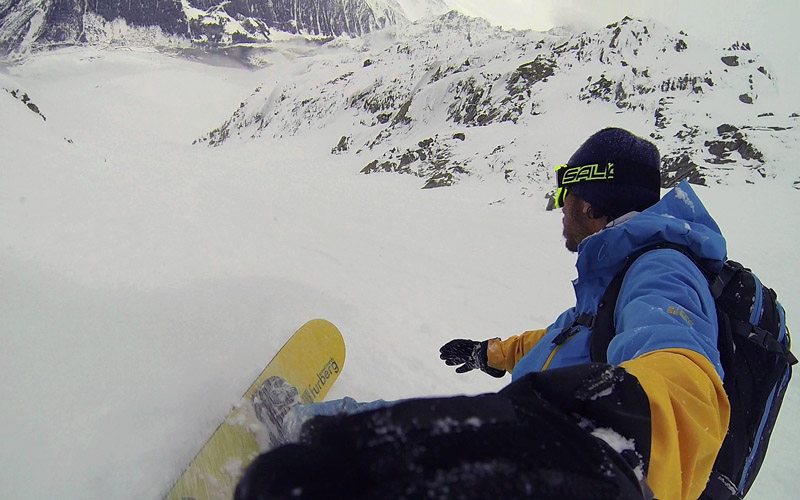 01.02.2014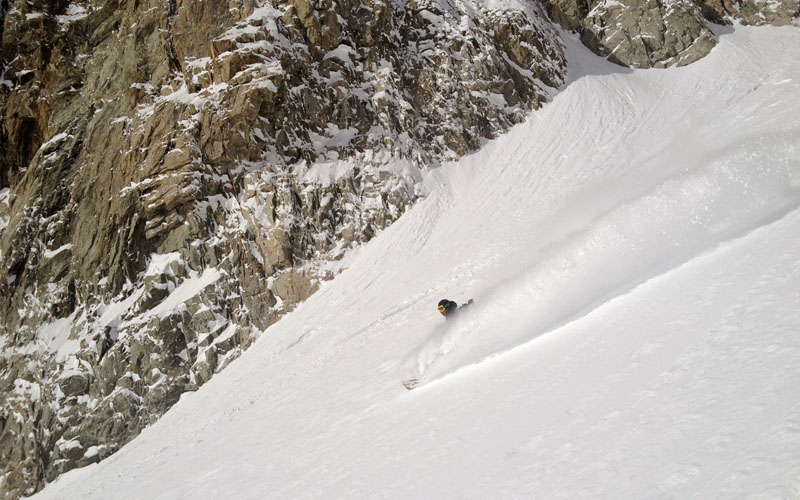 31.01.2014 Col de l'Amone - South-West Couloir
The weather is not always what we want. Today with my friend Julien "Pica" Herry.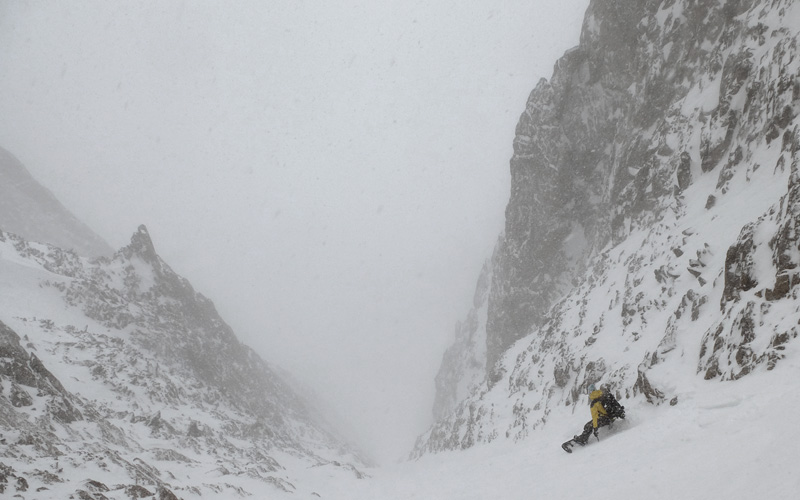 29.01.2014 Marbrees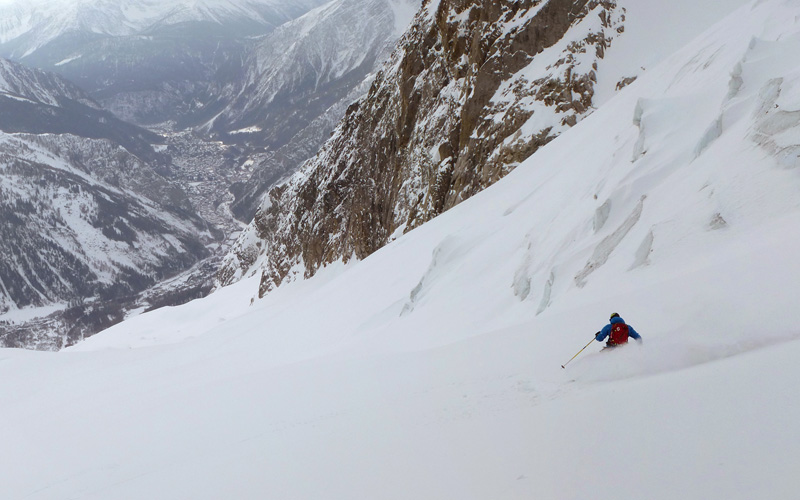 22.01.2014 Dente del Gigante - South Face
Two beautiful days ended with the wonderful descent of the Dente del Gigante South face. Today with Luca and Luis.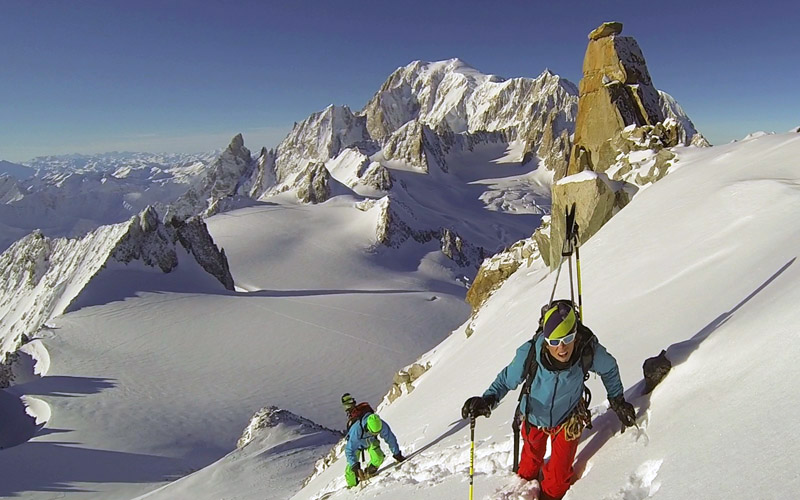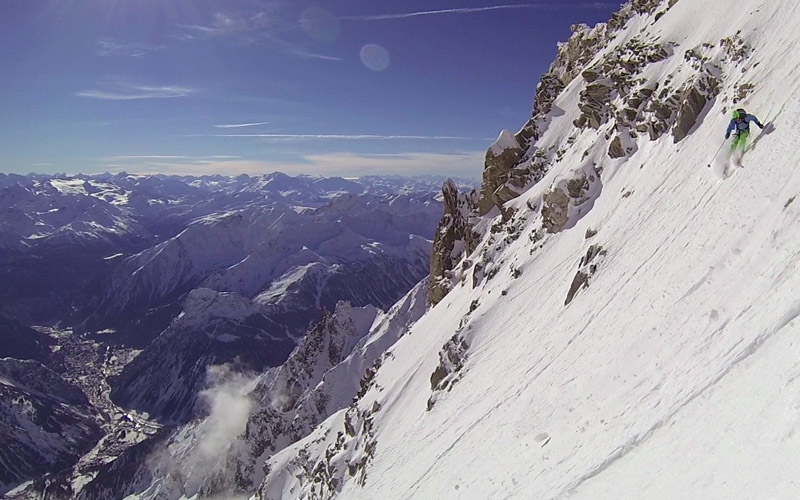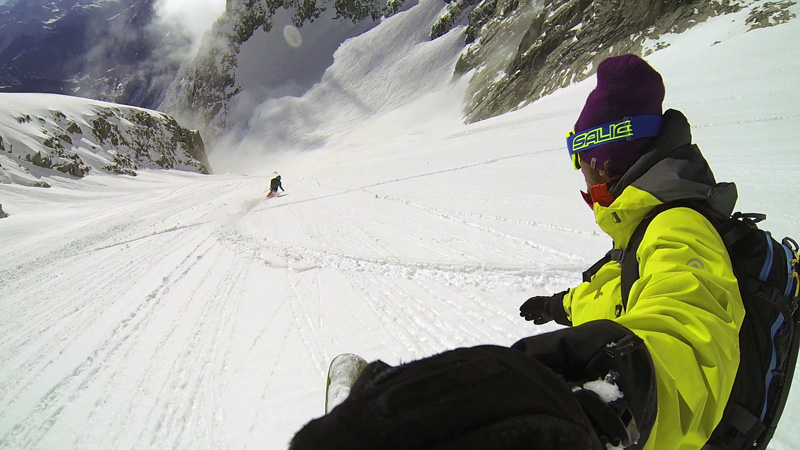 21.01.2014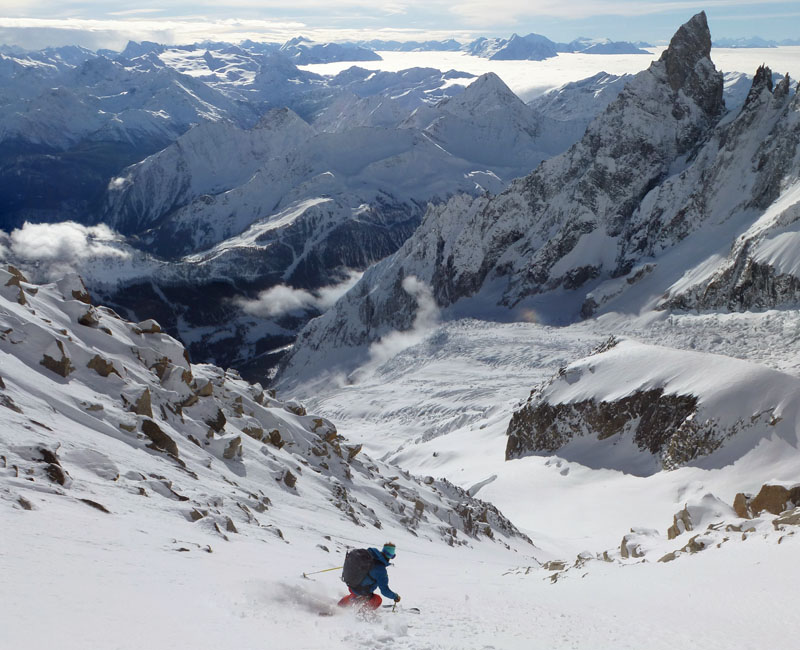 20.01.2014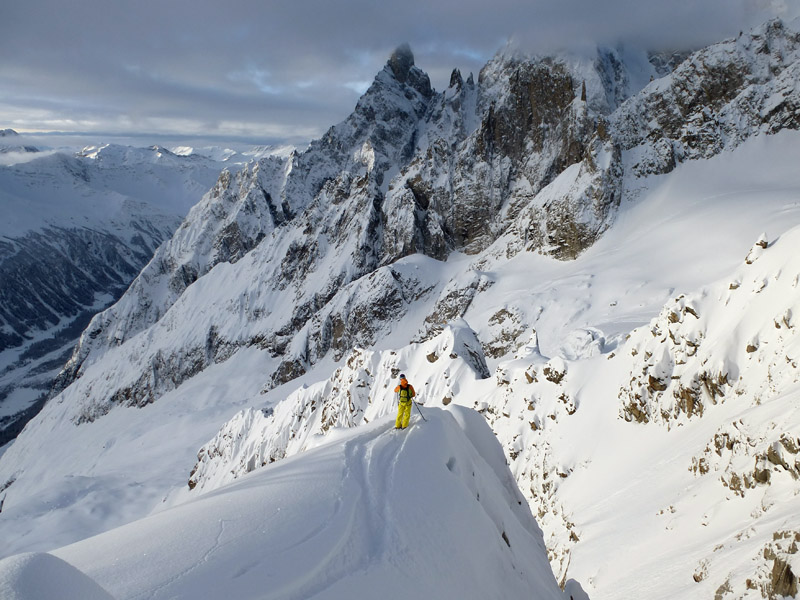 15.01.2014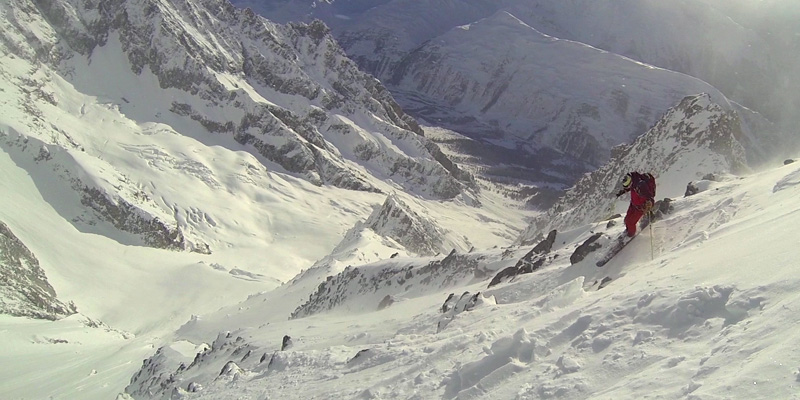 13.01.2014 Aiguille du Passon - South-West Couloir
Fast run before the storm. Today with my friend Laurent.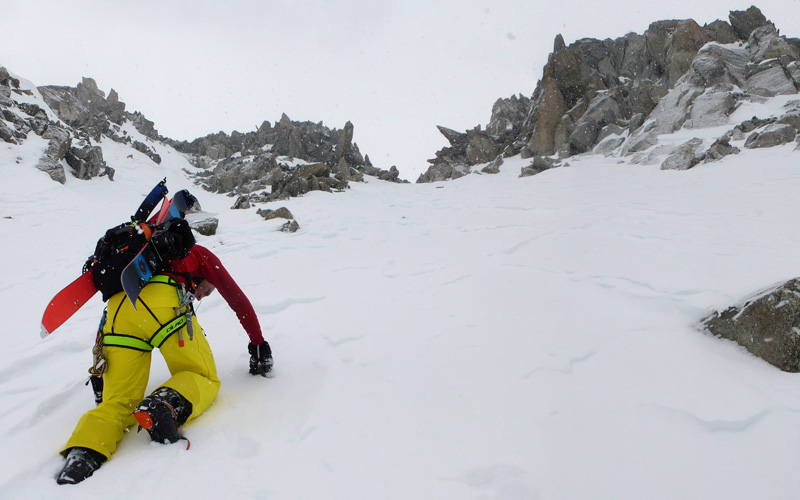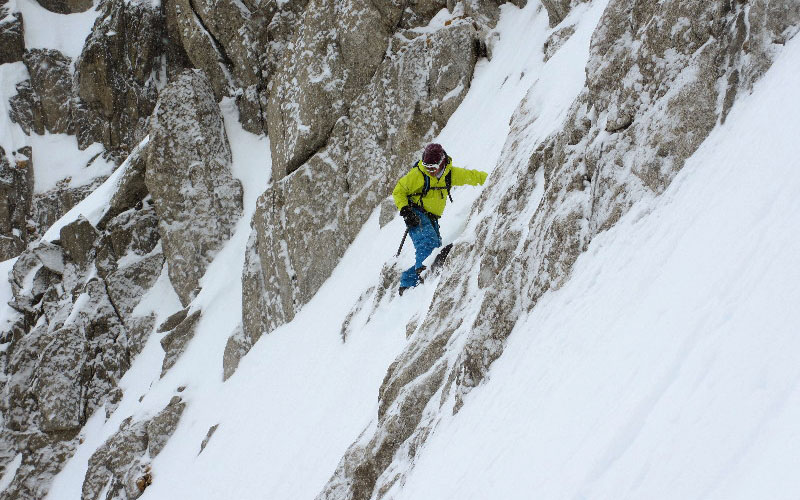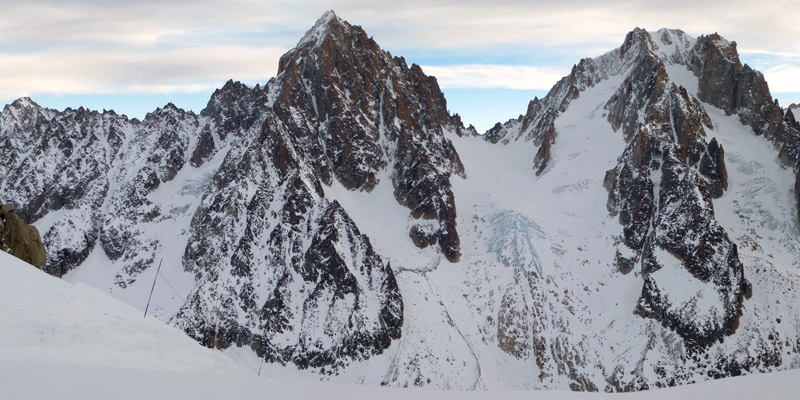 12.01.2014 Aig. du Brouillard (P.ta Saviotti)-South-West Couloir
Great day in Miage basin. It's always nice this couloir in front of the more famous Petit Mont Blanc .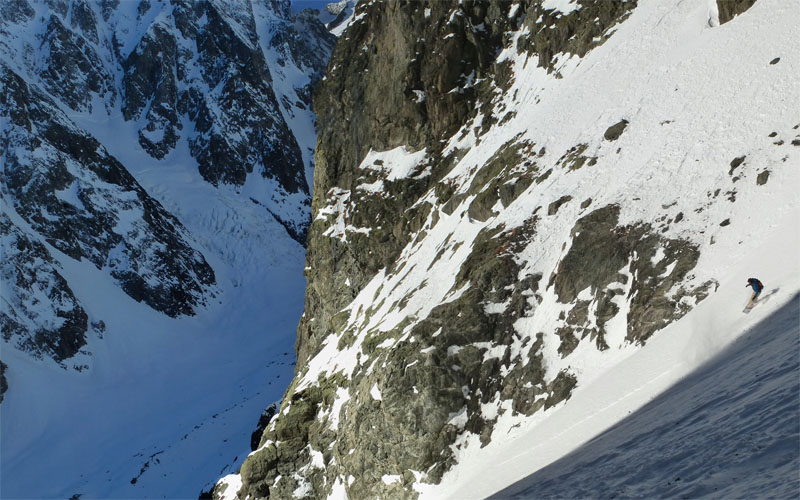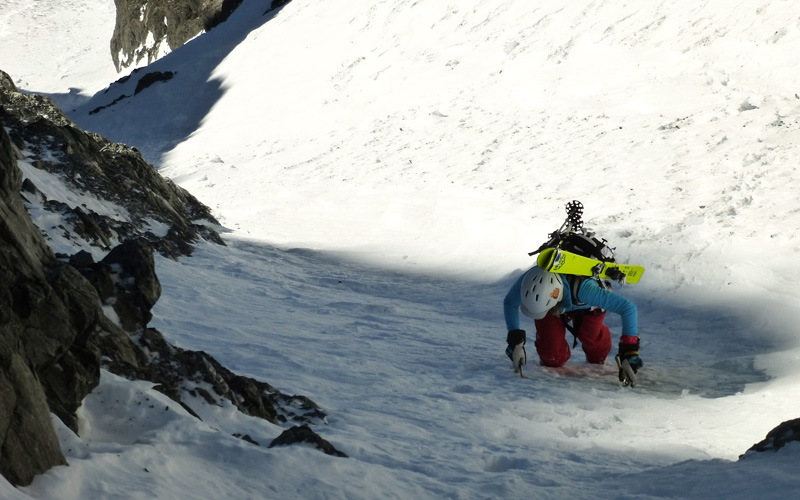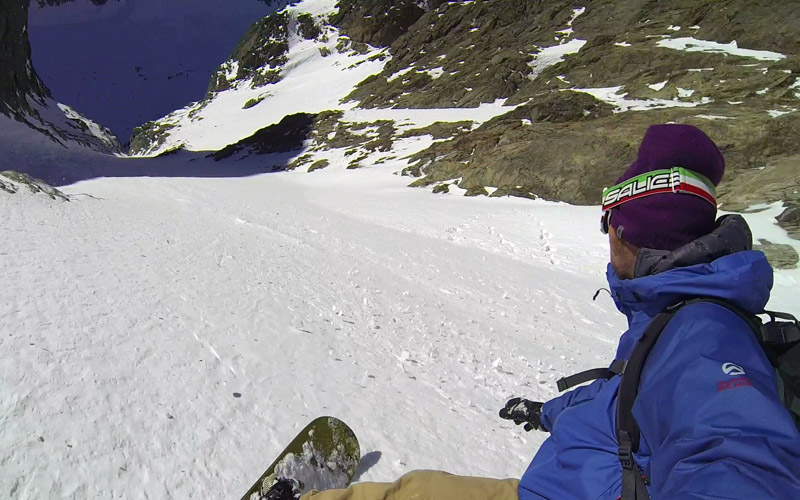 11.01.2014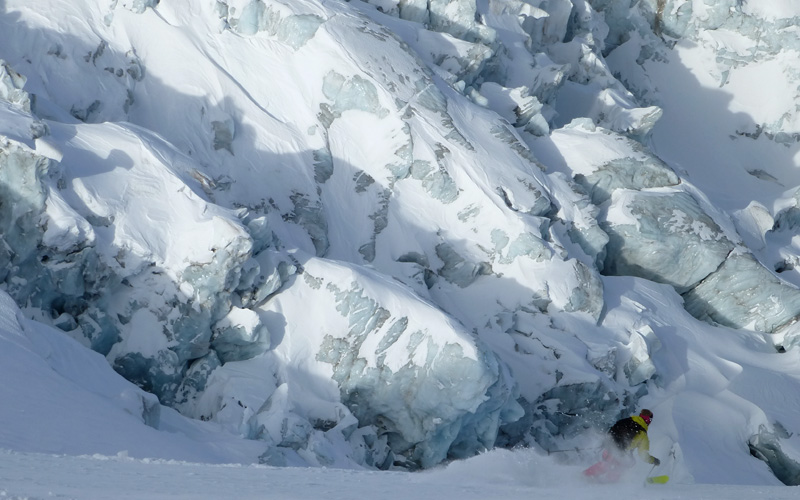 09.01.2014 Aiguillettes du Tacul - South-West Couloir
Second time for me in this beautiful couloir. Today, the snow was not easy and it was very windy. Thanks to my friend Luca to have shared this day with me.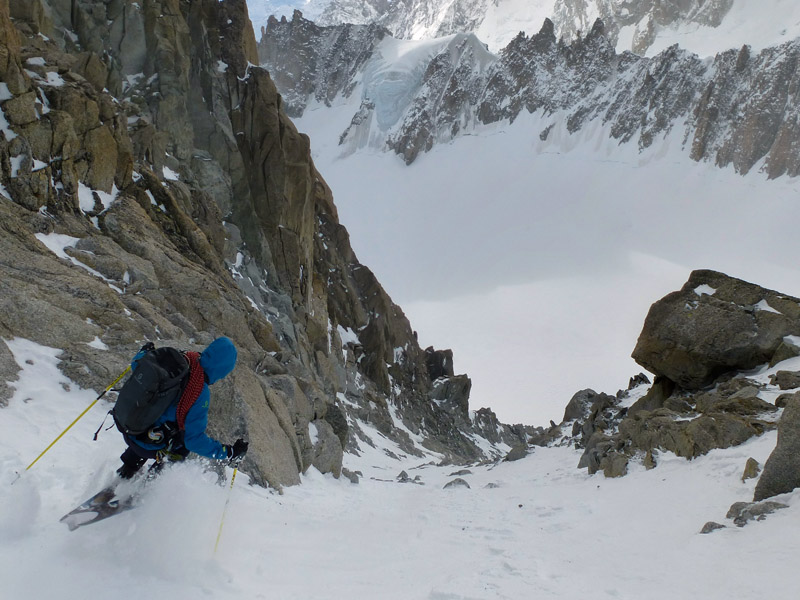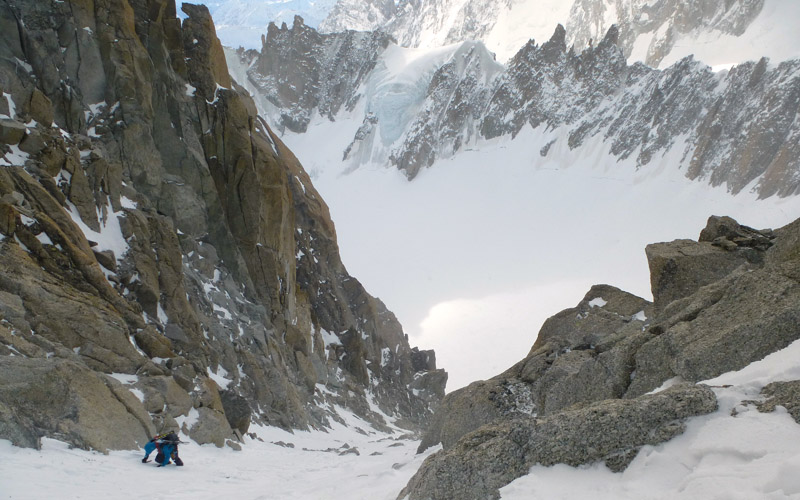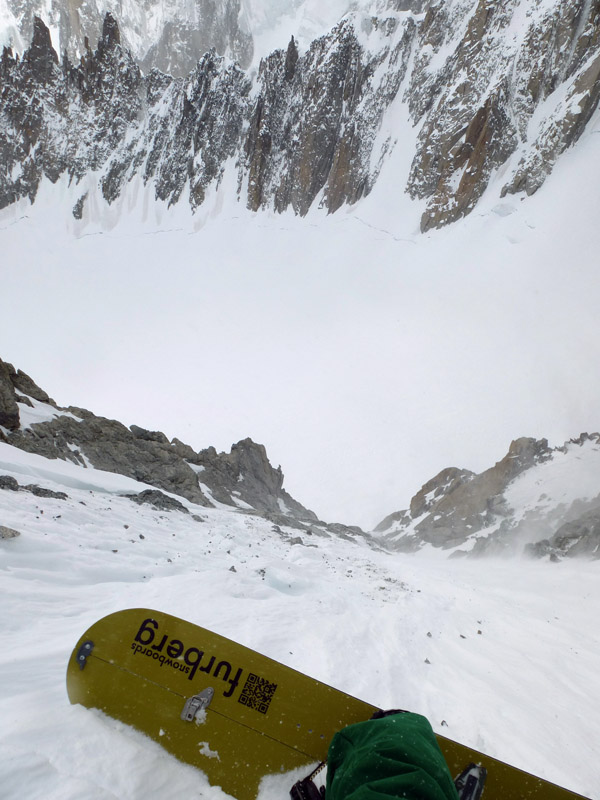 08.01.2014
Today, Col d'Entreves with Tony Lamiche, Alex Pittin, Luca Rolli and Alfredo Canavari.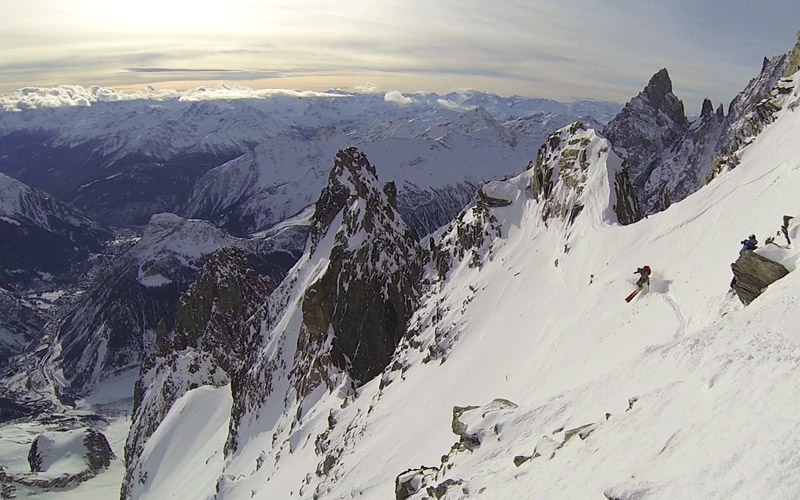 06.01.2014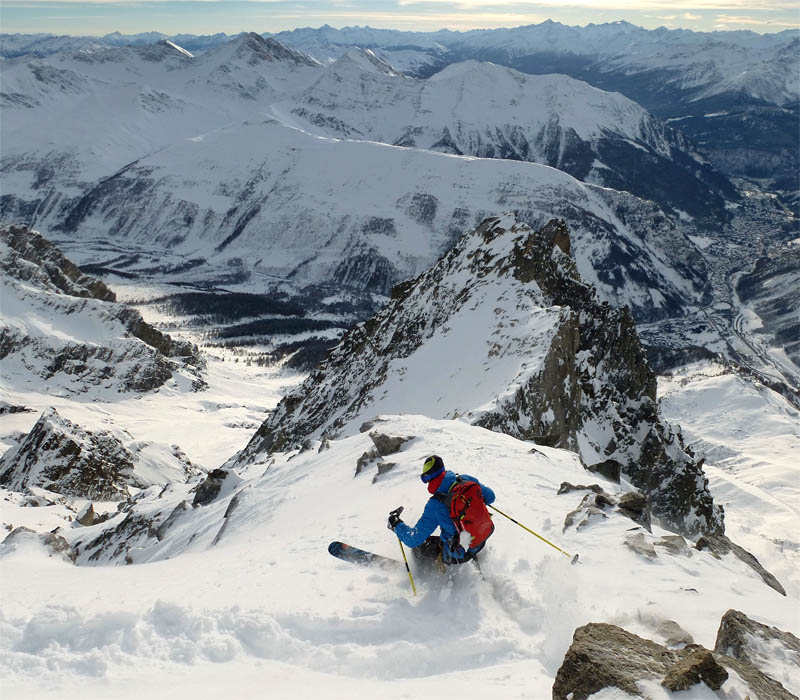 02.01.2014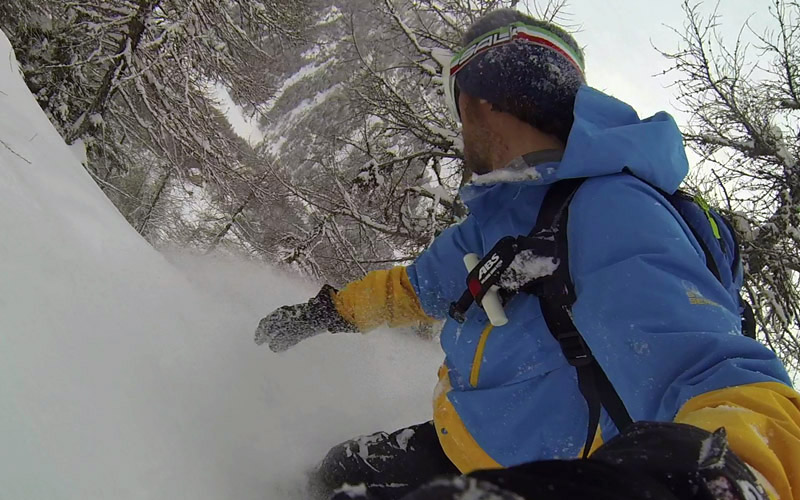 31.12.2013 Happy New Year!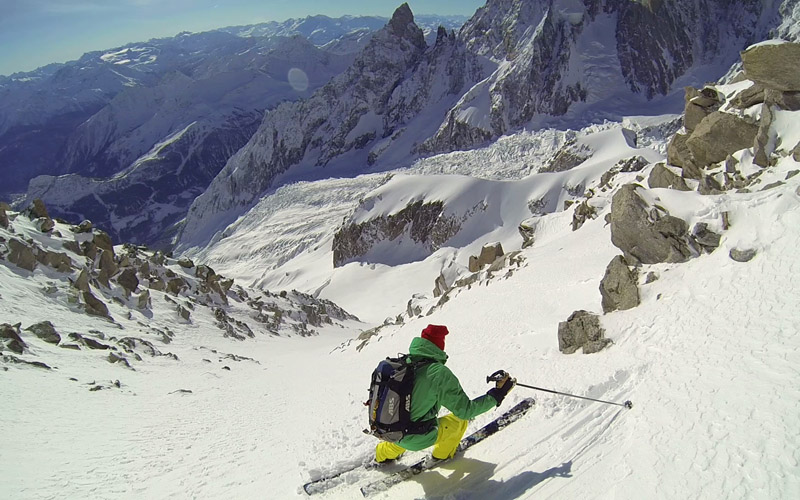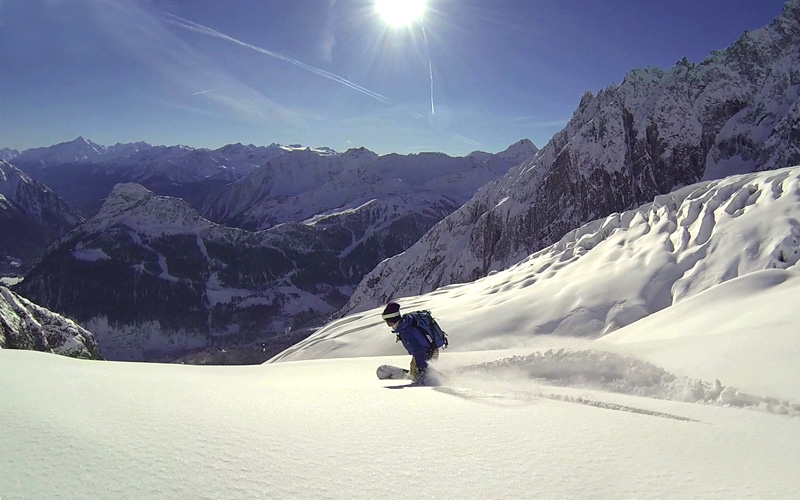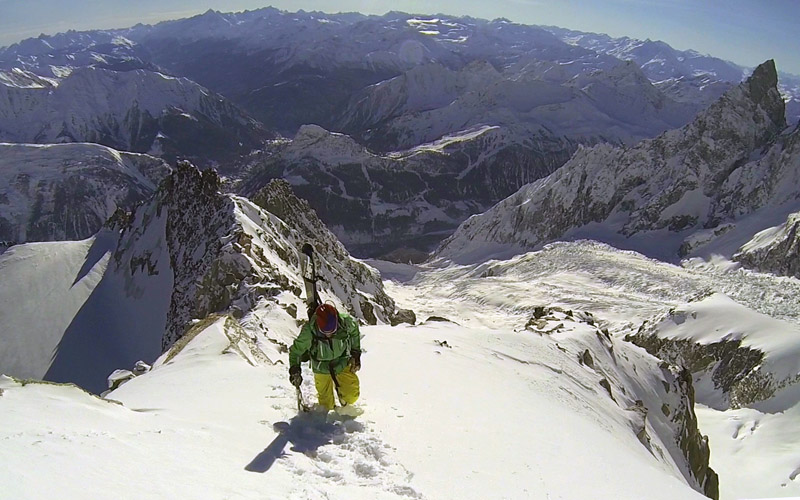 30.12.2013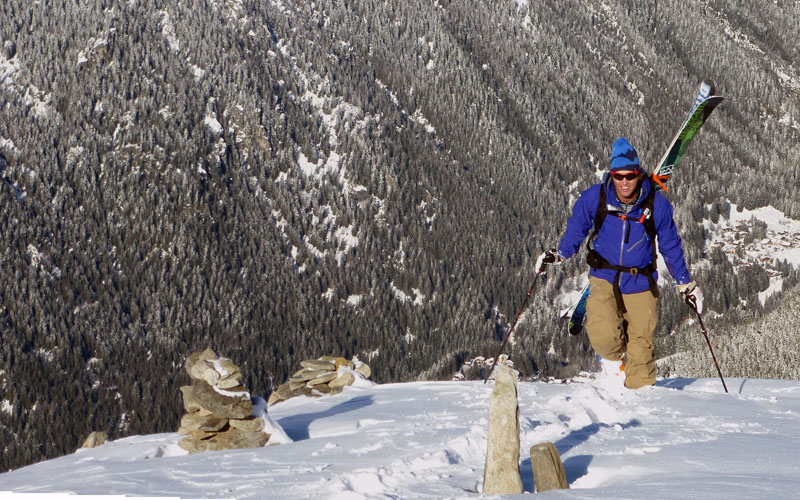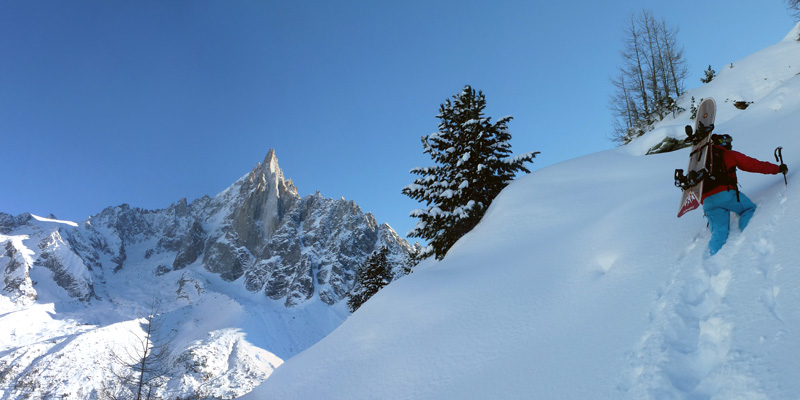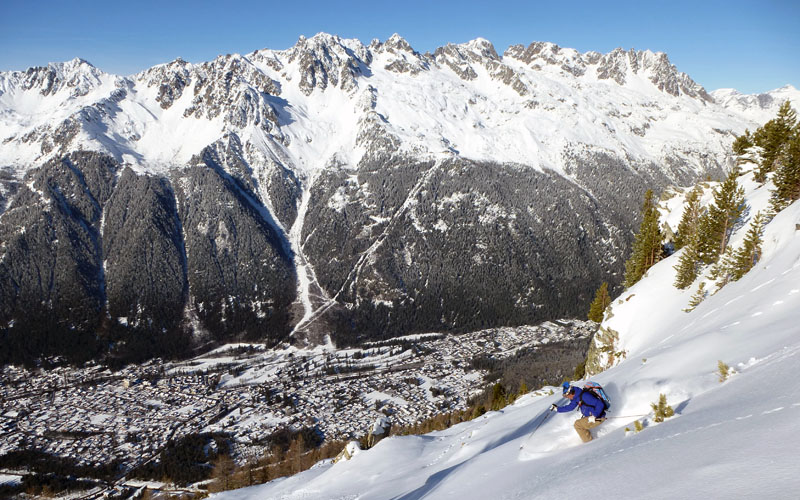 29.12.2013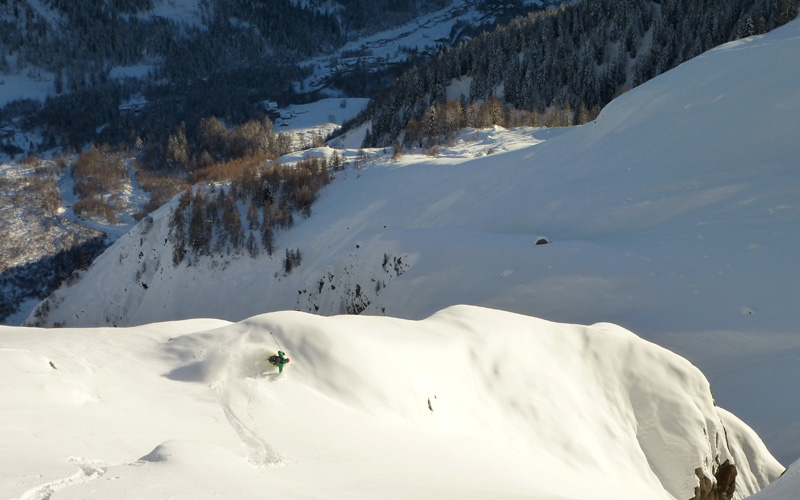 28.12.2013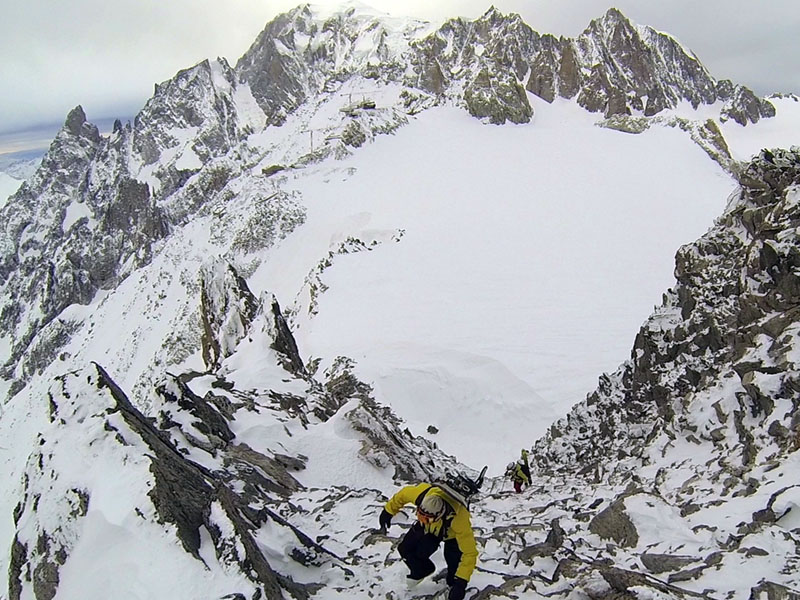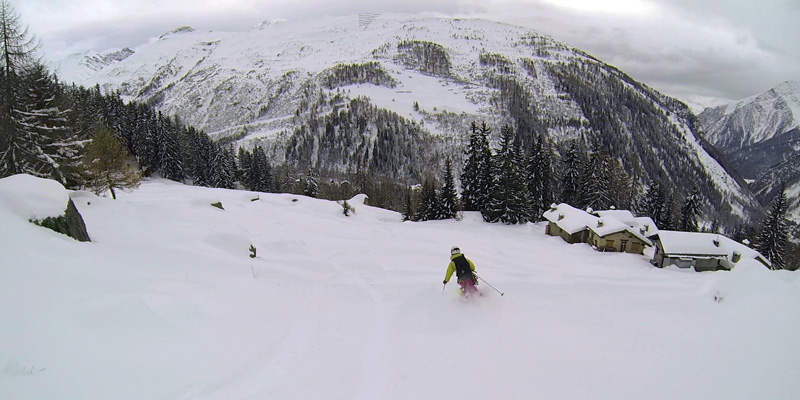 27.12.2013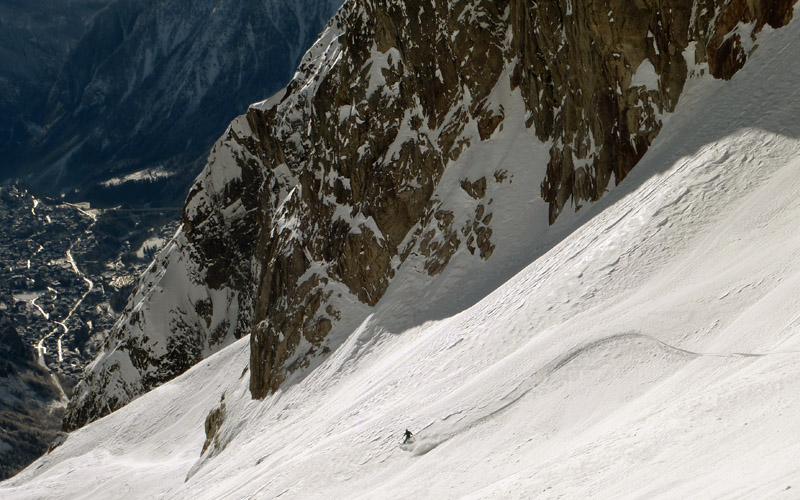 26.12.2013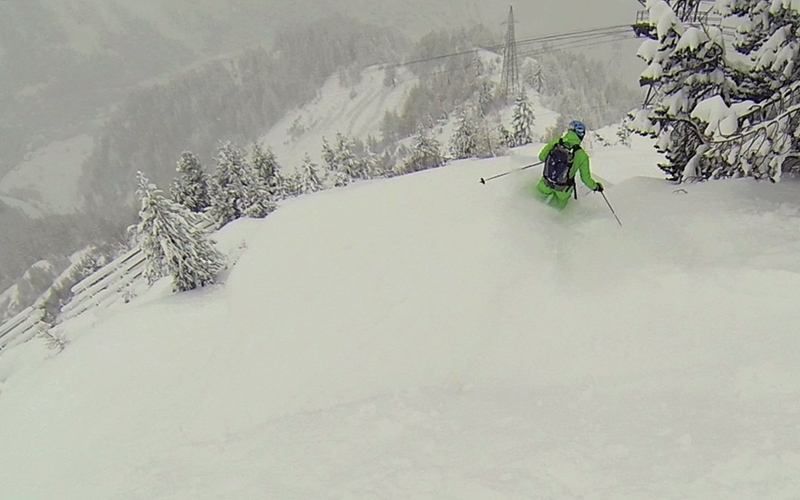 25.12.2013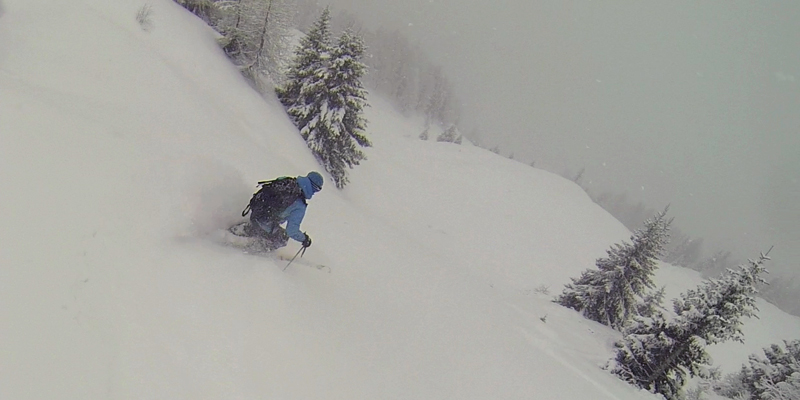 23.12.2013 Col d'Entrèves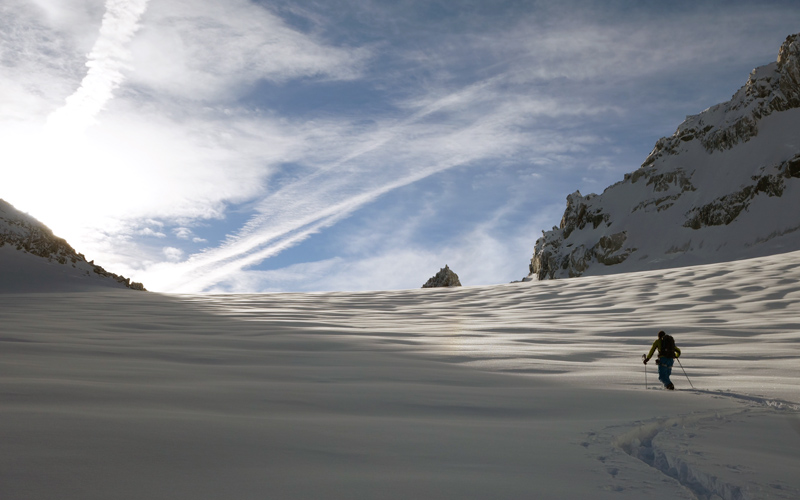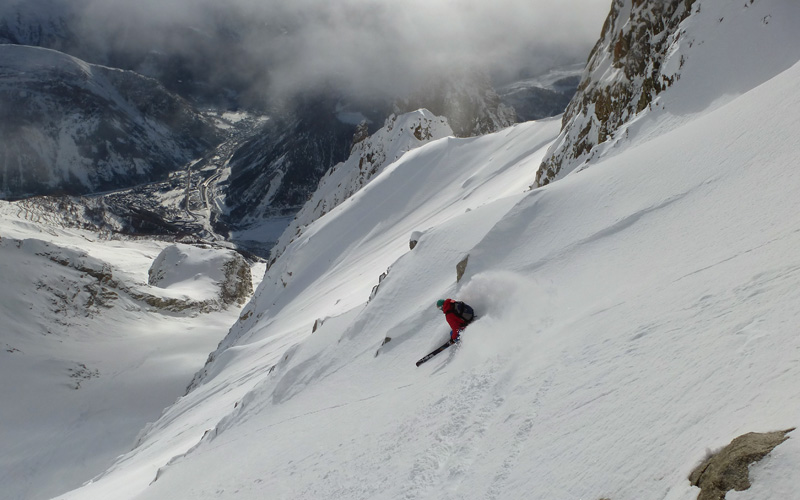 21.12.2013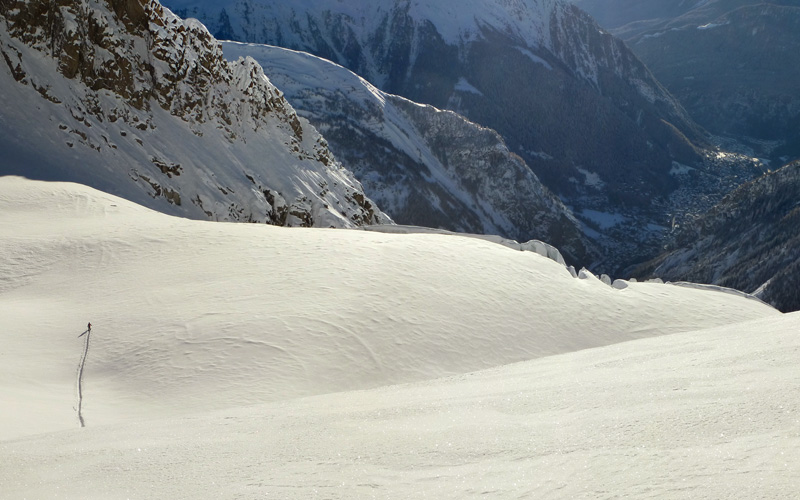 17.12.2013 Grand Crêton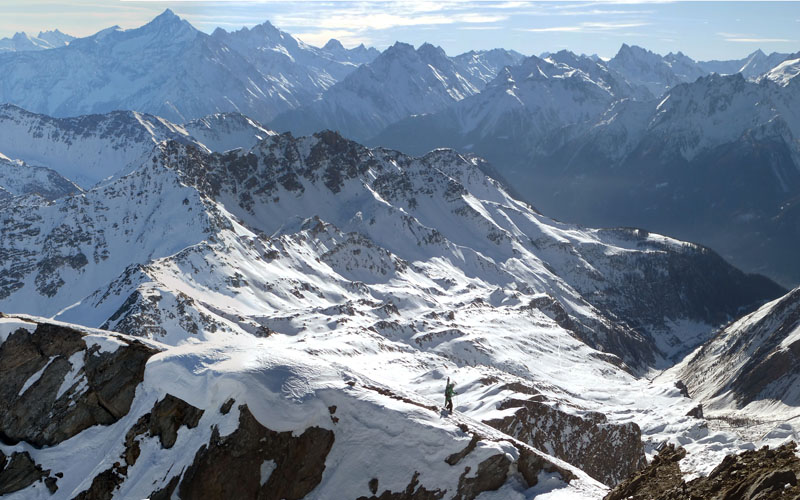 16.12.2013 Val di Rhemes
Couloir North of Becca Tsambeina. Today with Laurent. http://lequipedulundi.com/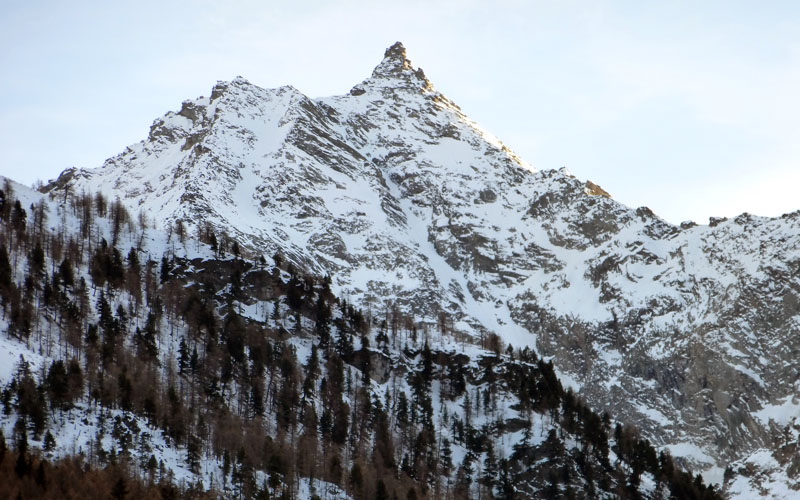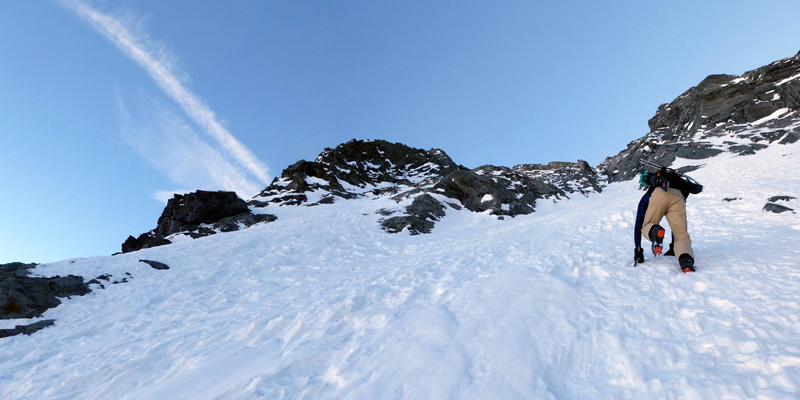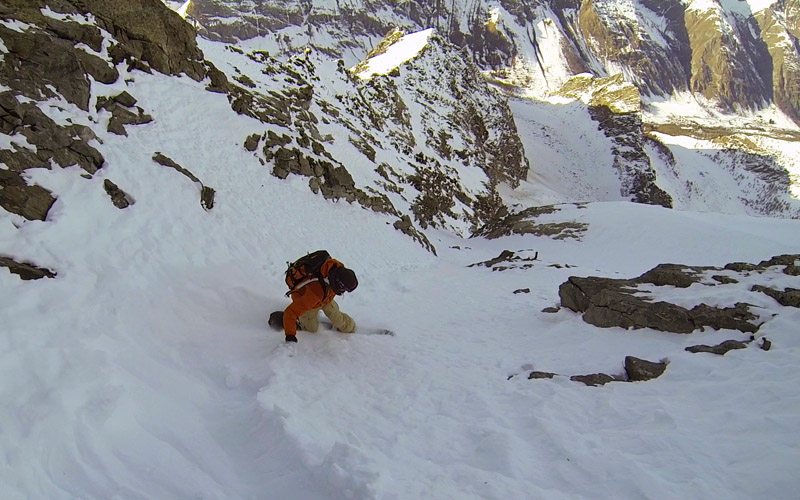 12.12.2013
Gran San Bernardo, with my friend Alfredo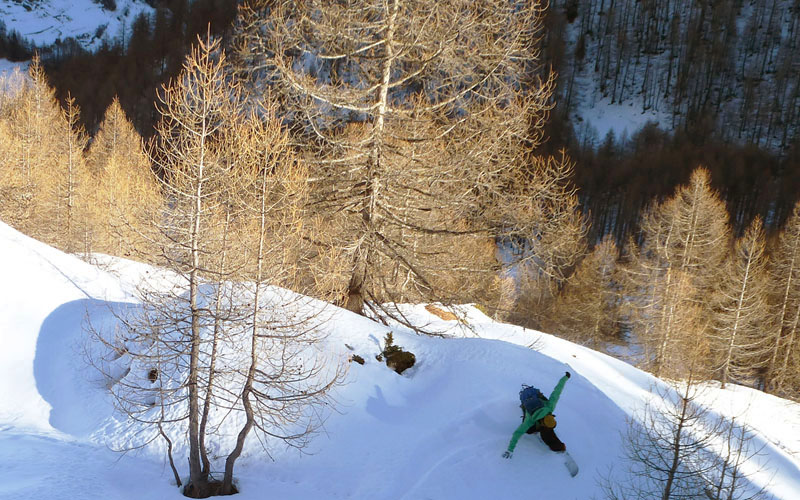 09.12.2013
Argentière basin, today with Laurent and Alfredo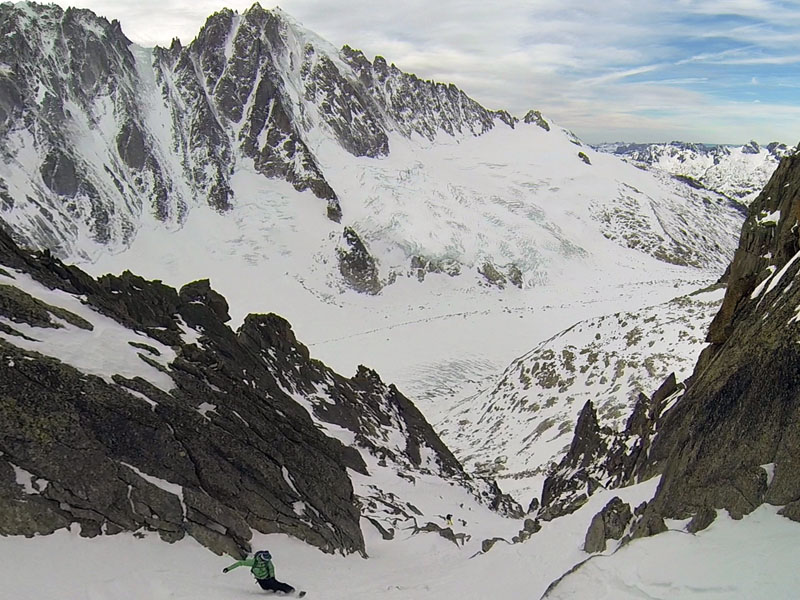 07.12.2013 Mont Colmet
The Mont Colmet (3024 m.) is the beautiful summit above the small village of Arpy.The North face is short but is nice. Today with Francesca, Michèle and Diego.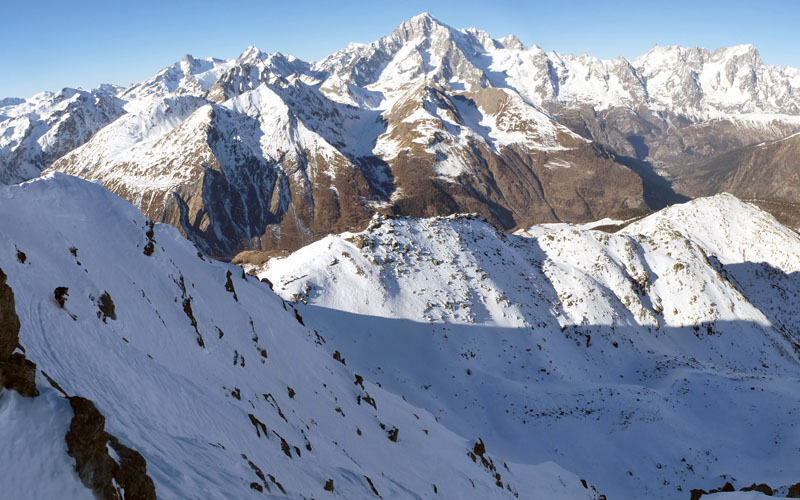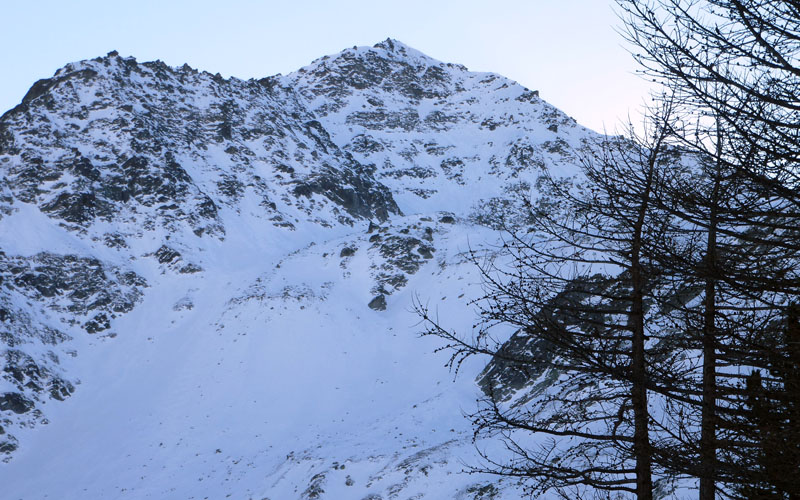 03.12.2013
Seth Morrison, Col d'Entreves. Today with Nate Wallace and Cedric Bernardini.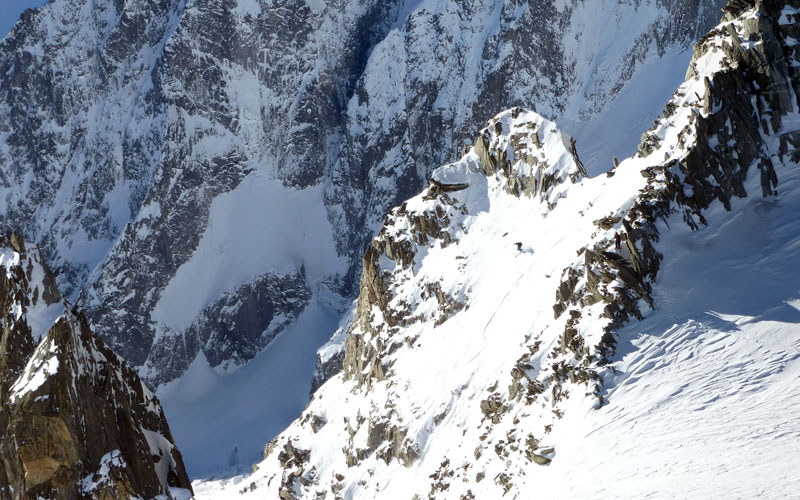 02.12.2013 Berio Blanc - South-East Couloir
The Berio Blanc (3252 m.) is the highest summit in the Miravidi massif. The South-East couloir is the most beautiful line of this mountain. Today with my friend Laurent.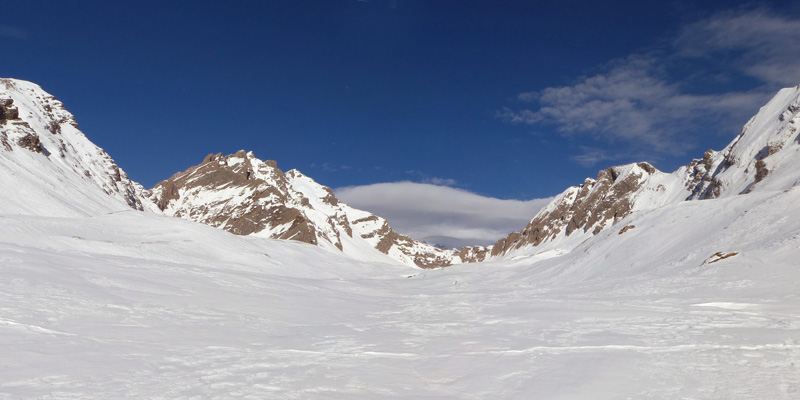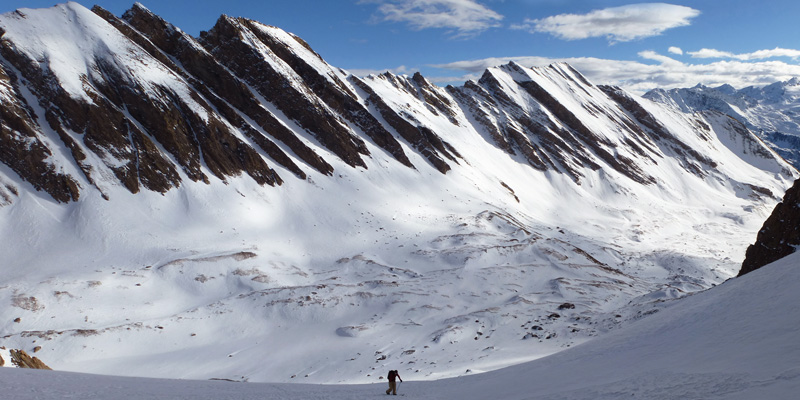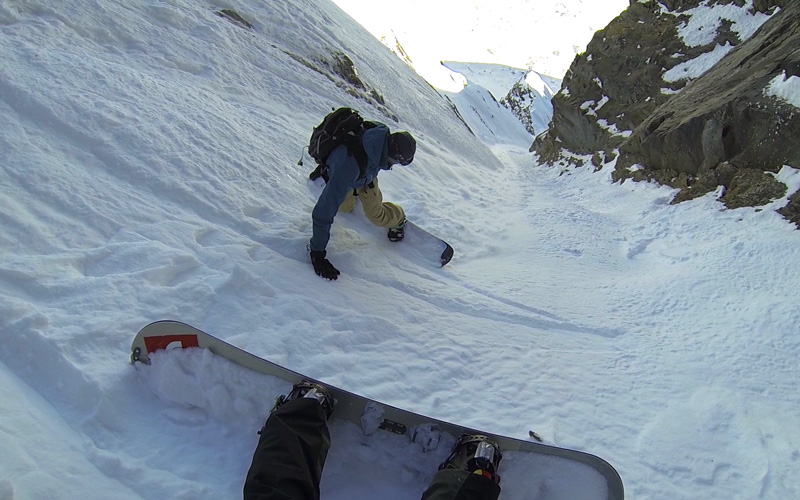 01.12.2013 P.ta Helbronner - Gh. Toula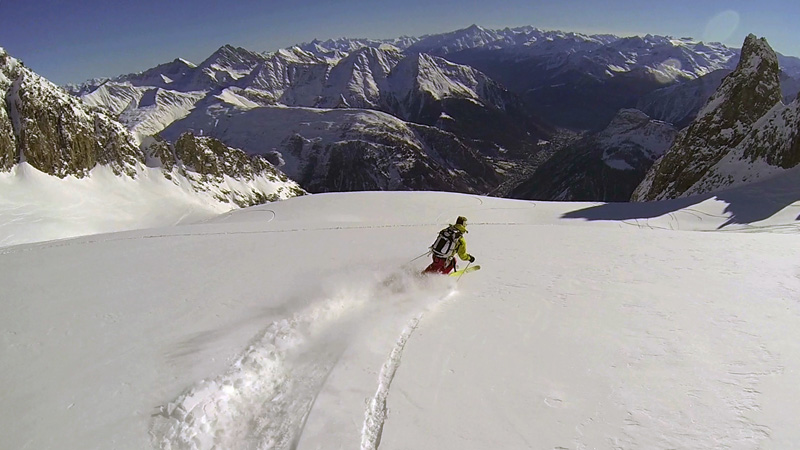 24.11.2013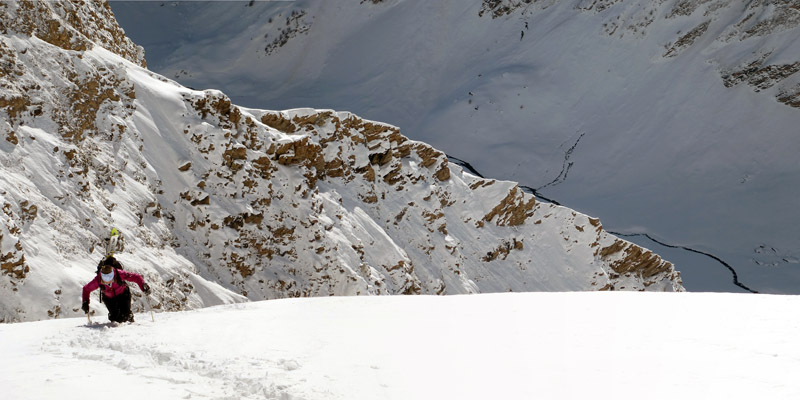 16.11.2013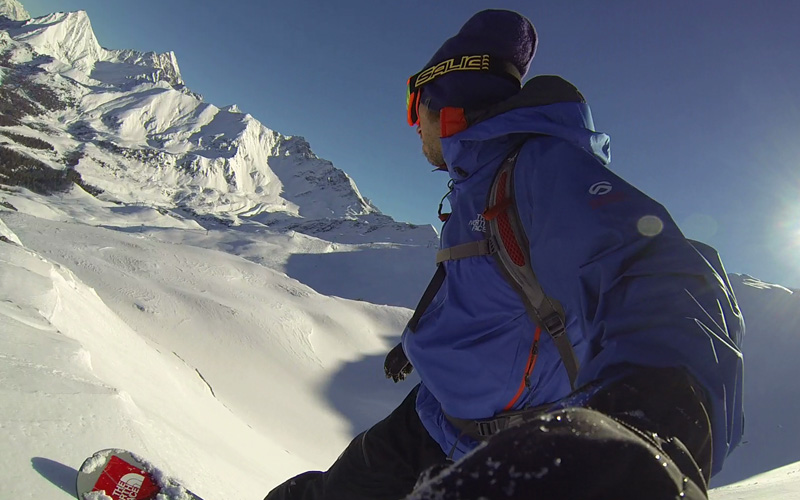 02.11.2013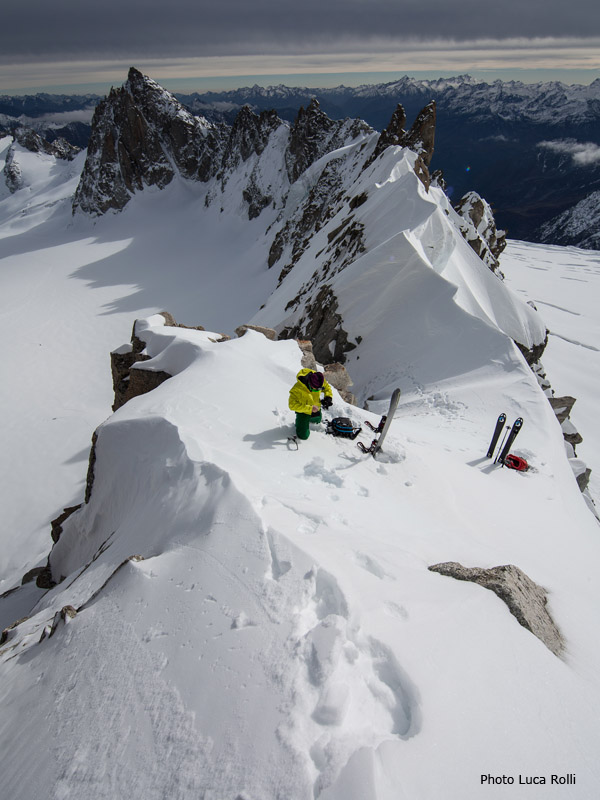 01.11.2013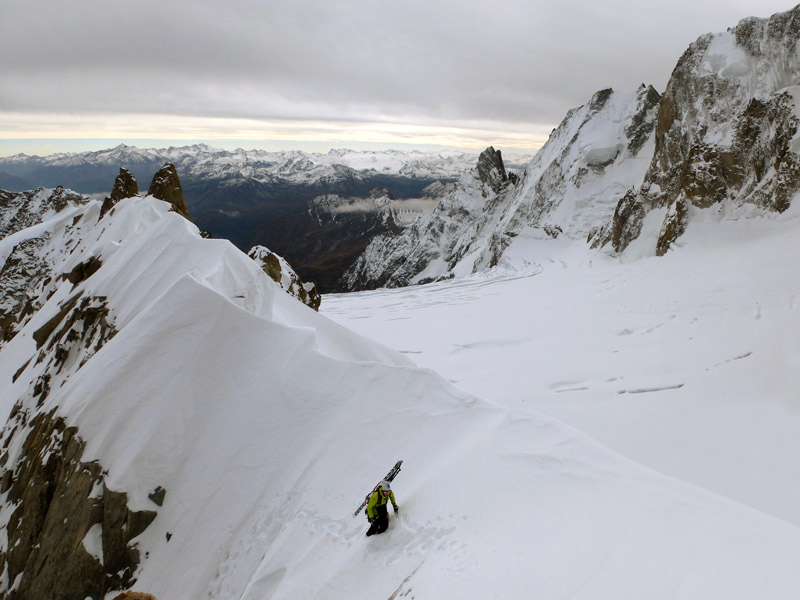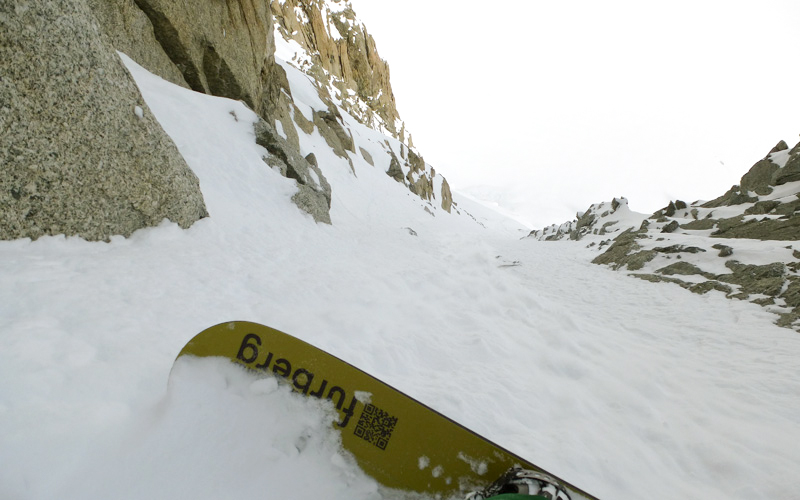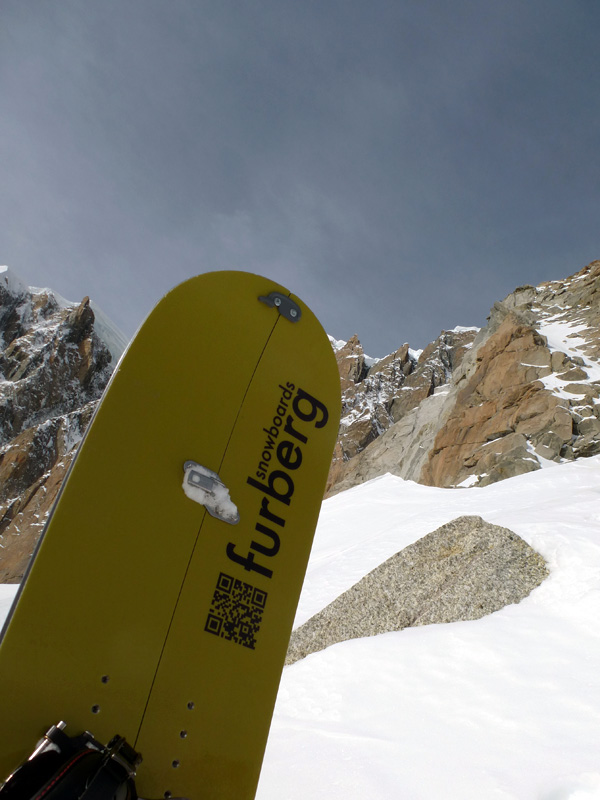 26.10.2013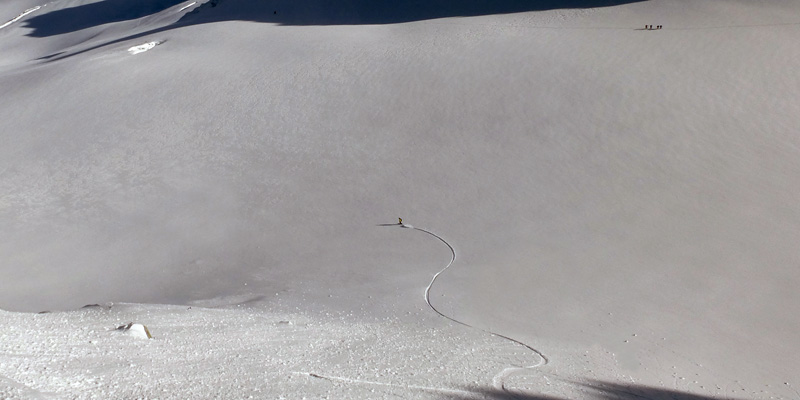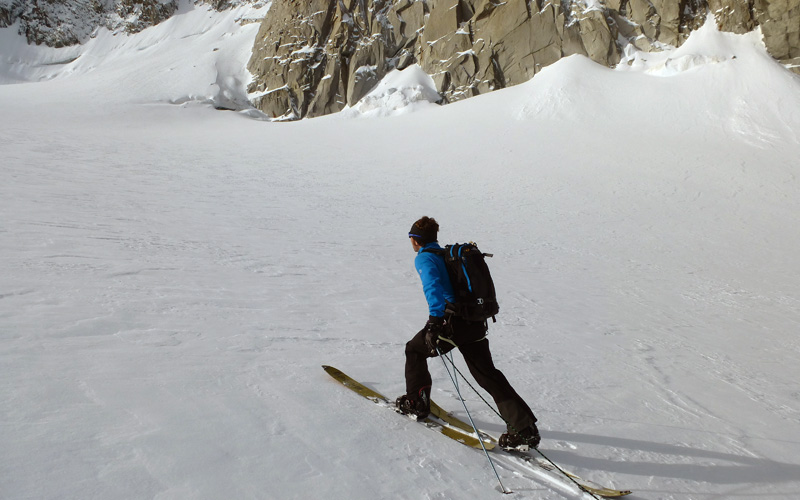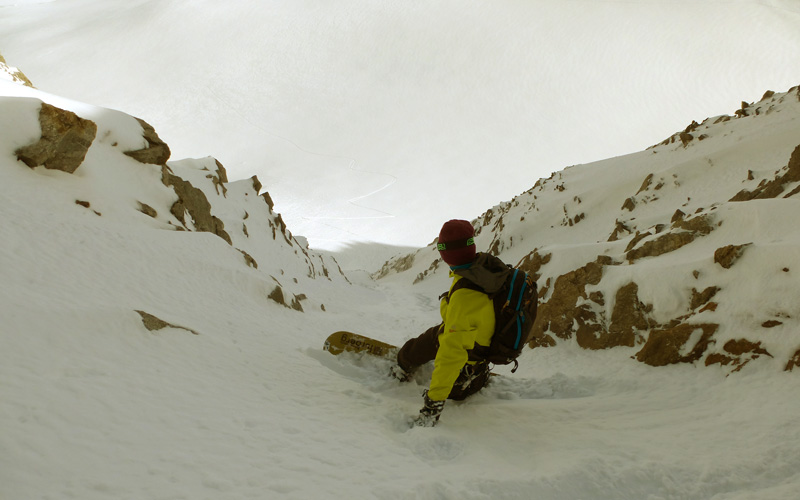 19.10.2013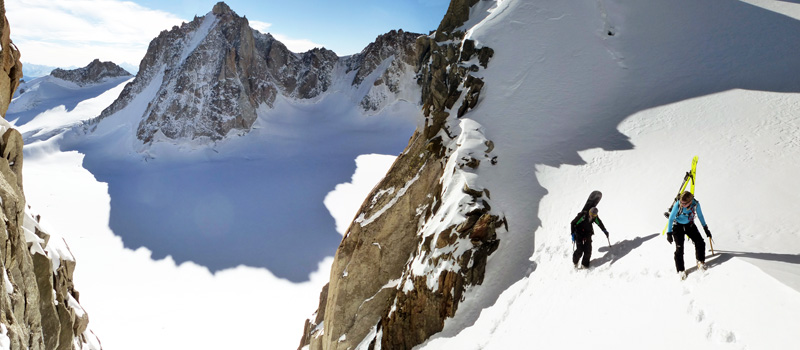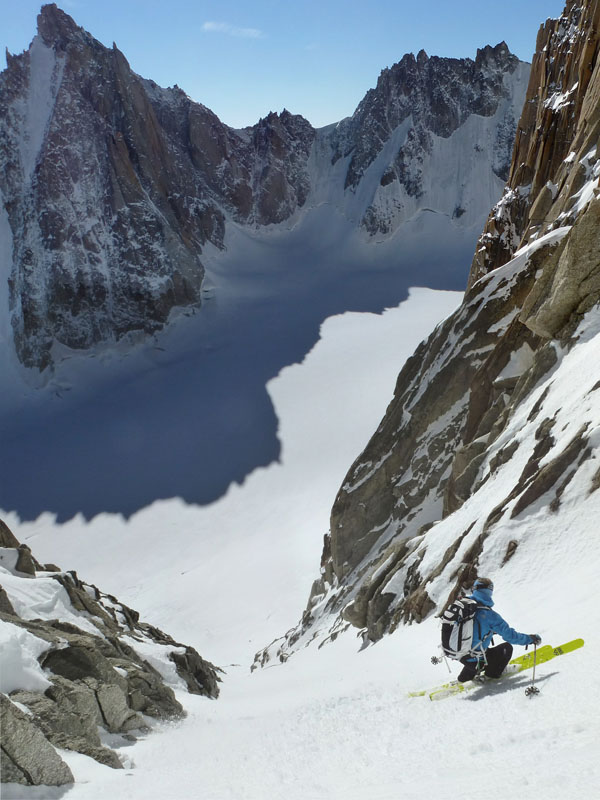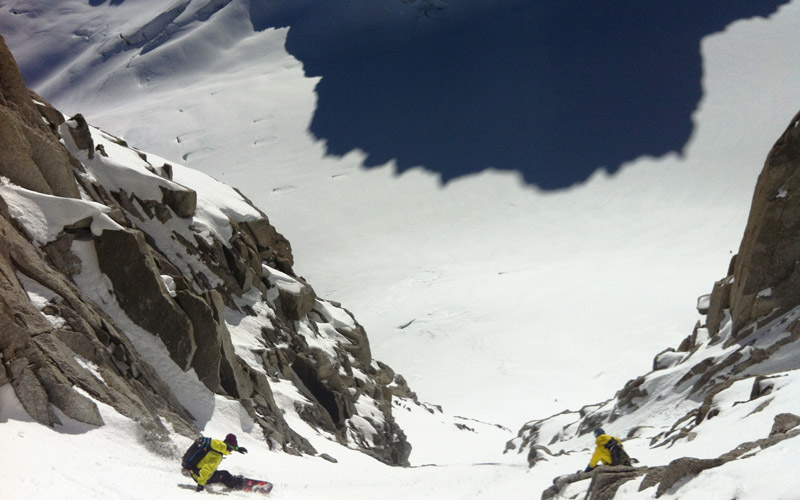 02.10.2013 Col Armand Charlet - North-East Couloir
8 may 2013, This video is a description of the first ever snowboard descent of the Col Armand Charlet, couloir nord-est. Julien Herry and me (snowboard), Luca rolli (ski and filming).
29.09.2013 www.furbergsnowboards.com
New website is online: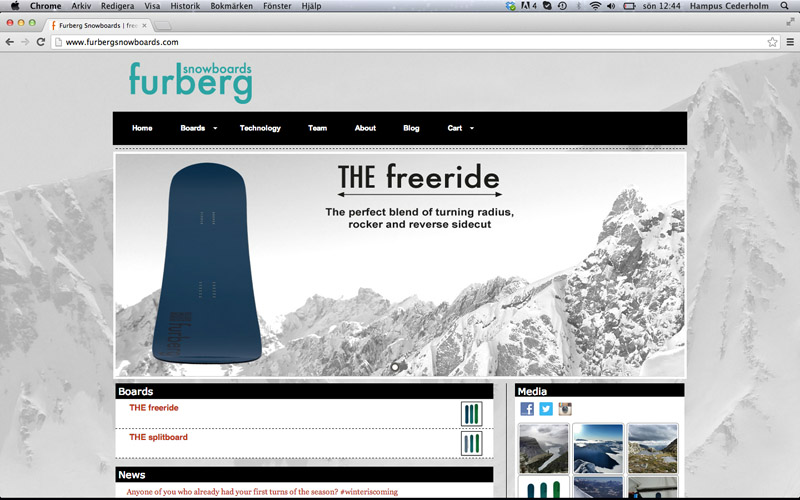 28.09.2013
Page photo updated: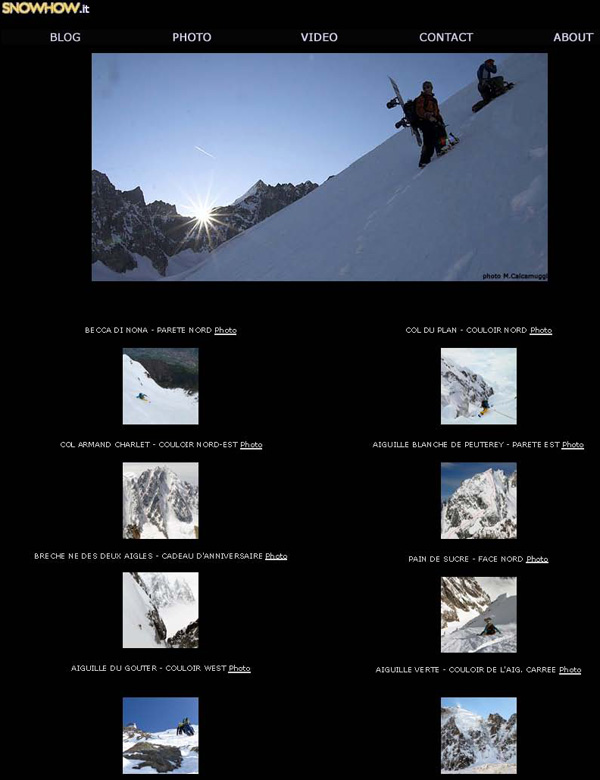 26.09.2013 Furberg snowboards - The new colors for 2014!