06.06.2015 Grand Combin de Grafenière - Trilogy
As so often happens, it all began with a photo. Year ago my friend Diego Fiorito (a highly experienced skier and mountaineer with numerous first descents to his name) showed me a photo of the East Face of Grand Combin de Grafenière (4314m.) and I immediately realised that it wouldn't be simple. Accessing the face is difficult due to the tormented Glacier du Croissant that guards the flank, the approach is long and since checking conditions is difficult, the whole thing seemed like a rather daunting enterprise. I decided to scrap the idea of ??skiing this mountain and opted for other goals that were easier to achieve. This year, however, conditions haven't been too great in the Mont Blanc massif and as a result my friends and I have often been on the lookout for other things to do. Skiing the East Face of Grand Combin suddenly came back to mind, thanks once again to a photo, taken by another keen skier and friend of mine. Conditions seemed excellent, all that remained was understand how to reach the face. I showed the photo to Julien "Pica" Herry and he was clearly interested. We decided to reccie the Glacier du Mont Durand area at the foot of the Gr. Combin to work out what to do. During this exploration, of an area that neither I nor Julien knew before, we realized that the Grand Combin de Grafenière also had two other striking lines: the South East ridge (the Italian route) and the South West Face (skied for the first time, as it happens, on 18 May 2015 by Edmond Joyeusaz). At this point we decided we'd try and ski both lines and hope to also make our other little dream come true, namely to snowboard down the East Face. At 4:30 am on 31 May Julien and I set off from the By valley, above the village of Ollomont, at 2100m above sea level; in 6 hours we reached the shoulder below the summit of Grand Combin de Grafenière, at 4200m. Conditions were great and we rapidly snowboarded down the 600m crest. We strapped on our crampons again and followed our trail to reach the shoulder for a second time. Fatigue began to set in but after hesitating for few moments we then launched down the immense SW Face; the spring snow was perfect and in no time at all we skied past the Bergschrund. All we had to do now was reach Col Sonadon and then descend to the Amianthe winter refuge. We'd had a long day out in the mountains and our splitboards began to weigh us down. The following day we decided we'd try to reach the East Face via the SE ridge, traversing up high and ascending only the final section of the slope. Fortunately we were joined by our friend Denis Trento (a champion ski mountaineer) with whom we've shared many beautiful descents this year. Denis reached us that evening at the Amianthe hut. The night was very short (the second for Julien and myself), the alarm clock rang at midnight and we set off at 01:00 am. At about 5:00 we reached the summit shoulder of Grand Combin de Grafenière once again; we entered the East Face at the crack of dawn on skis and snowboards, on marble-like snow. We strapped on our crampons and climbed up the final section of the East Face. Unfortunately there wasn't enough snow in the narrowest section and we were forced to make a rappel, as a result we decided that the integral descent from the summit would have to wait for another occasion. We made do with skiing the Ease Face from the summit shoulder. After having waited for over an hour for the snow to soften we finally stepped into our snowboards and skis and dove into the void. The snow was good and the 600m descent passed by quickly, the slopes were far more sustained than on the two routes the previous day, the drop was ever-present making it much more interesting. On reaching the end of the descent we quickly crossed below and the enormous seracs that dominate Glacier du Croissant and retuned to Tour de Boussine (3826 m.); from this summit we descended towards Glacier du Durand and finally reached the Amianthe hut. A special thanks goes to my partner Michèle which lightened the weight of our backpacks on the first day, transporting the rest of the gear and food we needed for the following day. Photo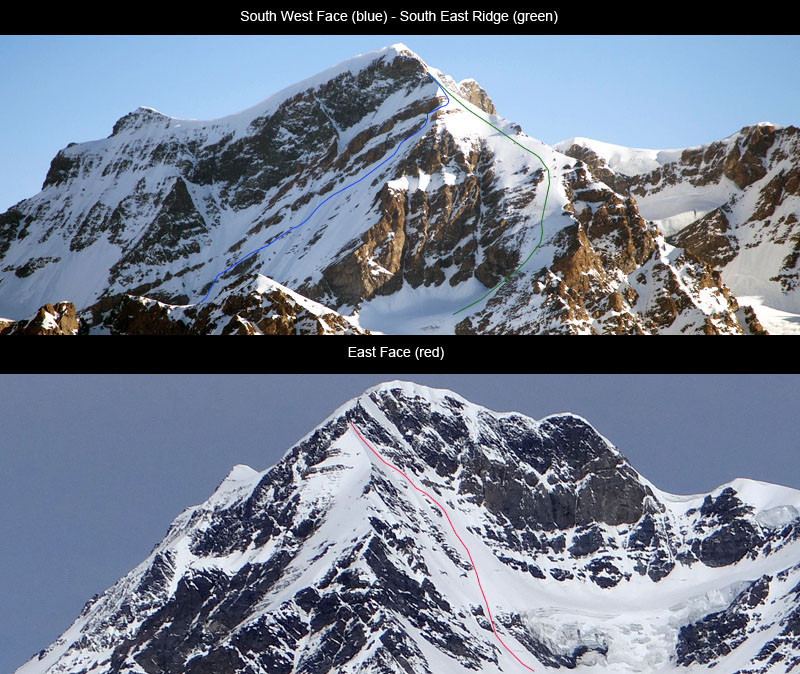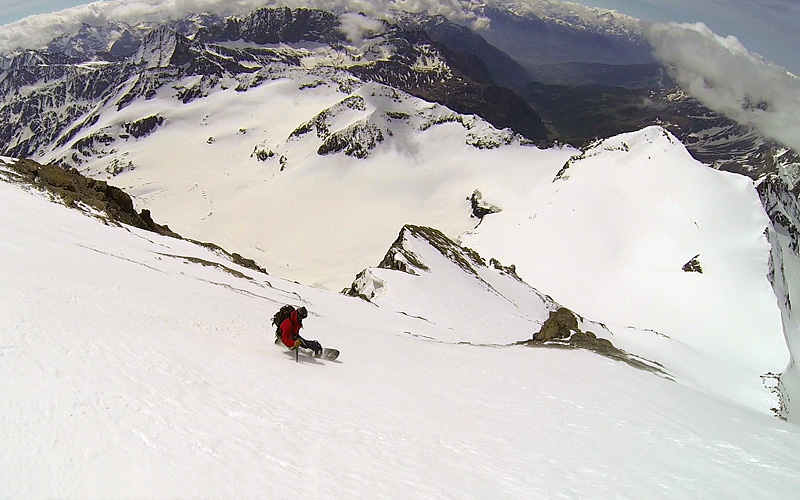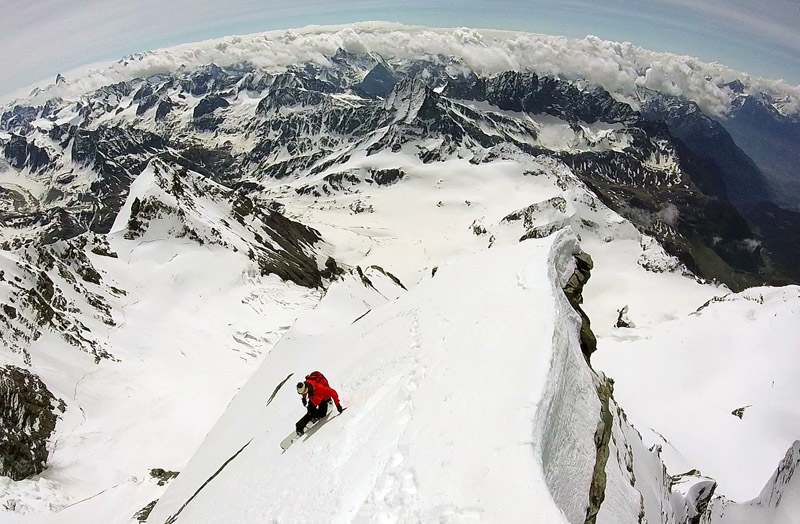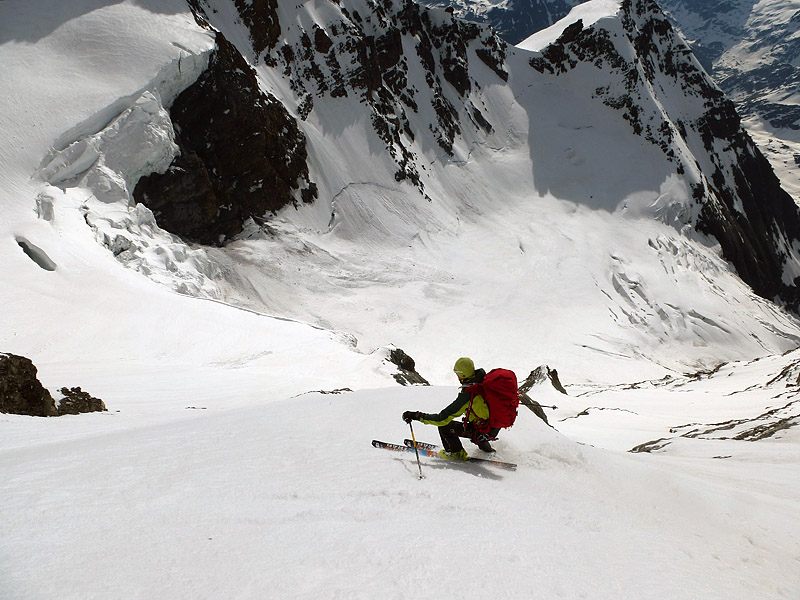 23.05.2015 Mont Blanc du Tacul - Couloir Chéré
Today with Denis Trento, crossing Col du Diable. We climbed the South West face and went down the North East side along the Chéré couloir. Thanks Vivian Bruchez and kilian Jornet for having climbed the Chéré and sharing with us the descent.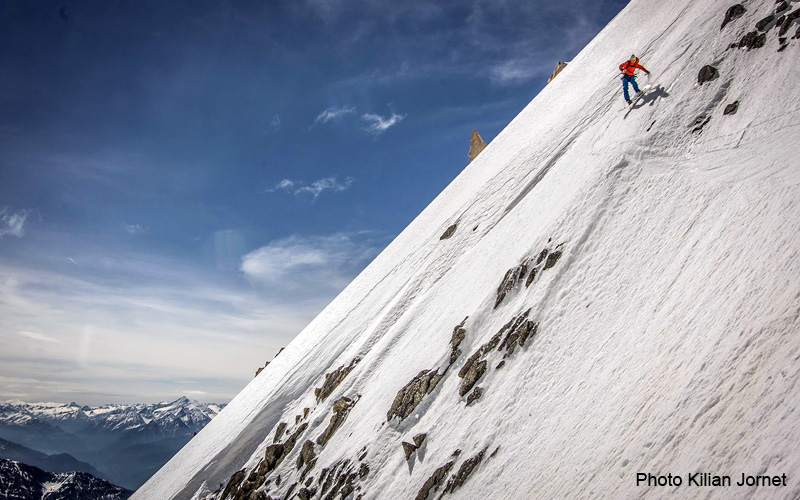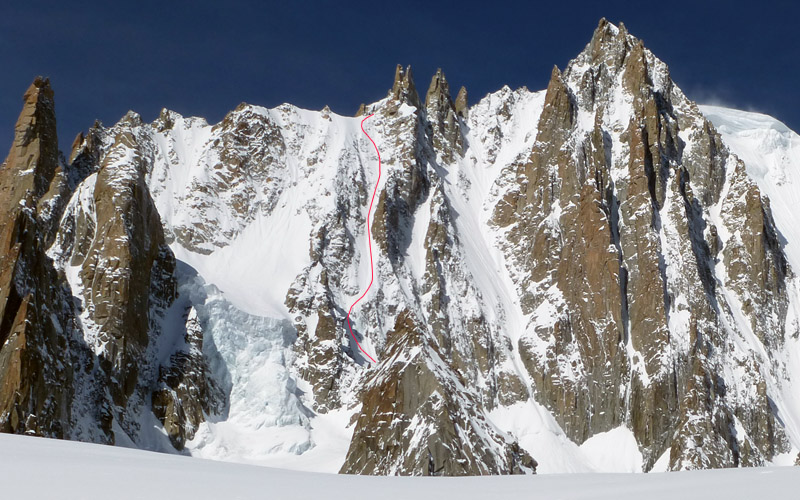 10.05.2015 Pain de Sucre - Face Nord Voie Originale
The North Face of Pain de Sucre is a legendary place that has shaped the history of extreme skiing on Mont Blanc. The first ski descent was carried out by Pierre Tardivel on 1 June 1990 with two abseils down the most logical line (marked in yellow). The first repeat happened a mere two days later, at the hands of Dédé Rhem on skis and Jerome Ruby on snowboard. Since then the line has had few repeats, perhaps only a dozen or so. Most of these descents were down the line chosen by Tardivel that could be defined as a variation to the "Voie Original", the route first climbed by Robert Gréloz and Francis Marullaz in 1931 (marked in red). In 2009 Andreas Fransson, Arne Backstrom and Tobias Granath added an upper variation with one abseil to reach "Pain de Rideau" (marked in green). In 2013 Julien "Pica" Herry, Luca Rolli and I skied this beautiful and challenging descent via the "classic" Tardivel line. After that our focus shifted to considering whether it would be possible to ski the entire Voie Originale; the idea seemed beautiful because this route leads directly to the summit of Pain de Sucre and, in addition, it had never been skied before. Imagining things is always nice, but when you'rer faced with reality things can be quite different. During the last two years although the face was in condition, the upper section of the Voie Originale was not. Incredibly, right from the start of this winter snow remained up there and the problem was that poor conditions down the rest of the face made a descent prohibitive. Then May started very wet in the Mont Blanc massif, for days it never stopped raining and the high temperatures helped the snow to stick to the slopes. We'd pushed the idea of Pain de Sucre a little aside, thinking that by now it was too late in the season, but then all of a sudden two young skiers from the Chamonix valley (Lambert Galli and Jules Berger) skied the face and found incredibly good snow conditions. Thanks to the information these two talented skiers gave us Julien and I decided to attempt our Voie Originale descent. We were joined by our friend Francesco Civra Dano who didn't think twice about accepting our invitation. After a sleepless night at the Cosmiques hut, at 4 am we begin to tackle the Midi - Plan Traverse and at 7:00 am we reached the start of our descent. The access gully was topped by a frightening meringue of snow, Francesco dug a way through and then finally we managed to see the start of the main couloir. The snow didn't look great and the exposure was massive! We rigged a belay, Francesco decided to rappel with crampons and check the snow conditions: hard and frozen solid. Julien and I stepped into our snowboards and we too abseiled down this first part to reach the only rocky step. After a 30 meter abseil we began our descent. The entire first part of the line follows an east-facing gully, the snow was still hard but skiable, it was amazing to see that we were skiing down the exact opposite side from where we'd skied in 2013. We entered Pain de Rideau, the snow wasn't the easiest and we often had to deal with hard crust covered by winter snow. The slopes were steep, constantly. We reached the mixed section which marked the end of the difficulties, a delicate icy section which left no room for error. Finally we reached the finishing slope that, although still steep, enabled us to enjoy the beautiful corn snow a little more. Another great adventure down this splendid north face, shared with Julien who more than anyone else had envisaged this beautiful line, and with Francesco who is always motivated when it comes to doing something committing. Photo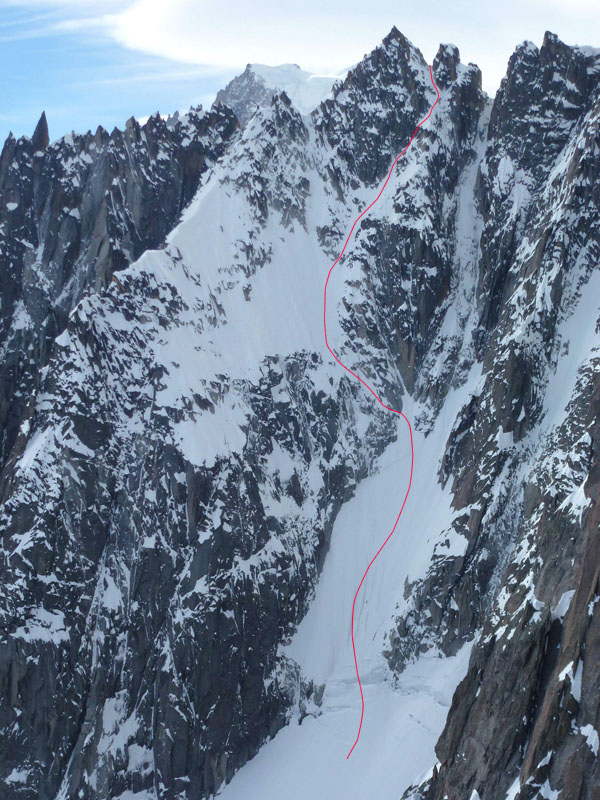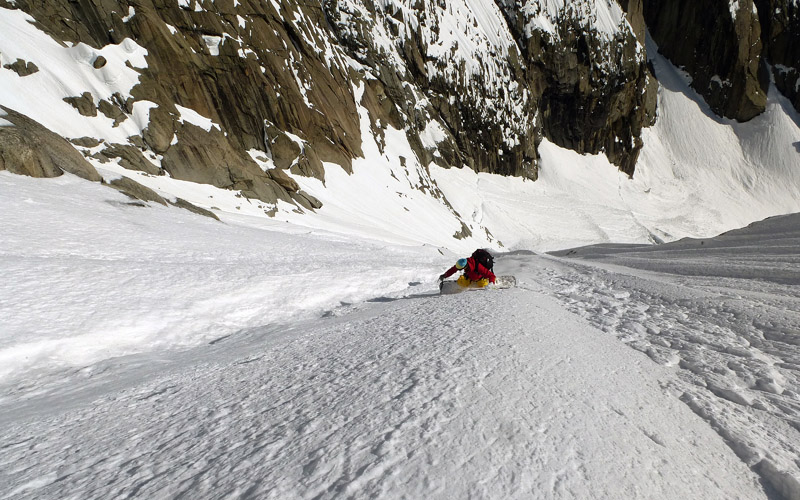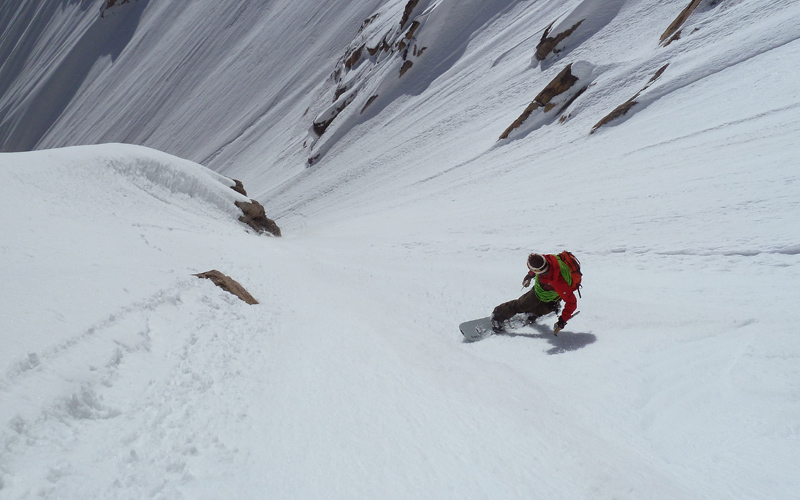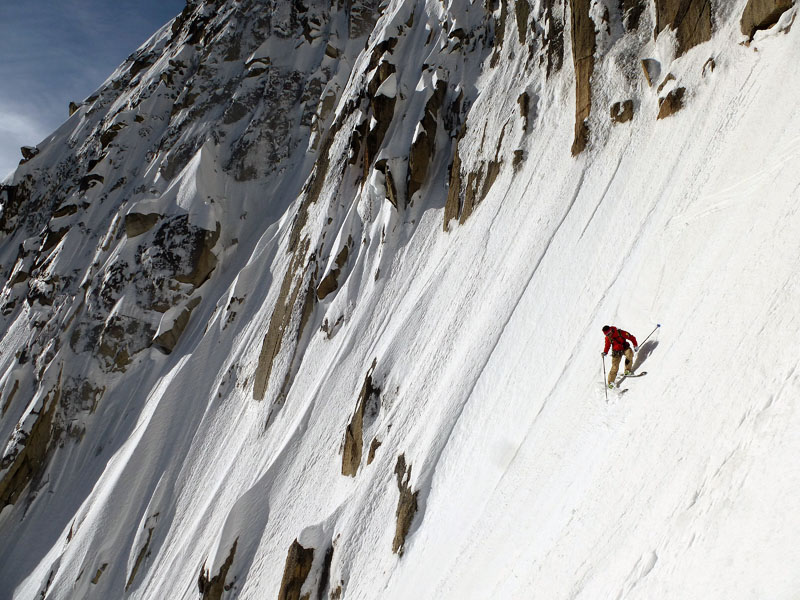 24.04.2015 Aiguillettes du Tacul - Couloir Est
Thank you Petzl, I'm happy and proud to use your equipment.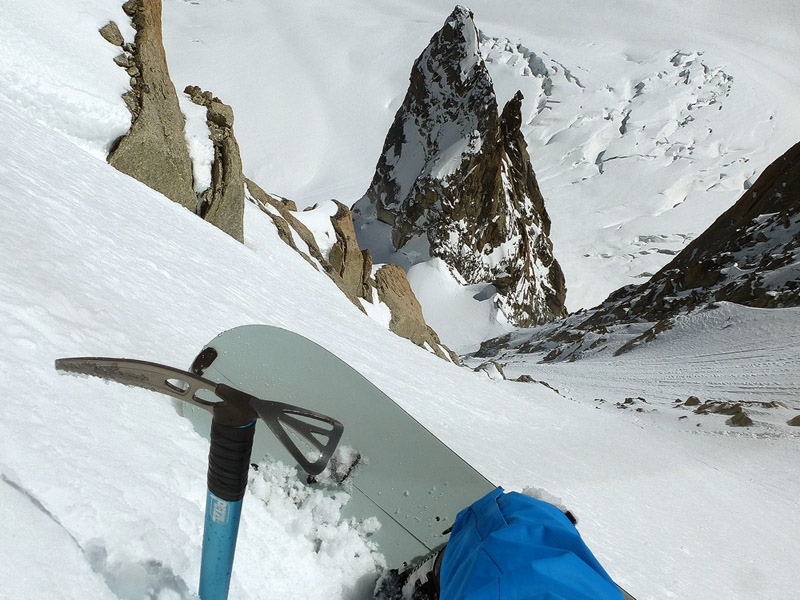 22.04.2015 Col des Courtes - Face Nord
Always nice to ski here...today with Michèle, Alfredo and Tom.
18.04.2015 Tour Ronde - Couloir Gervasutti
Michèle and her sixth time here.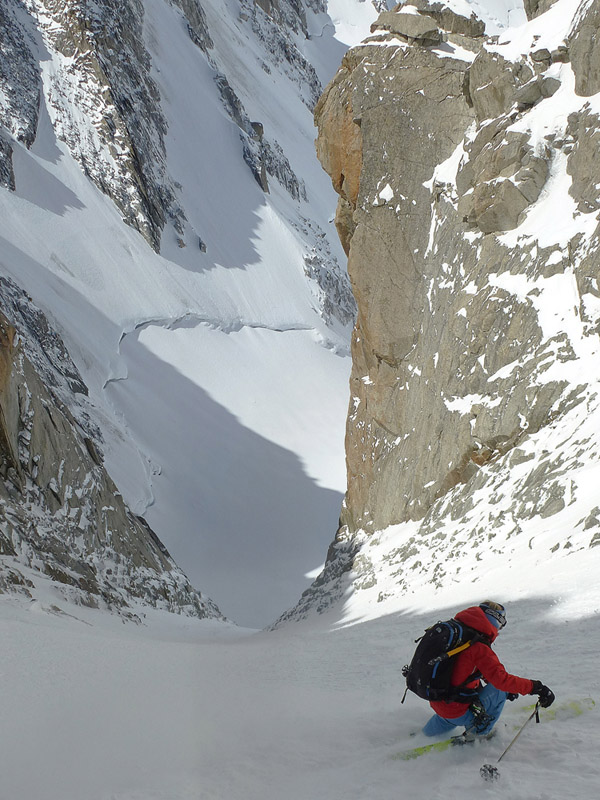 13.04.2015 Monte Emilius (3559 m) - Nord West Couloir
Unknown to most, Mount Emilius is the mountain that overlooks the city of Aosta. In 2013 Julien "Pica" Herry and I skied the North Face of Becca di Nona and on that occasion we couldn't help but notice the huge north face of Emilius. Making a complete ascent of this frightening face seemed like an immense dream, and finding the right conditions seemed like something even bigger still. Last week a friend of mine happened to send me a photo of the face, taken from the summit of Becca di Nona. This picture rekindled my desire to check it out for myself and I reckoned that snowboarding the main gully would prove highly satisfying in itself, without making an integral descent from the summit. Julien immediately agreed, he too wanted to give this beautiful peak a go. On Monday 13 April we set off from Pila at 5:30am; after about six hours we topped out on the NE ridge at an altitude of 3370m. From here, with two short rappels, we began our descent. The city of Aosta dominate the scenery below, despite the summit towering 200m above us. The view view was spectacular and it was great to be up there on our snowboards. The descent was steep and exposed: a 450m slope/gully around 50° at the start, then slightly less down the rest of the couloir. Unfortunately the snow wasn't ideal: the warm spring sunshine followed by the cold nights had frozen the snow solid. For it to have been a fun descent we would have had to wait to at least mid-afternoon, but we reckoned that at that point the return to Pila would have been too dangerous. We decided to wait a bit, but not too much, just enough to let the first rays of sun can reach the face to have a little more light. The descent proved very challenging but, despite conditions being far from ideal, we managed to ski more than we expected. We imagined what it might be to ski this wonderful gully with perfect winter snow. After about an hour we finally reached the base of Emilius: all we had to do now was return. I believe that with the various ascents and descent up terrible snow we took just about as much to return as we to get there. After our descent both Julien and I were really happy indeed, even if for the moment our dream of skiing Emilius from the summit remains locked away. Who knows whether one day we'll unlock it! Photo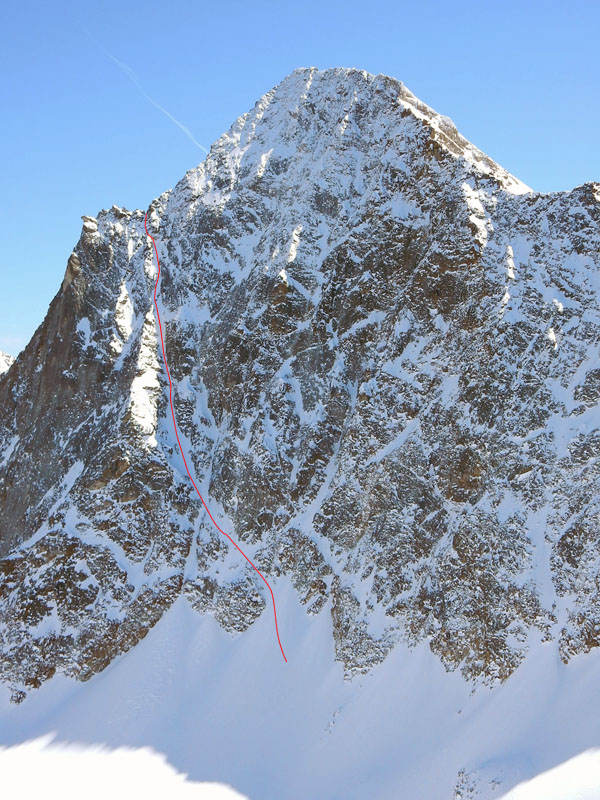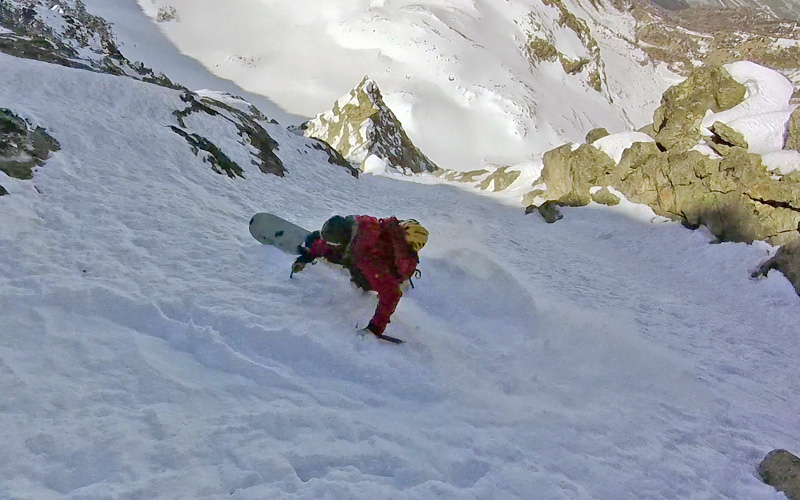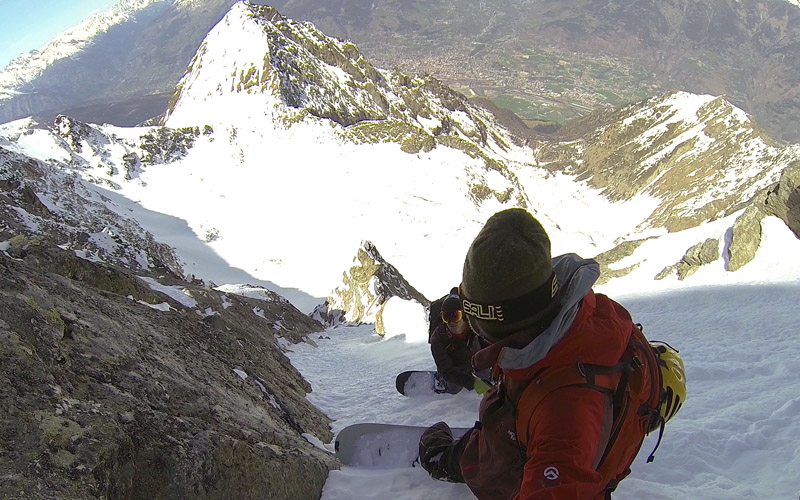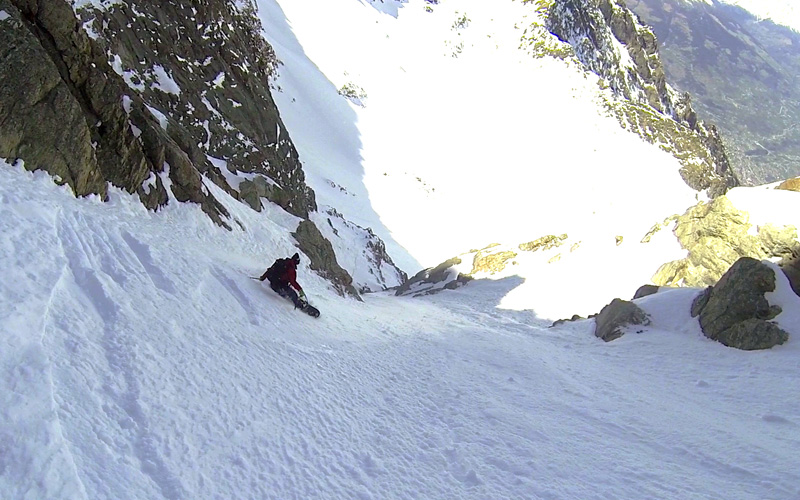 10.04.2015 Dente del Gigante - Face Sud
Third day of shooting with Luca Rolli, Bjarne Salén and Giulia Monego. Perfect spring snow today.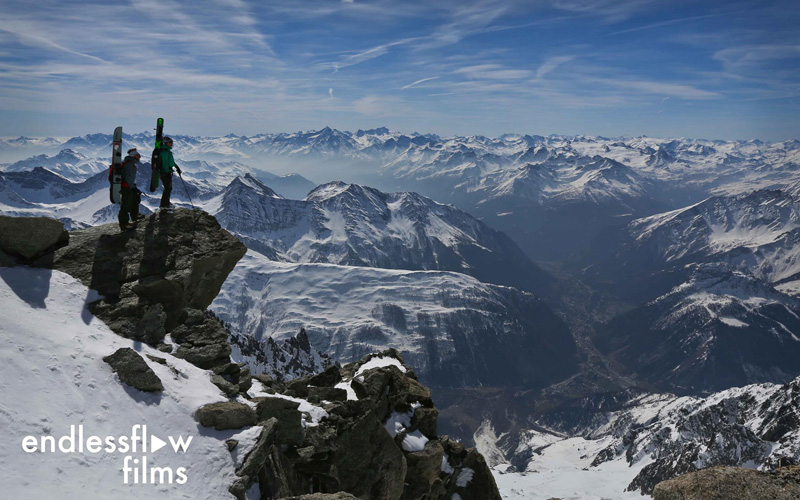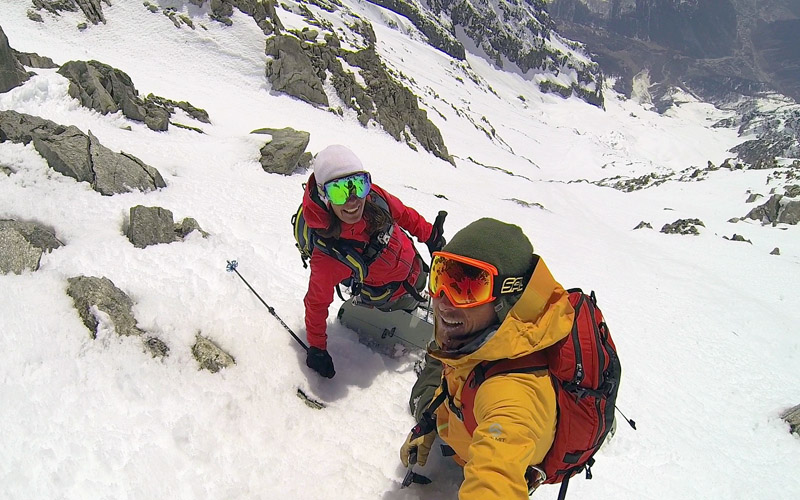 09.04.2015 Col du Plan - Face Nord
Second day of shooting with Luca Rolli, Bjarne Salén, Julien "Pica" Herry and Giulia Monego.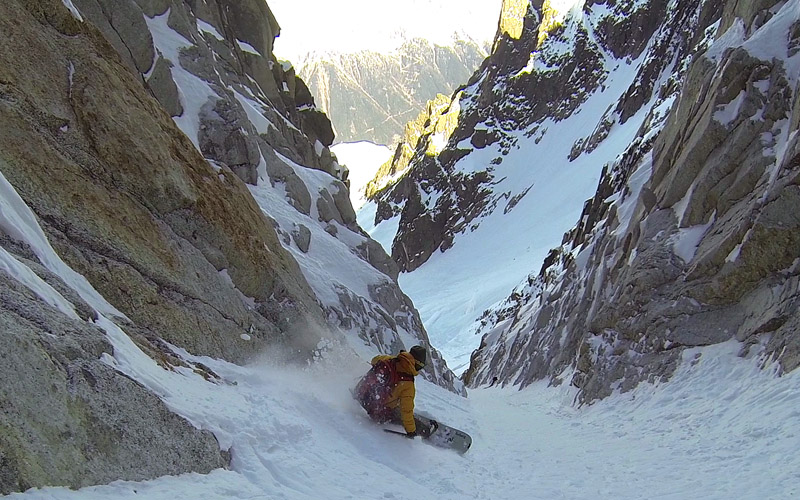 08.04.2015 Les Courtes - Eperon Nord - Est
First day of shooting with Luca Rolli and Julien "Pica" Herry. Good snow, we stopped 200 meters under the summit.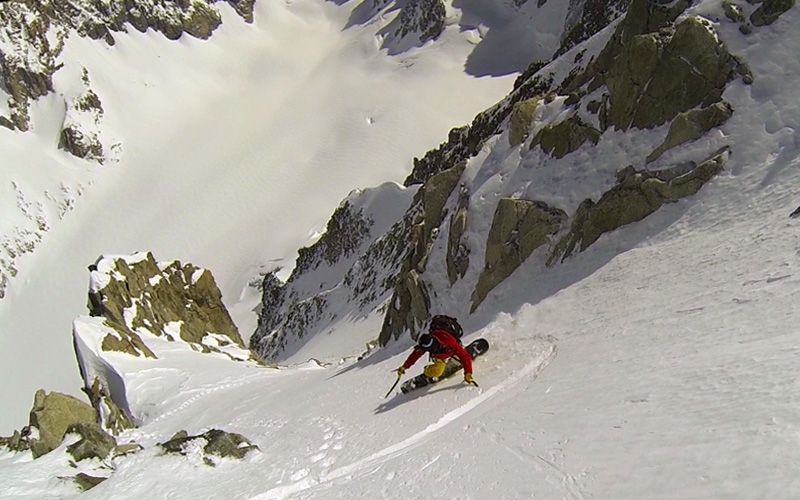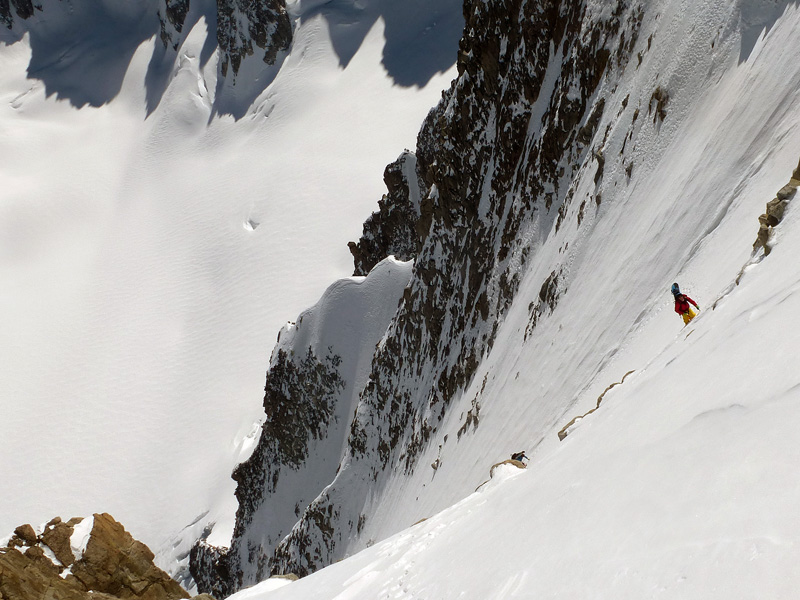 05.04.2015 Aiguillettes du Tacul - Couloir SW
Beautiful and narrow couloir right under the Aiguillettes du Tacul. Today alone at the top of the couloir. Many thanks to Federico for crossing the bergschrund.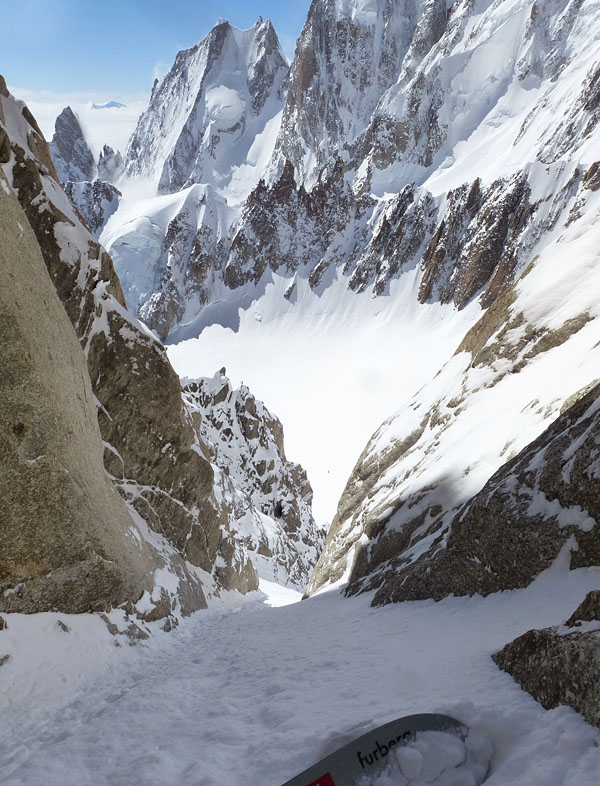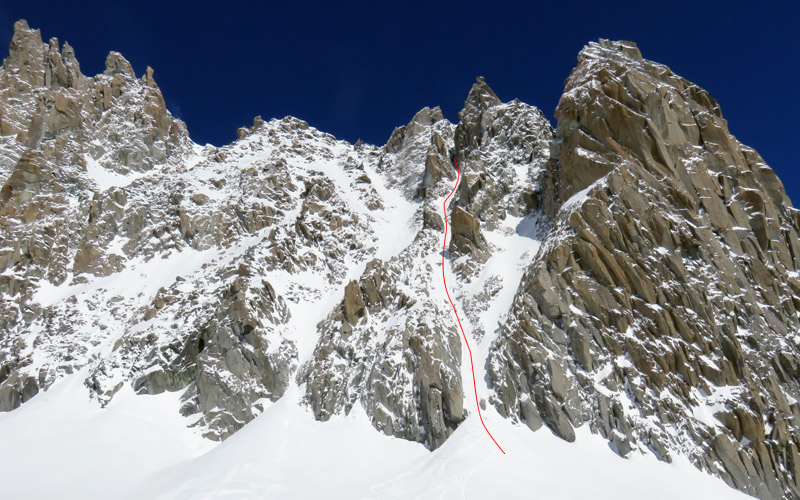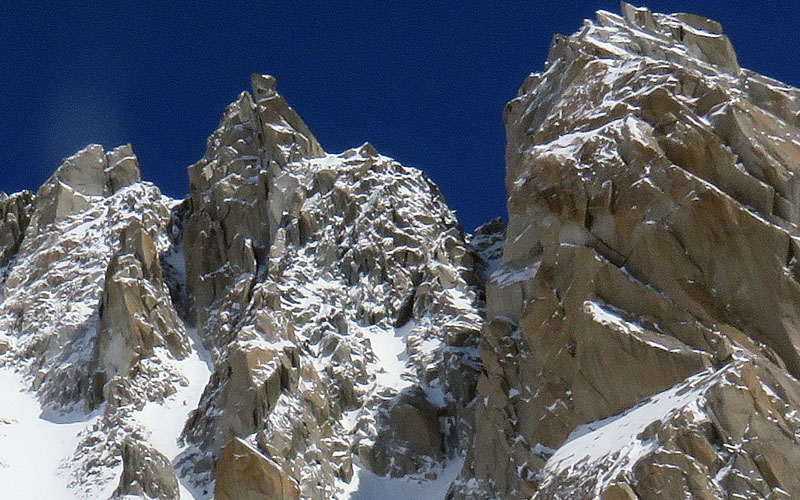 28.03.2015 Petit Mont Blanc - NE Face
A nice different exit from NE face of Petit Mont Blanc. Few meters of rocks separate the couloir from the plateau of Rainetto hut. Today with Michèle.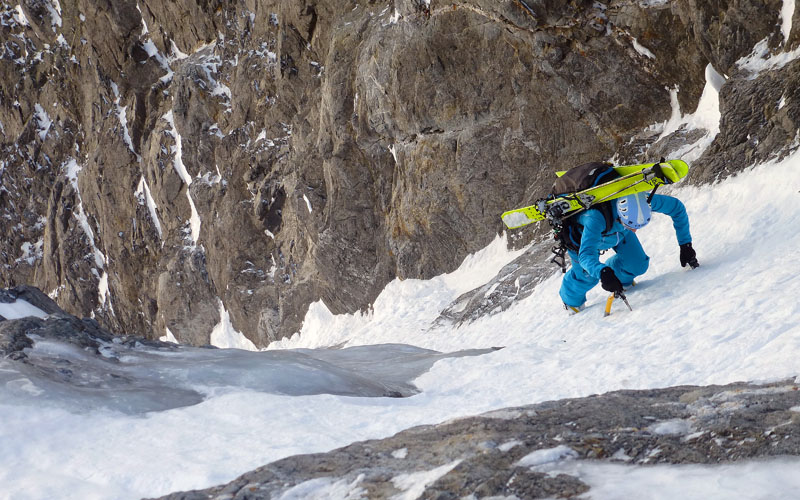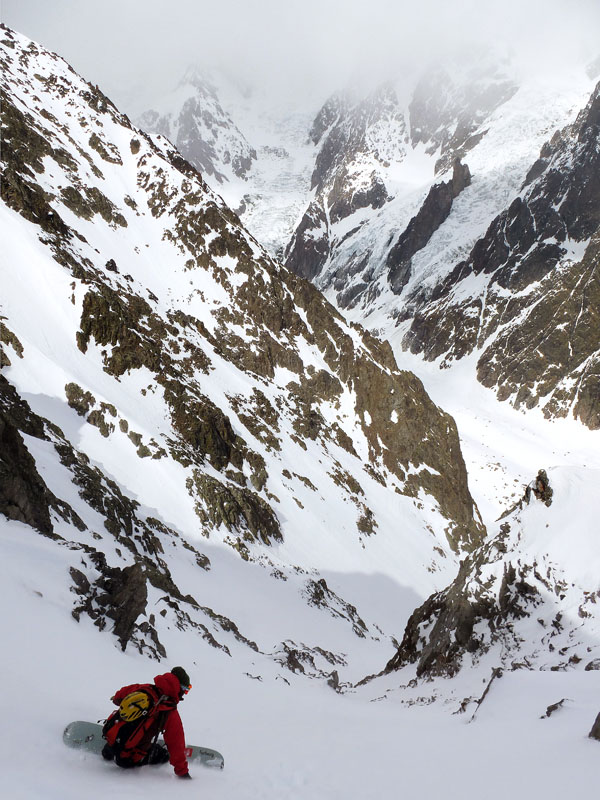 20.03.2015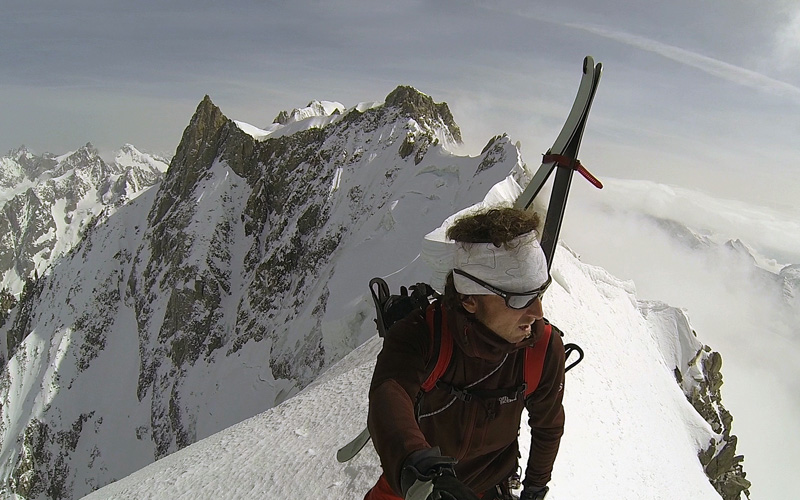 16.03.2015 Pointe Inf. du Tricot - Couloir Nord - Est
The monday is the day with " l'Equipe du Lundi". Today with Laurent and Hervé.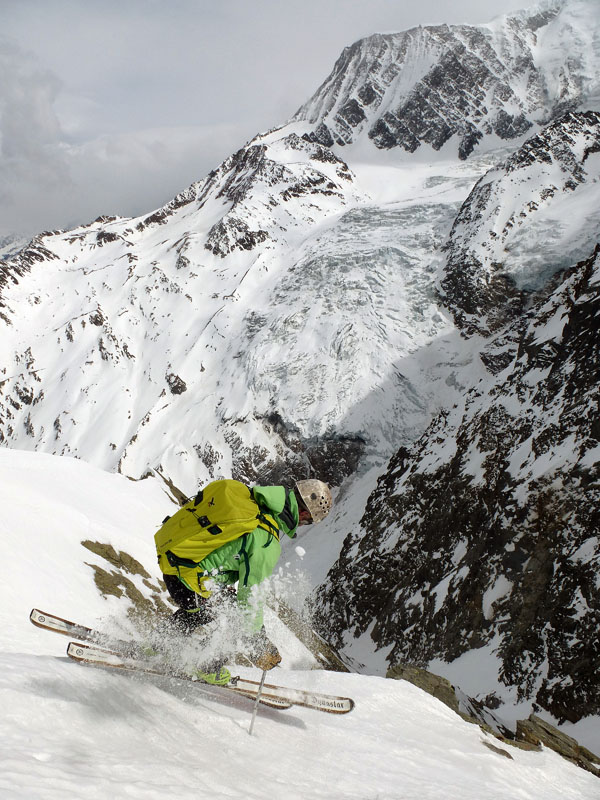 10.03.2015 Brèche du Tacul - Couloir Nord - Est
Today with Giulia. Beautiful view of the Jorasses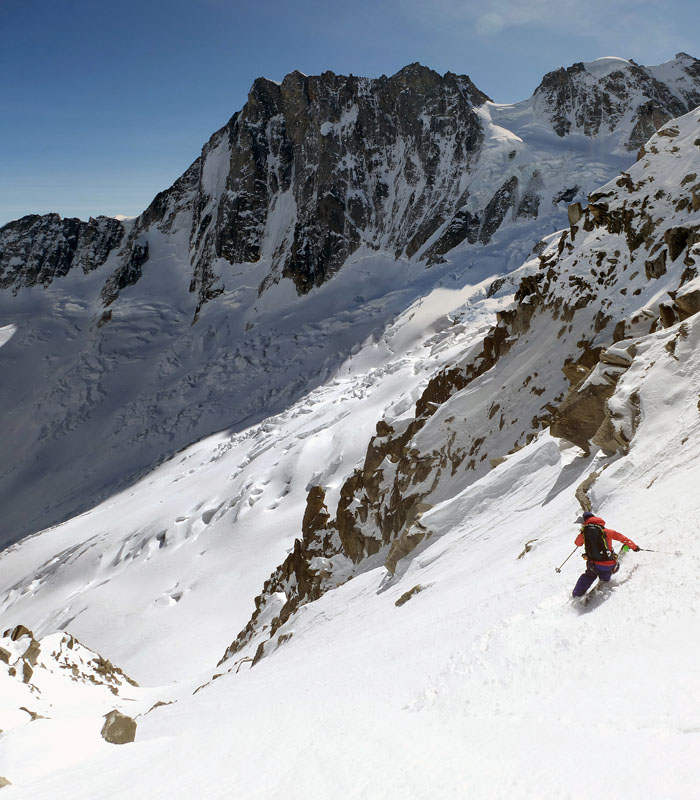 09.03.2015 Petit Mont Blanc - "Couloir du Bloc coincé"
Today with l'Equipe du lundi. Laurent, Roch and Hervé. Nice line from the top of Petit Mont Blanc.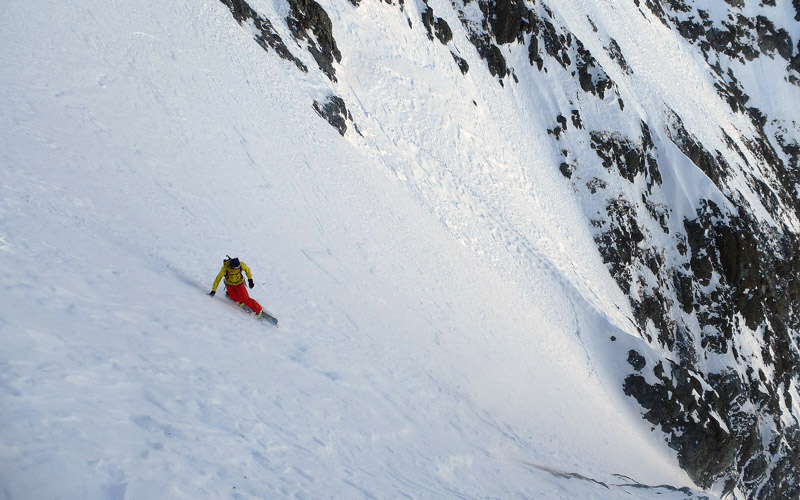 07.03.2015
Today we skied the first couloir of the Voie Pfann of Grand Aiguille de l'Aigle.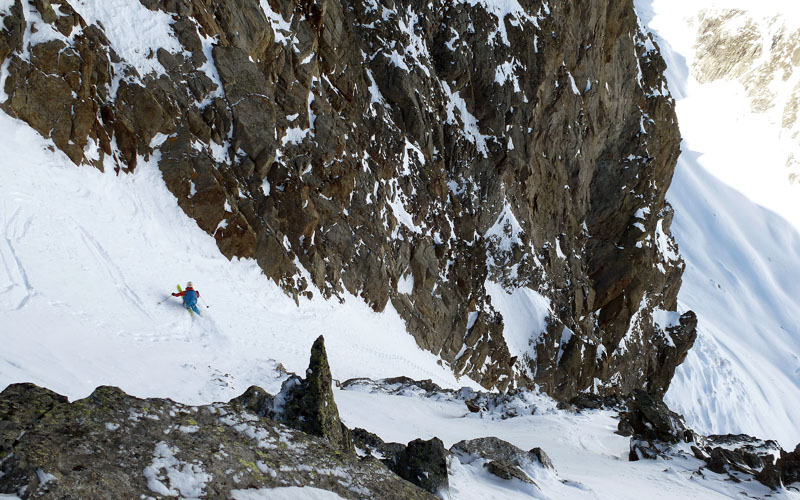 28.02.2015 Petit Mont Blanc - Couloir NE Side
Second time for me in this beautiful couloir. Today filming with Giulia Monego and Bjarne Salén (www.endlessflowfilms.com). Thanks for this awesome day!.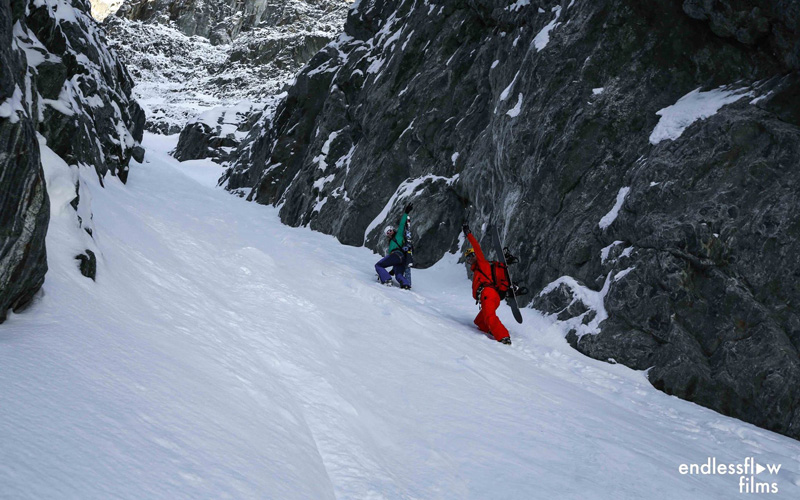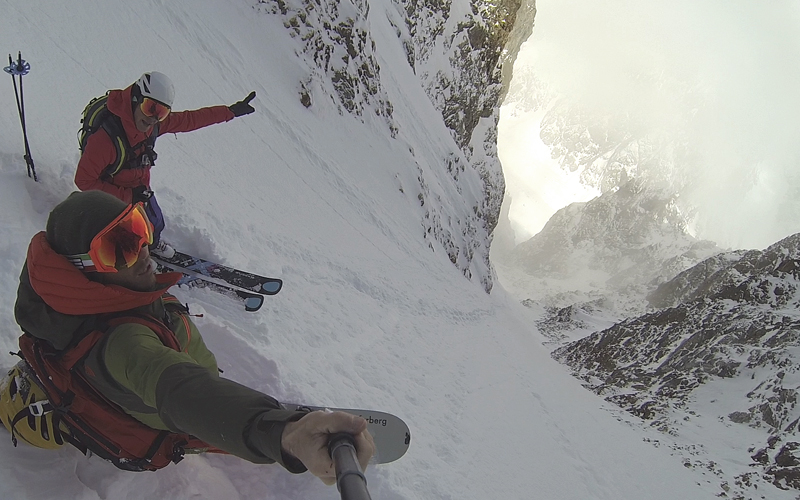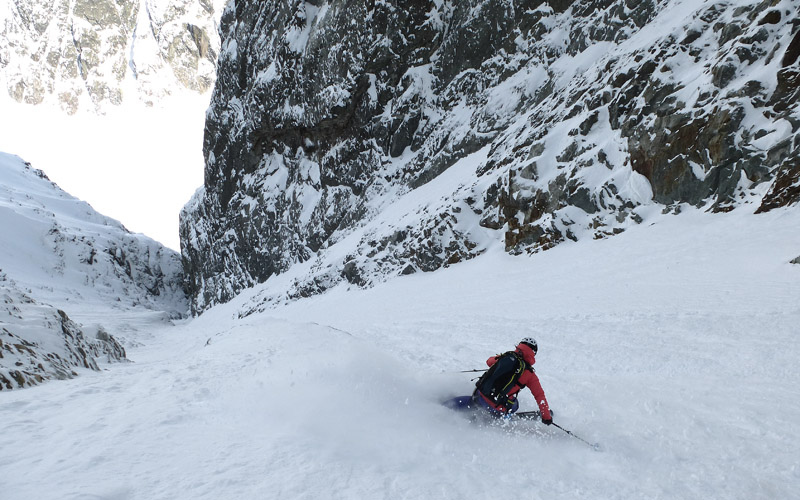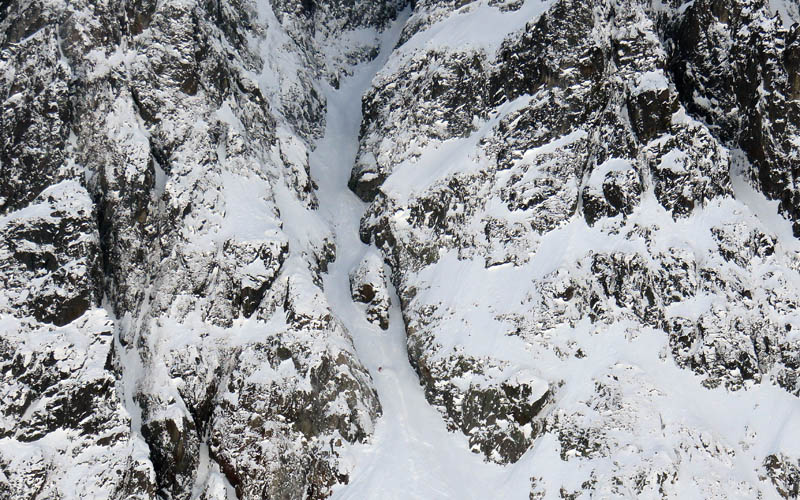 19.02.2015 Col du Plan - Face Nord
Today with Julien "Pica" Herry. Pica did his first steep descent in Goofy stance...normally he is regular!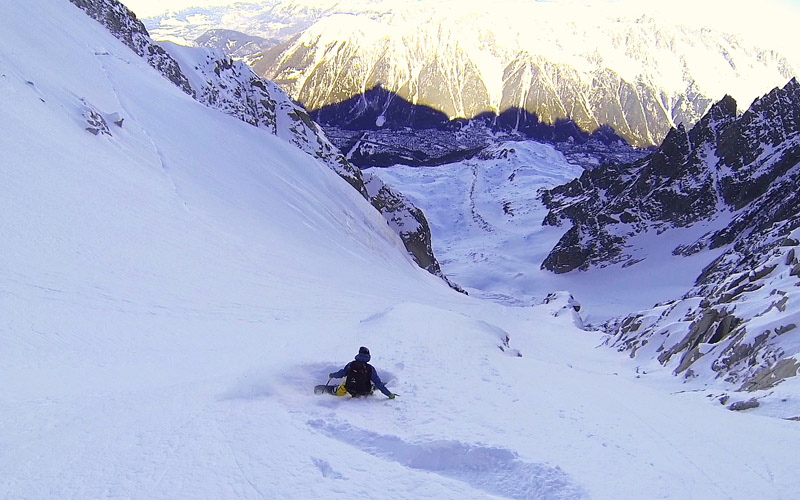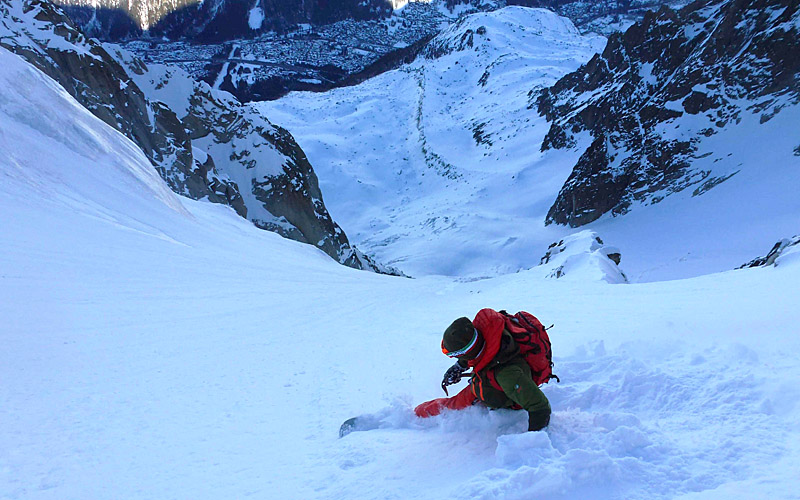 11.02.2015 Brenva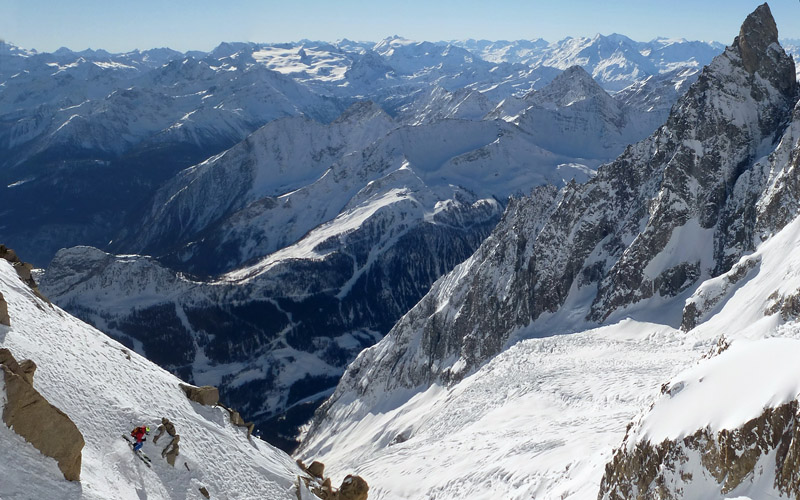 09.01.2015 Petit Mont Blanc - Bonatti couloir
Today with Giulia, Denis, Laurent and Francesco.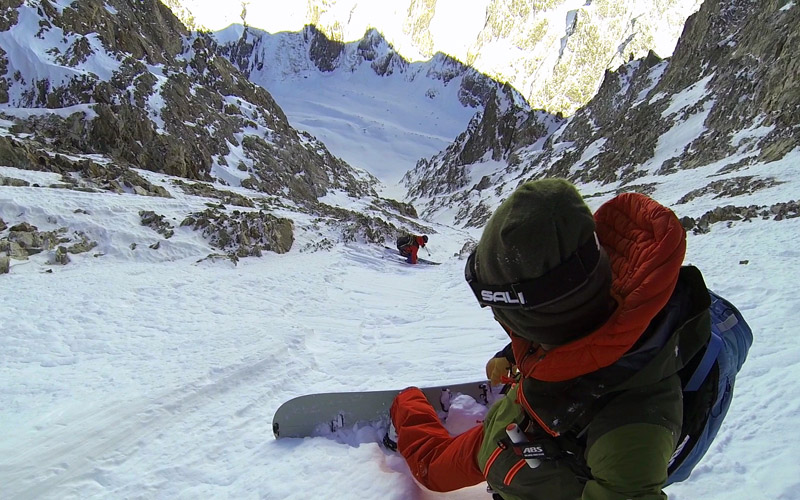 07.02.2015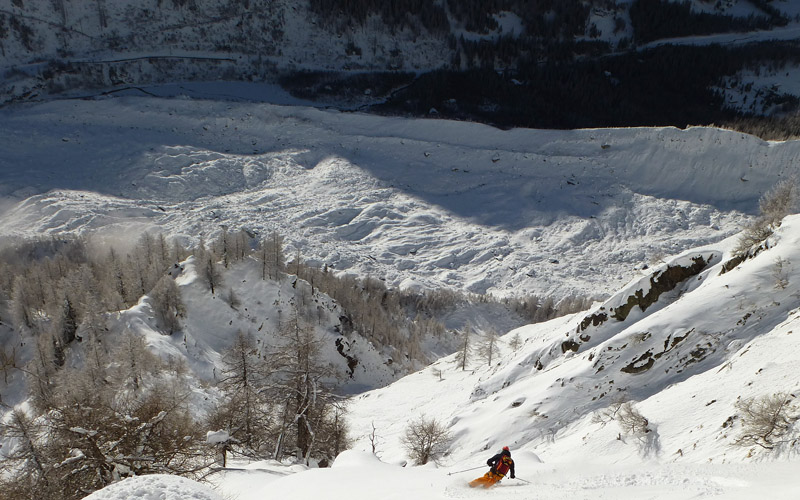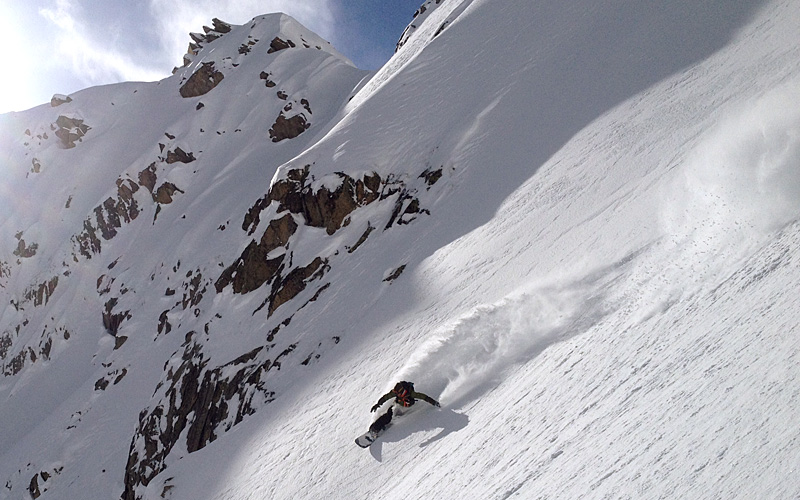 31.01.2015
22.01.2015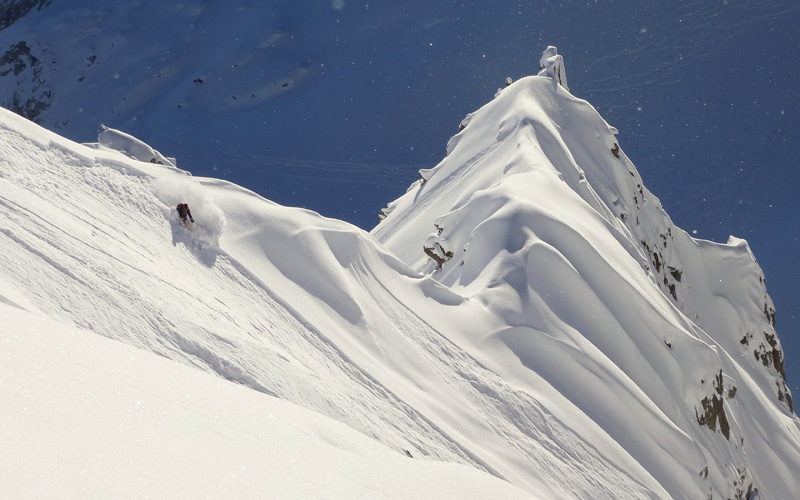 19.01.2015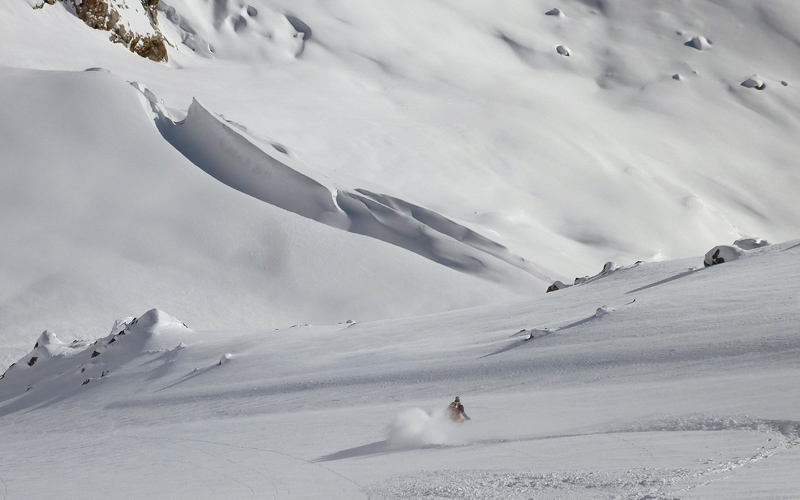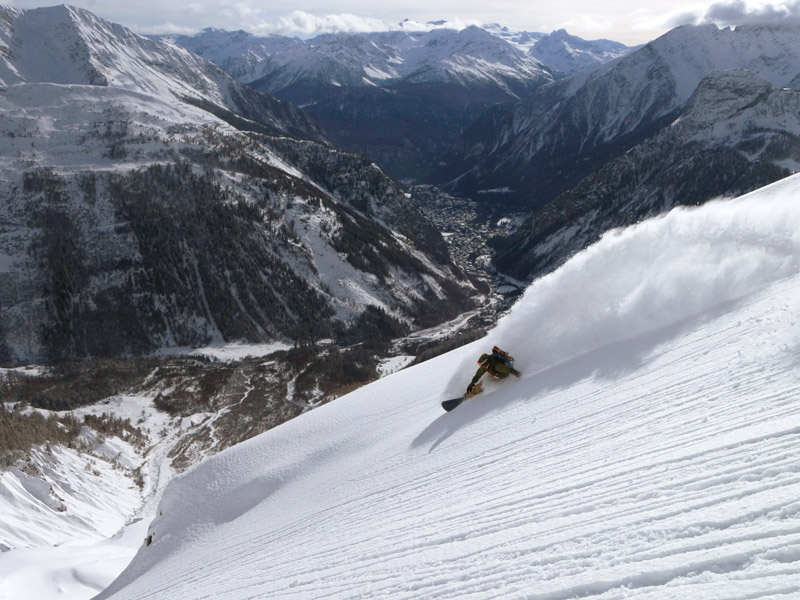 08.01.2015 Punta Garin (3451 m.) - West face
Is a beautiful pyramidal summit which ranks third in both height and importance in the small Emilius massif after Monte Emilius (3.559 m.) and Punta Tersiva (3.515 m.). Together with my friends Alfredo, Stefano and Pica , we skied the west side of this beautiful mountain. Photo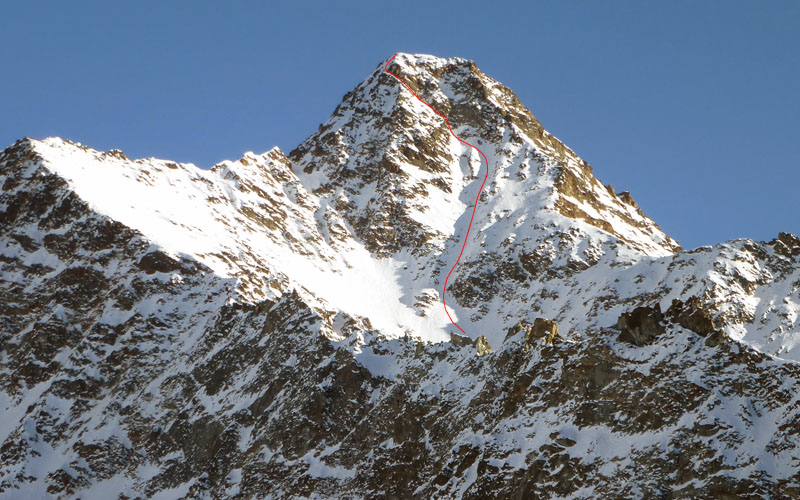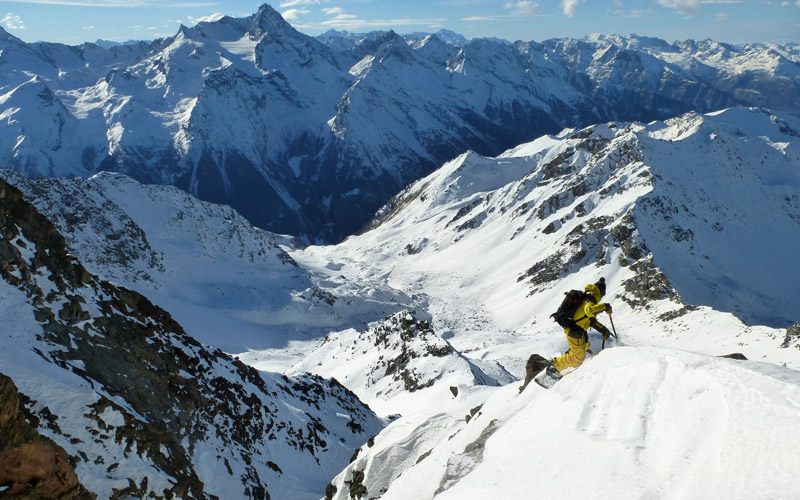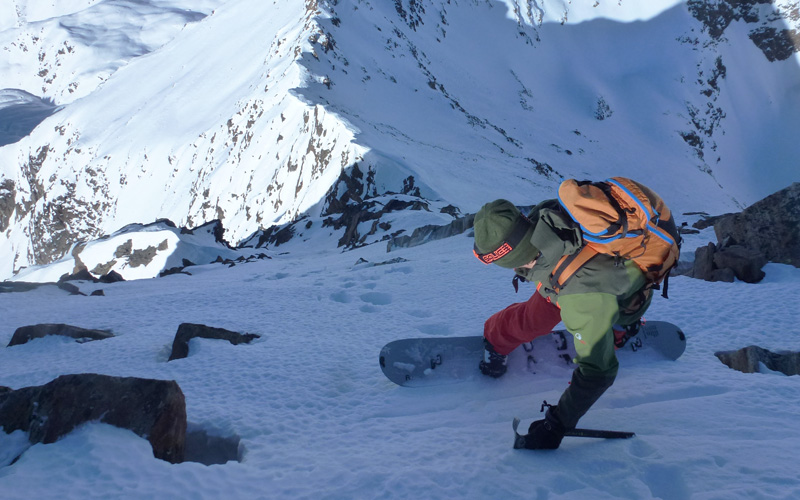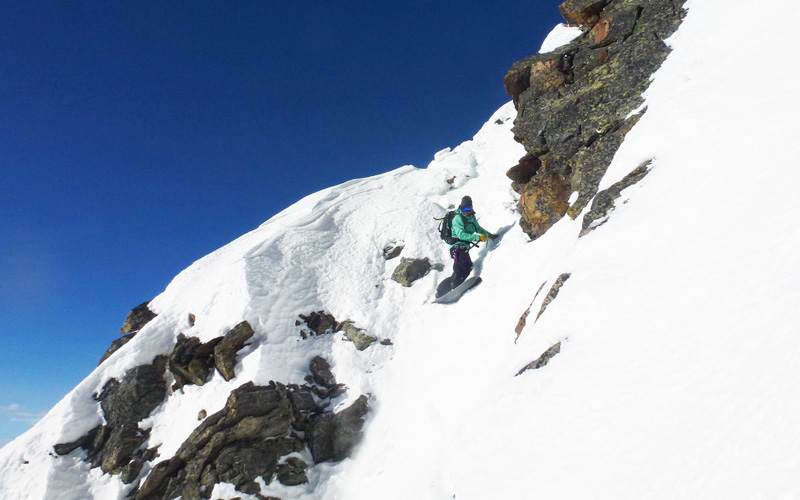 07.01.2015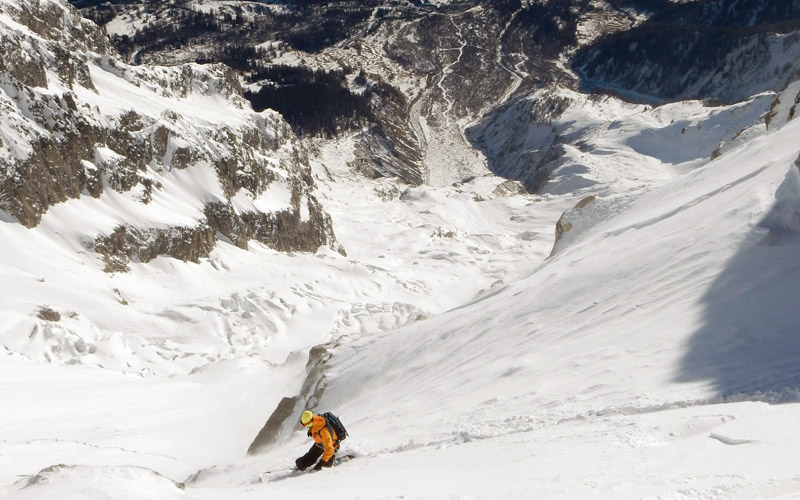 05.01.2015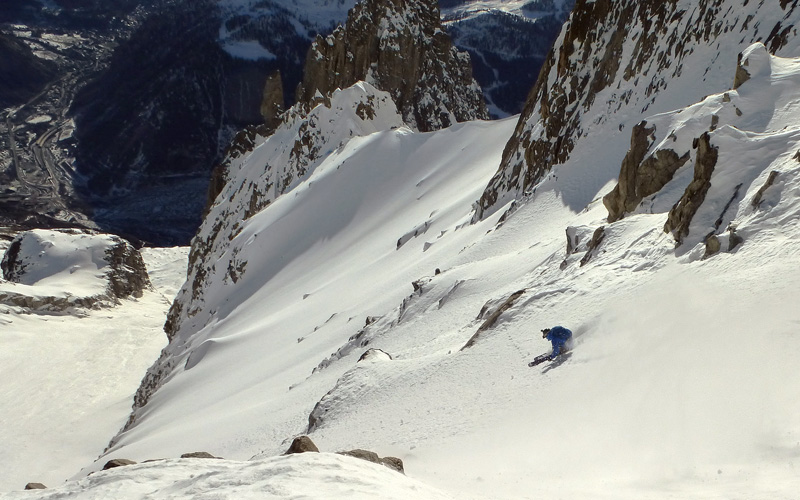 03.01.2015 Col du Pélerins - Sud-West Couloir
Third time here in this beautiful couloir, always with my friend Julien Pica Herry.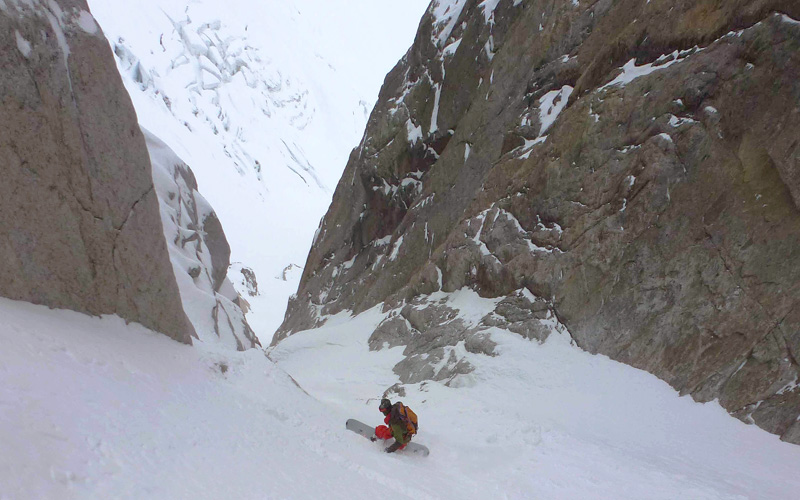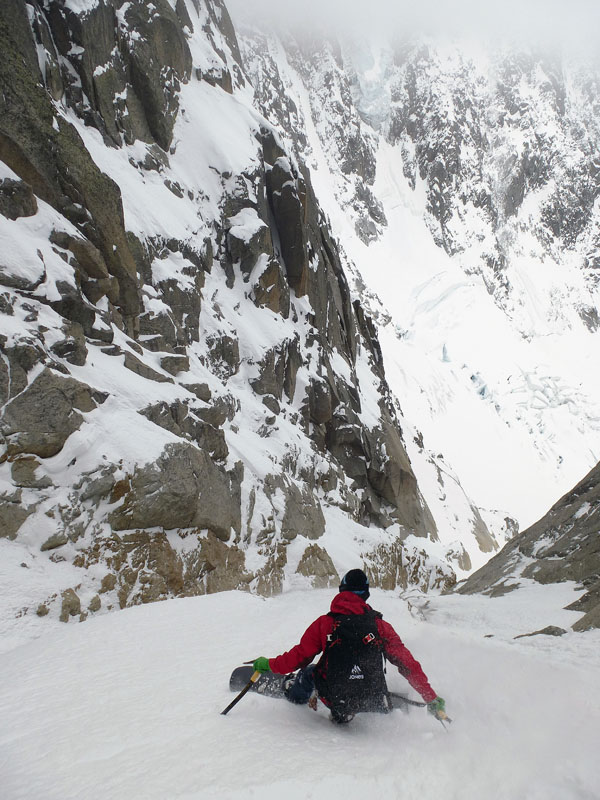 01.01.2015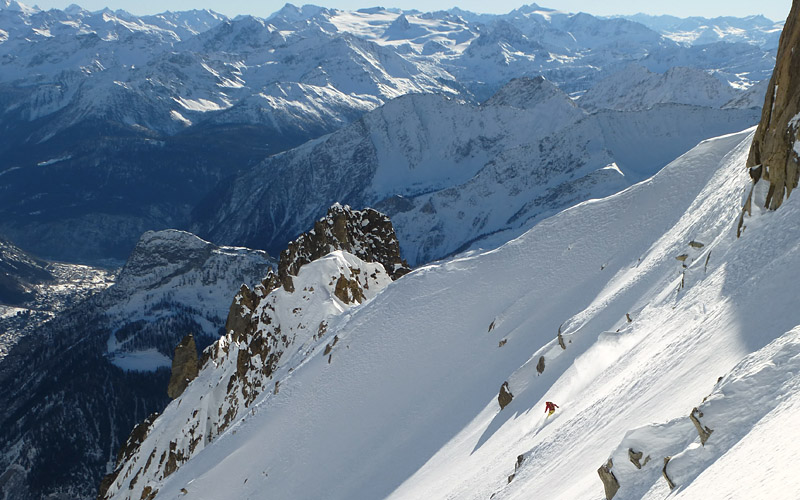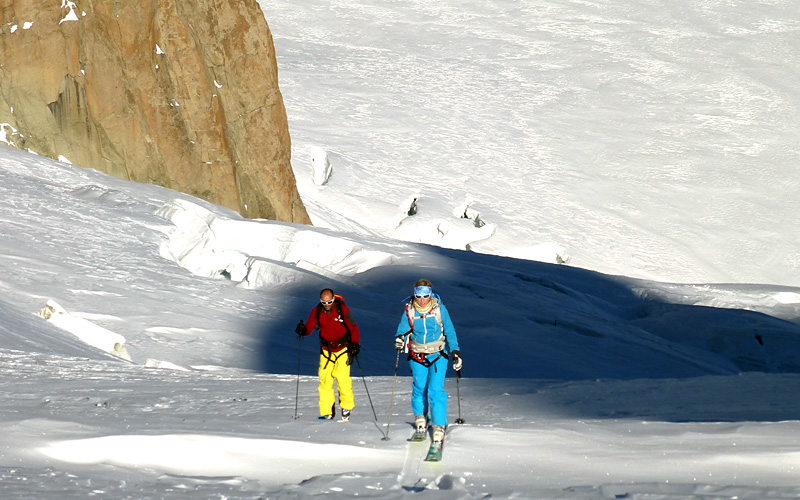 26.12.2014 Grande Rochère - Nord-Est Couloir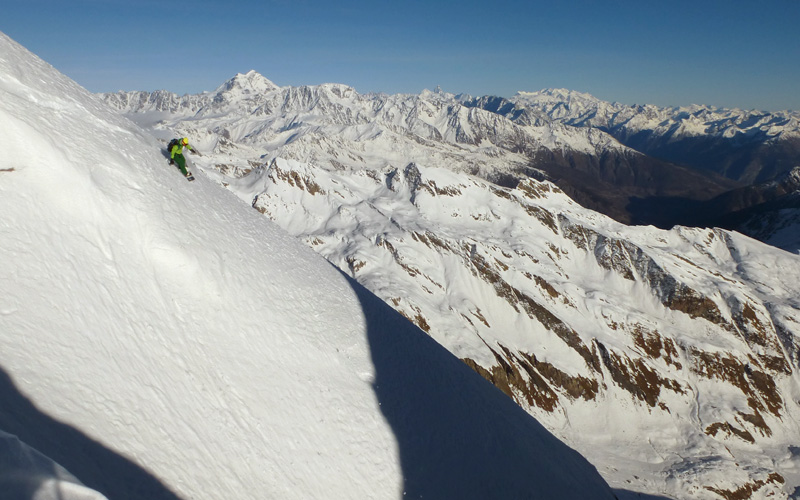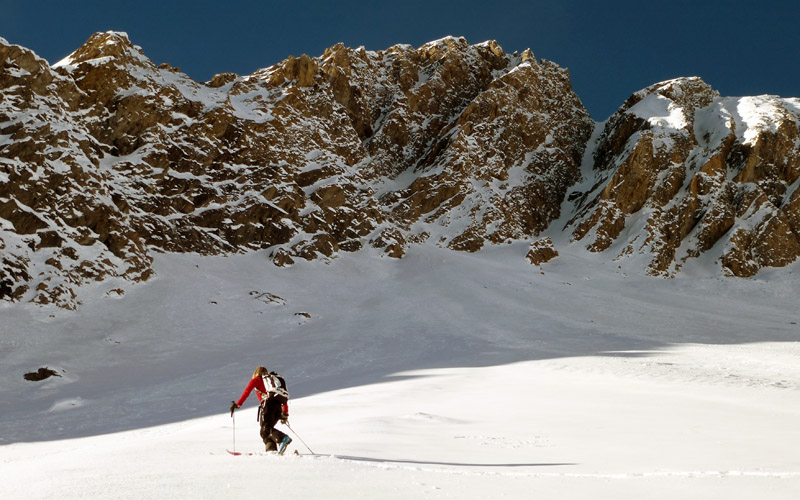 24.12.2014 Petit Paradis,P.ta Vaccarone - West Couloir
This is of the most beautiful faces that you can see from Chabod hut. It has been skied for the first time by Rémy Lecluse. Today with Denis Trento.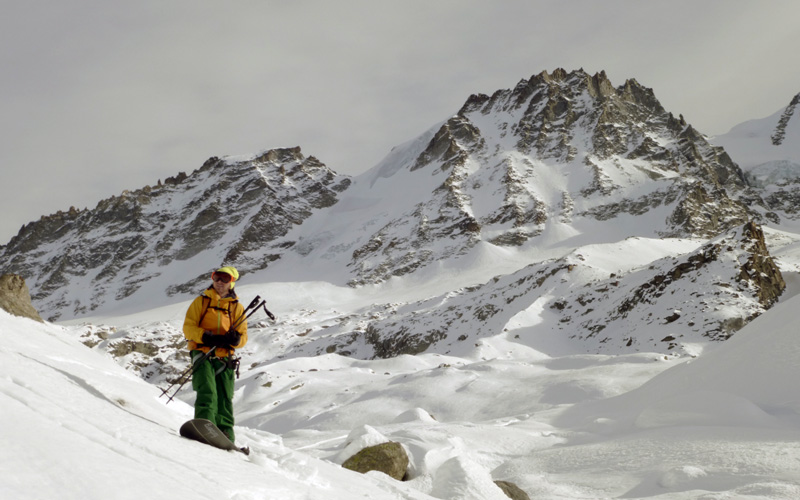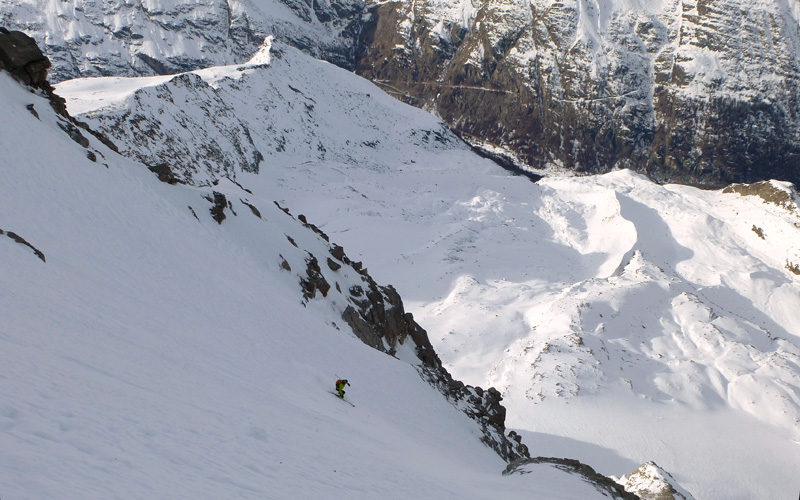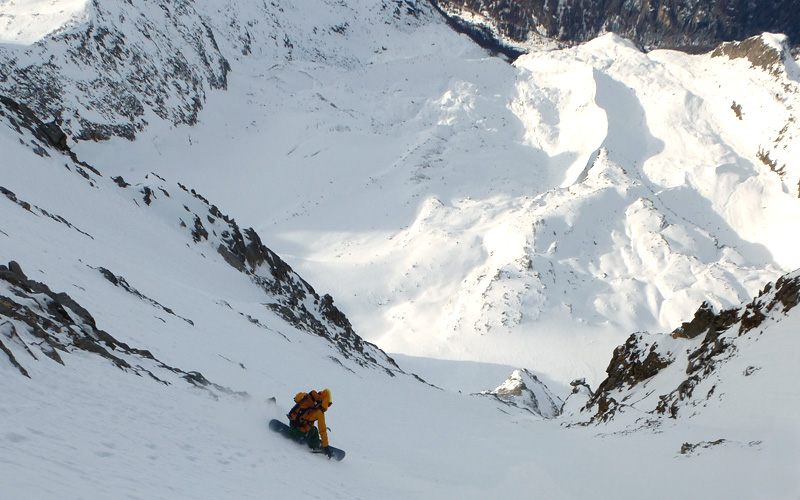 22.12.2014 Col de l'Amone - South West Couloir
Today with Denis and Luca.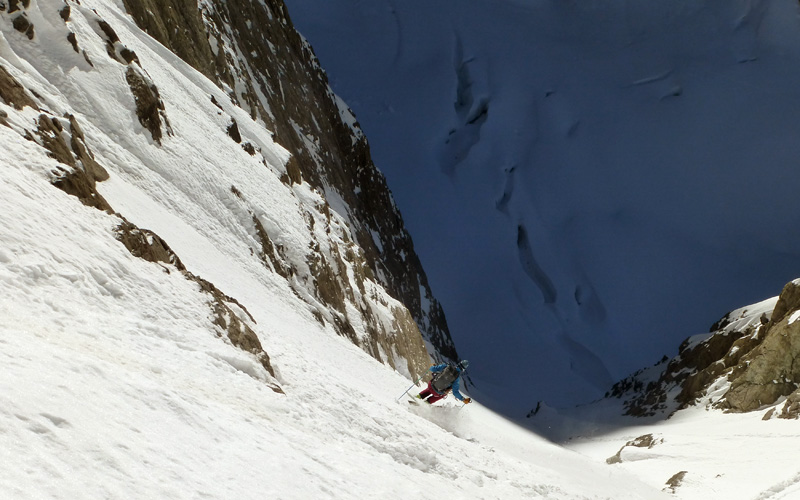 07.12.2014 Aiguillettes du Tacul - South West Couloir
Today with Giulia and Michèle.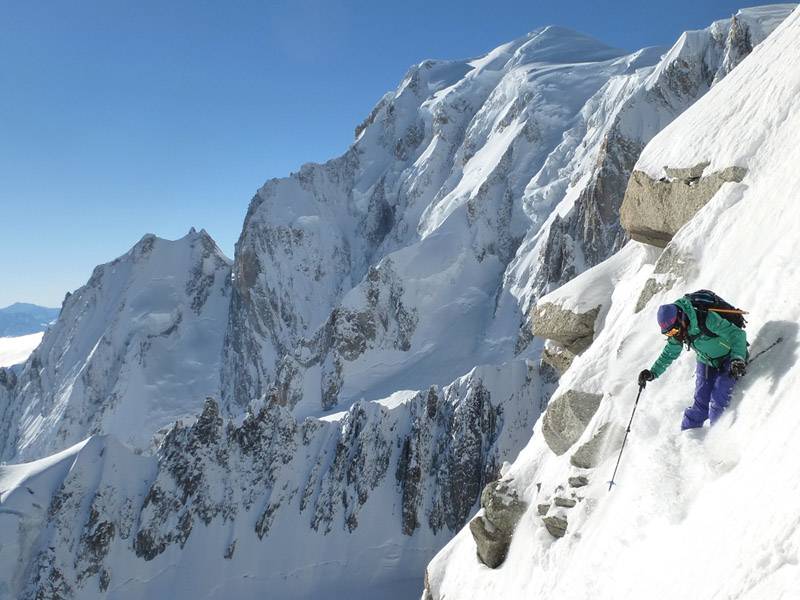 05.12.2014 Aiguillettes du Tacul - North Est Couloir
Today with Luca, Luis, Alberto and Rudy.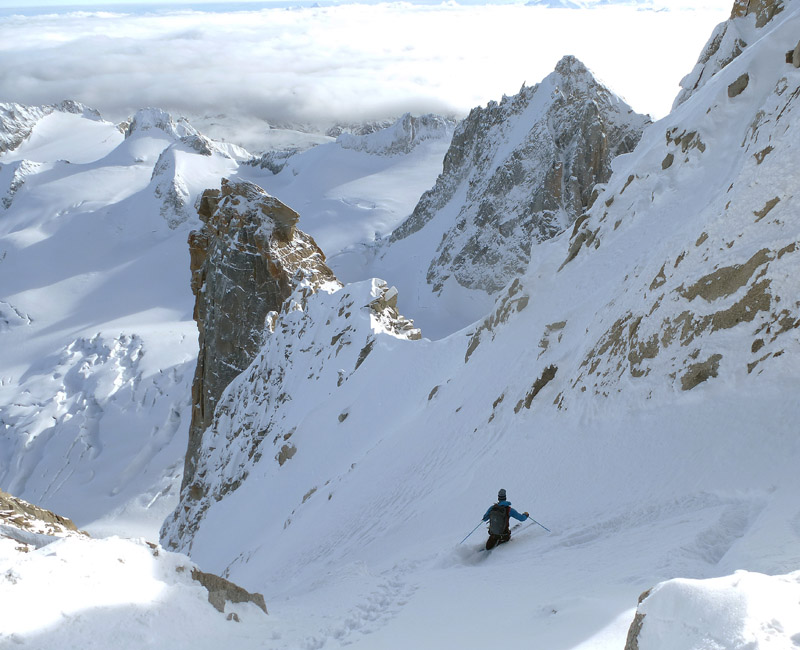 03.12.2014 Tour Ronde - Face Nord
Today with Giulia.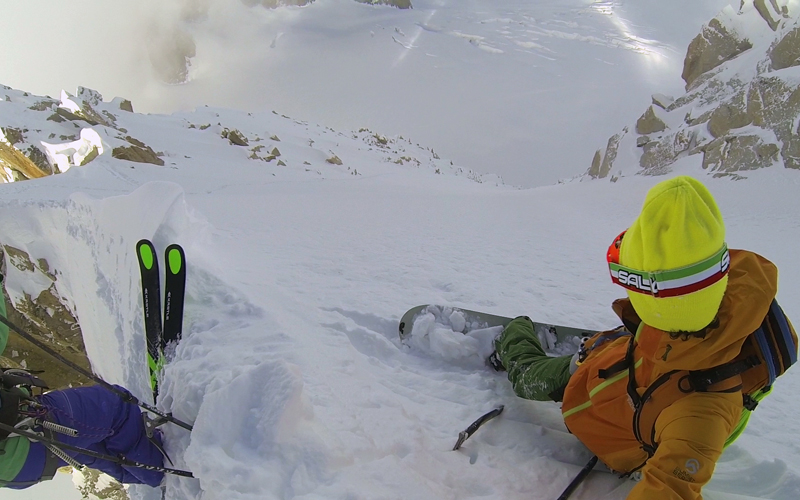 30.11.2014
Today with Michèle and Luca. (photo Luca Rolli)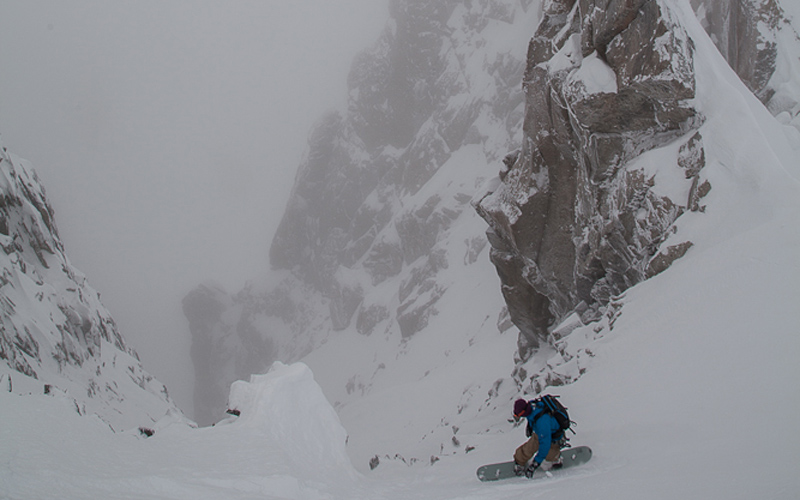 26.10.2014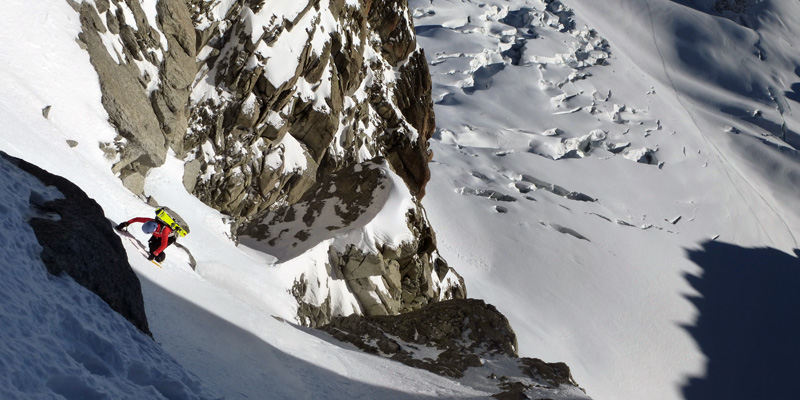 19.10.2014 Tour Ronde - Couloir Gervasutti
Nice day in the mountain with Michèle and Giulia.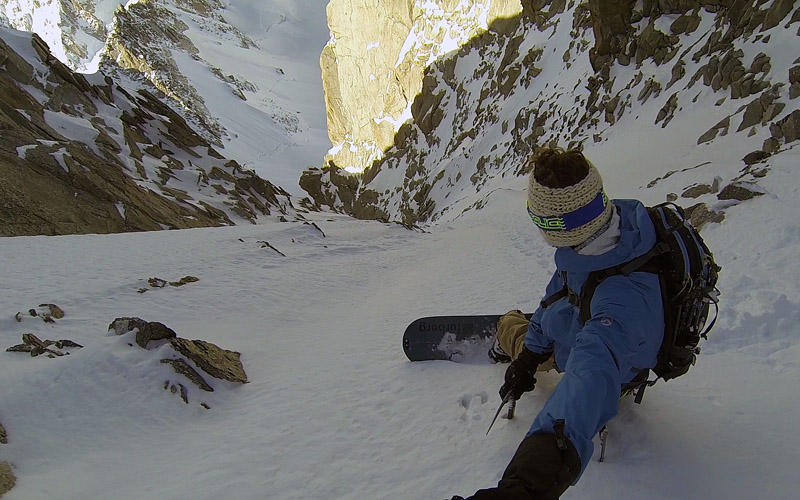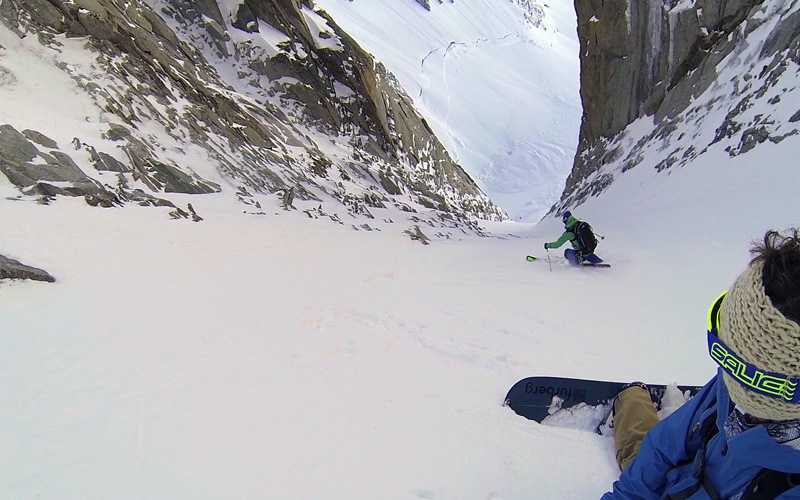 18.10.2014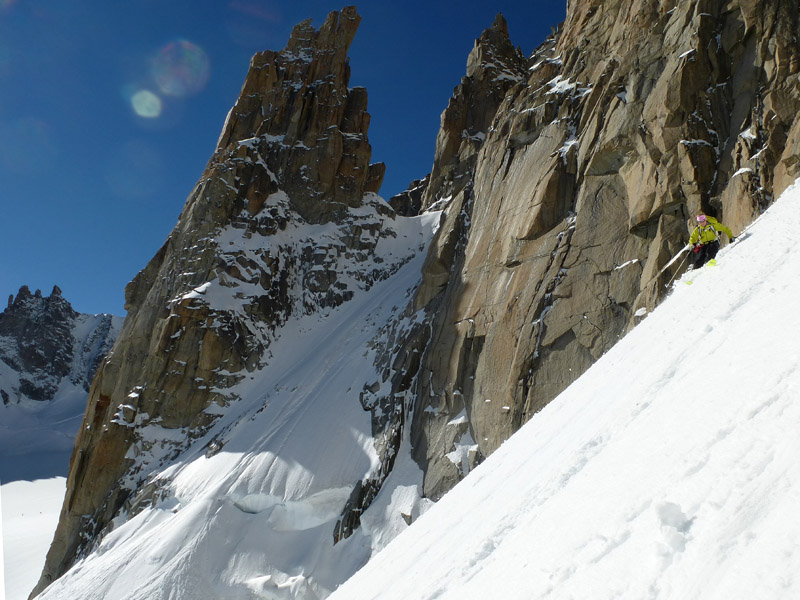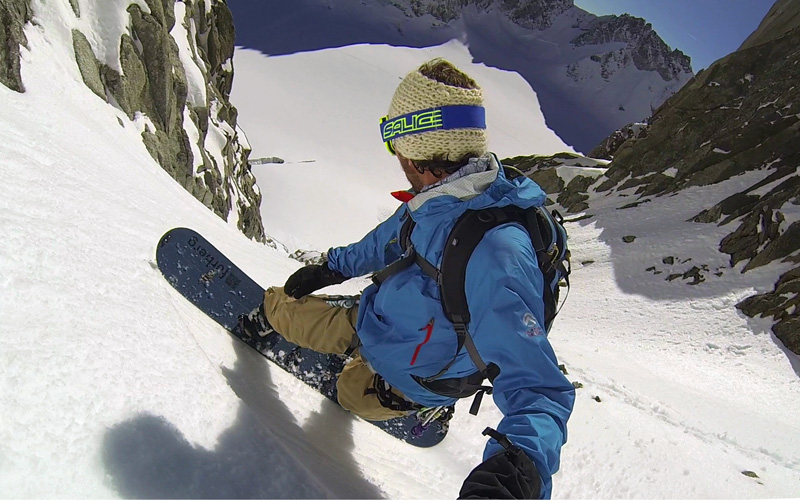 14.10.2014 Chile
Beautiful trip in the Andes with Michèle. In 14 days, we skied: Chillian Nuevo, Antuco (2 times for different routes), Lonquimay, Llaima (2 times for different routes), Lanin (Chilean side), Villarica, Osorno, Casablanca, Cerro Union, Cerro combo and Cerro La Parva Photo